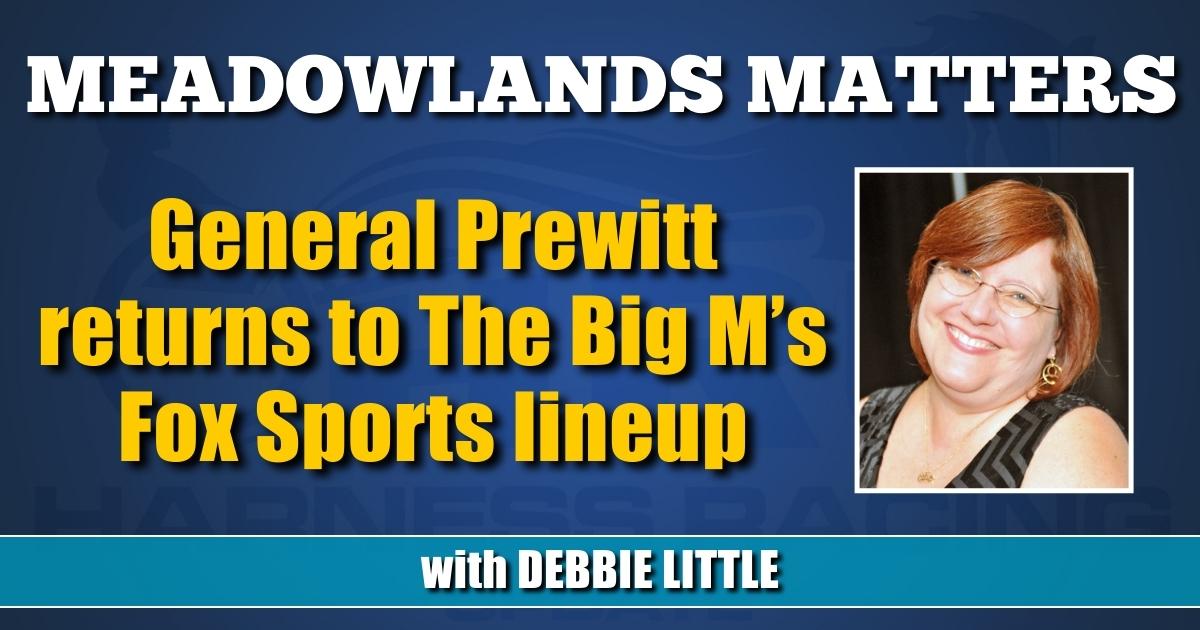 General Gabe Prewitt returns to The Big M's Fox Sports lineup
The General of the #Senditin Army will share his wagering tactics on The Meadowlands set.
by Debbie Little
With the first of eight scheduled Fox Sports shows kicking off on Saturday night (April 29), The Meadowlands called for reinforcements. Enter Gabe Prewitt, general of the #SendItIn Army.
Prewitt, 39, has been part of The Meadowlands team, on a semi-regular basis, since 2016, but his presence is even more important now than previously due to a gaping hole in The Big M's roster.
It's easy to see that The Meadowlands has not fully recovered from the sudden and heart-wrenching loss of their on-air leader Dave Brower only six months ago.
Even though Prewitt and Brower lived hundreds of miles apart, they were close enough to consider each other to be brothers from another mother.
"When Dave started back [at The Meadowlands], I started back with him," Prewitt said. "We both started back that championship meet in 2016. I had had conversations with him at that time like, 'I'm not going unless you're going.'"
Whenever Prewitt would come to town to work at The Big M, he and Brower spent a lot of time together going to the qualifiers, having lunch and going for drinks after the races. Prewitt laughed as he remembered the times the pair would spend sharing bad beat stories in the press box.
"You just kind of get used to having somebody to roll with at all points and it's just sort of an empty feeling on that side of it," Prewitt said.
In Brower's absence, Jessica Otten has stepped up to fill his vacant seat at the desk on a nightly basis. However, on big nights, she still has other duties that require her attention.
In addition to being marketing coordinator and TV host for The Meadowlands, Otten is also their TV host for Fox Sports, meaning she will be too busy with the national broadcast to be at the track's in-house desk.
"That was kind of my hurdle to jump this year, because, obviously, with Brower gone, I'm on the desk [at The Meadowlands]," Otten said. "But with me having to do the Fox Sports shows that takes me off of the desk. For a few of those shows last year, I was able to pull a little bit of double duty. This year, a few of these shows are so long I can't pull the double duty. It just doesn't work."
On several occasions for The Big M's six Fox broadcasts in 2022, Otten was able to conduct paddock interviews for the track before the cameras rolled for "America's Day at the Races", a New York Racing Association (NYRA) production broadcast on Fox Sports 2 (FS2).
This year, several of the shows on Fox will be longer than two hours, including this week's opener that goes from 6-11 p.m. For the first time since these shows began in 2021 — with the exception of Hambletonian Day — some or part of them will be broadcast on Fox Sports 1 (FS1).
"That's a huge bonus to have it on FS1 for us and for the sport, just because the total amount of viewers is so much larger on FS1 than they are on FS2," said Eric Donovan, NYRA's senior director of TV broadcast operations. "It's good news, it's good exposure.
"It's opening night of Churchill, so that's a draw, obviously, and The Meadowlands races have been really good all year. And I'm happy to get that first show underway with them."
Saturday is opening night for thoroughbred fan-favorite Churchill Downs and The Meadowlands will once again be sharing the broadcast spotlight with them. With Churchill's signature race, the Kentucky Derby, just a week away, extra eyeballs are expected for Saturday's show which will be on FS1 from 6-9 p.m. before switching over to FS2 for the remaining two hours from 9-11 p.m. The Meadowlands Pace show on Saturday (July 15), will be on FS1 from 10-midnight.
Prewitt will be on the desk with The Meadowlands TV host Dave Little for the first three Fox broadcasts — April 29, May 19 and May 20 — and said with a laugh that he looks forward to telling him his bad beat stories.
"We have a good relationship and play off each other well," Prewitt said of Little. "I'm 100 per cent confident working with him even though we haven't had the opportunity to work together a lot, by the way. We've only done it on a handful of occasions at this point, but it's almost like having a conversation with a friend. And that's a compliment to him because that's how at ease he makes me feel."
The current plan is for Prewitt to join Otten — as he did last year — for the Fox broadcasts on July 1, 8 and 15.
"I'm certainly happy to sort of be her sidekick, whenever it turns out she needs one," Prewitt said with a laugh.
Prewitt explained that these shows on Fox are important because it gives our sport the opportunity to reach a broader audience and he thinks Otten is the perfect choice to be leading the charge.
"I think she's a great face for our sport," Prewitt said. "I think we could have no one better, in regard to her knowledge and her energy and youth. It's valuable to have somebody with that kind of knowledge. It just doesn't come along that often."
As for the production and working with NYRA's co-hosts, that are thoroughbred experts, but don't all know a lot about standardbreds, Prewitt thinks it's a good thing.
"Obviously, NYRA does an excellent job from a professional standpoint," Prewitt said. "They're very good at what they do, so the broadcast comes off very good and professional. I actually don't mind having people in the studio that aren't as familiar with harness racing as we all may be. I think it's good because in some of the dialogue they ask questions.
"They have questions for us that we might not even think to discuss ourselves because it's a different audience. They're not as immersed in the harness business as we are. I think it's great publicity for the sport. And I think it's just another avenue where, hopefully, we're getting in front of new people and if we're ever going to grow, that's what we have to do."