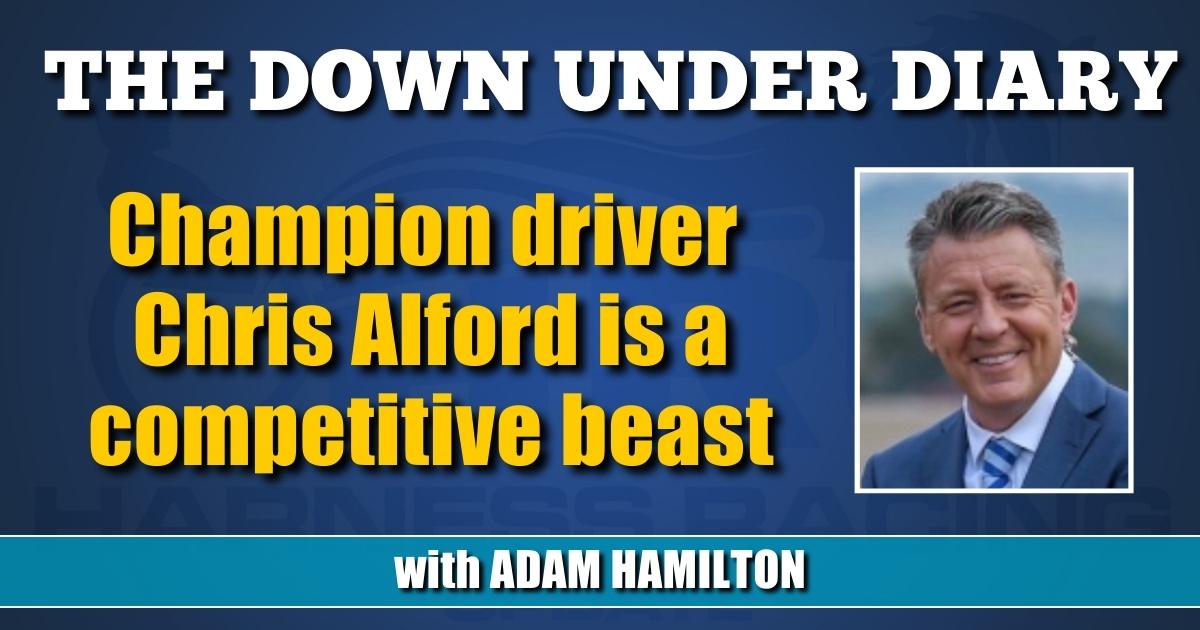 Champion driver Chris Alford is a competitive beast
by Adam Hamilton
Despite almost 40 years in the sulky, Chris Alford — the most successful driver in Down Under history — is still hungry to scale new heights.
That was abundantly clear recently when Alford, who turns 55 next month, confirmed he would cross the ditch to drive in New Zealand's richest race, the $1-million Race by Grins slot at Cambridge on Friday (April 14).
He's still a man in demand.
Alford first agreed to head to Cambridge to drive one of Australia's best trotters, Aldebaran Zeus, in the first of a few planned feature races for trainer Brent Lilley.
As soon as word spread, those connected with Triple Eight pounced on the opportunity to book Alford.
Although trips to New Zealand have been rare for the Victorian-based Alford, one of them provided the defining win of his career.
Wind the clock back to 1995 and the Christchurch Inter Dominion final at Addington.
Alford, then starting to make some serious headlines in Australia, propelled his career into the stratosphere when he stormed around the field behind Golden Reign to beat one of the greatest lineups the Inter Dominion final has ever assembled.
Best known as a stayer and for racing on the speed, Alford stunned rivals by sitting back and unleashing Golden Reign down the back straight the last time.
In his wake were a list of Hall of Fame pacers and Inter Dominion heroes and mega race winners such as Chokin, Blossom Lady, Master Musician, Weona Warrior, Desperate Comment, Young Mister Charles and Bee Bee Cee.
"I've had some wonderful moments through the years, but it's definitely one I go back to as much as any of them," Alford said. "He was a great horse, Golden Reign. He did so much, but he was injured in his prime and didn't come back anywhere near as well after it. That was the sad part.
"Everyone got to see how good he was that day. Look back at the horses he beat. It was a field of stars. Probably the strongest Inter Dominion final I've driven in, maybe one of the best of all time. The top Kiwi drivers had been coming to Australia and winning our biggest races, so it meant a lot to go over there and beat them, especially beating that sort of field with the first great horse I'd driven. He's right up with the best I've driven."
Little did he know at the time, but Alford had to wait another 20 years to win his second and only other Inter Dominion final since. That was with one of the other great pacers he's been associated with, the quirky but gifted Lennytheshark.
"I kept getting asked who was better… I'm just lucky to have had them both in my career," Alford said.
While Alford has won most big races, the Race by Grins — in just its second year — and next month's Group 1 Rowe Cup for trotters are ones he would love to add to his bulging CV.
"To be honest, the main reason I wanted to drive Aldebaran Zeus in New Zealand was because of the Rowe Cup," Alford said. "It's a great race with so much history. I love my trotters; they've been such a big part of my career and dad [the late Barry Alford] always had trotters. The Rowe Cup is one of the great trotting races in our part of the world. To then pick-up the drive on Triple Eight as well is a bonus."
Alford hasn't driven in NZ that many times, but he has been to Cambridge before.
"Way back when I was a junior, I drove there and a few years back I took the top young trotter we had called Wobelee across for the Harness Jewels," he said. "Obviously I've got fond memories of New Zealand because of Golden Reign, but I'll always treasure winning the Great Northern Oaks in Auckland with Lombo La Fe Fe [in 2002].
"Even when we ran second in the 2003 Inter Dominion final with Mont Denver Gold in Christchurch… that was special because dad and I trained him together and I drove him. We just found Baltic Eagle too good that night, but he ran a great race."
While the big wins have been plentiful and memorable, Alford's greatest mark on the sport has been his sheer dominance with his volume of wins, year after year.
He's rapidly closing in on 8,000 wins. At last check, Alford had just edged past 7,830 wins so the 8,000th should come early next year at his current strike rate.
The closest anyone is to that in Australia is the late Gavin Lang's 6,303.
It's a mind-blowing dominance and one which has seen Alford win the Australian Driving Premiership a thumping 14 times: the first in 1994 and the most recent in 2020. Queenslander Pete McMullen has won the past two.
Alford also holds the record for the most wins in a single season with his 456 in 2017-18.
His brightest hopes for the rest of 2023 sit with trotters Aldebaran Zeus and his stablemate, the brilliant mare Queen Elida.
"[Lilley] has done a great job with both of them," Alford said. "They came through the big 2- and 3-year-old races together and always looked like they'd go on and be open-aged stars. Queen Elida has come a long way quickly. She's got the brilliance, while Aldebaran Zeus is tough and more of a front-runner.
"I've said before Queen Elida is as fast as any trotter I've driven at her top. She's got it all ahead of her. Aldebaran Zeus showed how good he is in front when he easily beat Just Believe in the Group 1 at Menangle a couple of runs back. Just Believe is the benchmark in Australia right now. If he gets some draws and has some luck in NZ, he's certainly good enough to win one of the big ones over there."
Alford will be hoping that big one is a race he loves, the Rowe Cup at Auckland's Alexandra Park on May 27.
It would be yet another chapter in a phenomenal career.