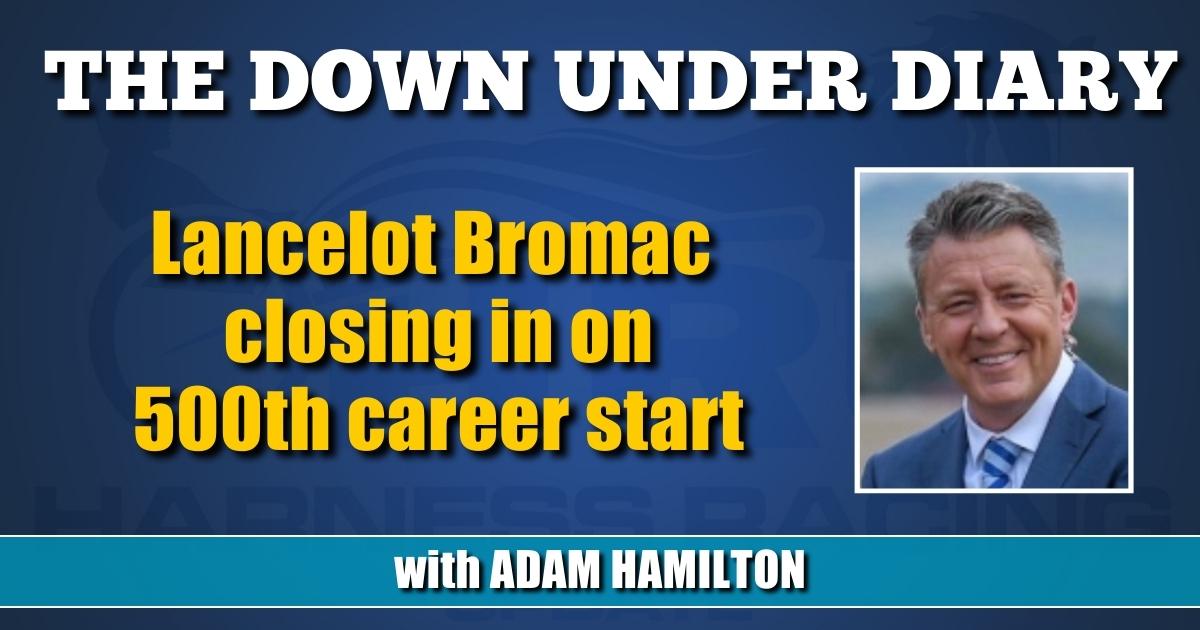 Lancelot Bromac closing in on 500th career start
The 13-year-old ageless, Aussie wonder shows no sign of slowing down.
by Adam Hamilton
Almost a decade after he started racing, pacer Lancelot Bromac is on the verge of becoming the first Down Under pacer to have 500 starts.
The 13-year-old son of Art Major has already broken a record most never thought would be bested when he raced for the 487th time and finished a close-up fifth at Albion Park on Dec. 27, last year.
It topped the previous Down Under record for race starts of 486, set by the then 16-year-old Destreos back on Feb. 21, 2020.
"Someone said a few years back we might have a chance of eventually beating Destreos' record, but I laughed," said part-owner Mitch Manners, a well-known Aussie race caller. "I think he was in the low 300's then and it seemed so far away.
"Even when he got into the 400s, you start to think about how old he is and the fact he'd still have to have more starts than most horses have in their career to get past the 486 starts Destreos had. But once he got to 450 and was still racing competitively and without any soundness issues at all, you just knew he'd get there."
It hasn't been a grind, either.
Although Lancelot Bromac hasn't won since Aug. 30, last year, he's finished in the top four 13 times and continued to bank checks for Manners, along with his trainer and part-owner, 73-year-old Stewart Dickson.
What's more remarkable is the fact Dickson has trained Lancelot Bromac since day one. His first start was at the now defunct Gold Coast harness track way back on May 11, 2012.
That's the month and year the great Donna Summer died, Barack Obama was president and songs like PSY's Gangnam Style and Carly Rae Jepsen's Call Me Maybe dominated the airwaves.
That first race at the Gold Coast was an anomaly as Queensland's home of harness racing, Albion Park, has been Lancelot Bromac's playground.
Incredibly, when he lines up for his 499th start at Albion Park on Tuesday (March 28), it will be his 465th start at that track.
If all goes to plan, that 500th start will be a week later on April 4.
He's got his own stall these days, stall 43, and could almost walk to it himself when Dickson gets him off the trailer each Tuesday, except for the white line fever the old boy still gets when it's race day.
"He's great at home but put him on the [trailer] and he knows it's race time," Dickson said. "When he gets to the track, he'll kick, headbutt and try to bite you. That's him, he's always been the same and it tells he's still enjoying the routine of it all."
Despite his aging legs, Lancelot Bromac races most weeks, usually Tuesdays. He had 43 starts last year and his 499th race will be his 12th already this year and it's not even the end of March.
And there is no end in sight.
"I think he's a marvel and I think I know him best, but we have our knockers, don't you worry," Dickson said. "There's plenty saying, 'Why do I keep racing him?' and 'Surely, he deserves to be retired,' but he would hate that. I gave him a spell once and he was pacing the fences and standing at the gate wanting to get out and work again.
"I think he had two weeks off that time and it's the only spell he's had, but he is trained from a paddock. He's never had an injury, not even a day of being unsound. How many horses could you say that about?"
Dickson, who trains about an hour north of Brisbane at Caboolture, is into his 56th year as a trainer, including an 18-year stint with at least 35 horses in work in Brisbane itself.
These days he's working eight and admits Lancelot Bromac is a driving force for him still being in the game.
"It's a bit of a chore at times these days, but if I couldn't get up in the morning and see the horses, including this old guy, out the back door each morning, I think I would get pretty sh – – – y," he said. "I'd be lost without him. He's part of the family and he's a real people's horse. So many come up to him, pat him and say hello every week at Albion Park and he's starting to get his share of media coverage now, too.
"We suit each other. He's getting old and I'm getting old, too. But there's no end in sight. There is no rule that says he's got to stop racing at a certain age. I love him and I know him. He'll tell me when he's had enough. Sure, he's lost a bit of his speed, but he still loves racing and tries so hard. He just needs them to run along in the race, so it's not a sprint home. He went 1:53.8 earlier in his career and he ran second in 1:56 a few starts back, so he's not far off the mark, is he?"
Dickson recalls buying the unraced Lancelot Bromac from Queensland owner/breeder Tony Prince almost 11 years ago.
"Tony and I are from Cairns [in northern Queensland] and we both went to the same school," Dickson said. "We had that connection and I used to break in some horses for him in Brisbane.
"He rang one day and said this horse didn't quite fit what they wanted, which I read as he wasn't quite good enough, but he also had some quirks. He said I could have him for $5,000, but Tony being Tony said: 'Don't pay now, pay me when he's won it in prize money.' He won his third start and had basically paid for himself by then."
Dickson admits the 500th start will be both satisfying and exciting.
"For both of us, I reckon," he said with a laugh. "The old boy's done a fantastic job and I'm proud we've been able to keep him going and hit the milestone still being very competitive and loving racing.
"Who knows, he might have another six or 12 months left in him yet, but he'll tell us that. We're not planning much fanfare for the 500th start. Mitch [Manners, co-owner] will come up from the Gold Coast for it, but otherwise I travel light so there won't be an army of people there, at least not that I know of. Wouldn't it be a fairy tale if he could come out and win his 500th? He's going well enough and he's due."
Lancelot Bromac's remarkable career has already seen him win 33 times with another 71 seconds and 61 thirds.
He's been an equine ATM or cash machine, earning more than $750 per start.
"Just looking at him now, I think there's still plenty more to come," Dickson said with a laugh.