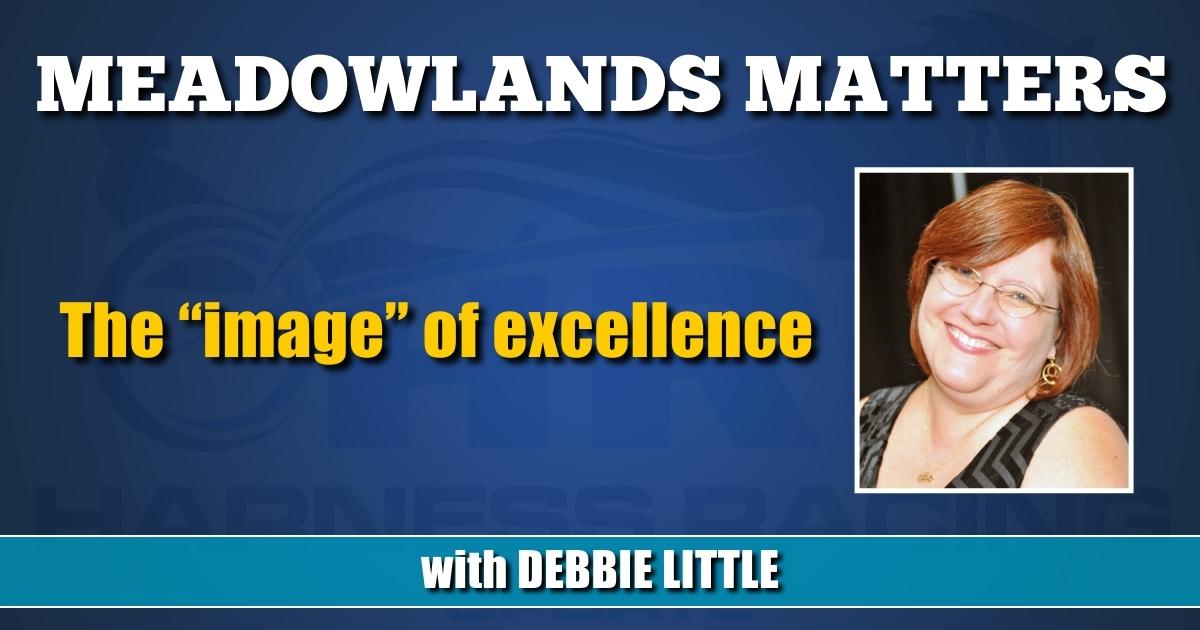 The "image" of excellence
Terry Tauffner has become a security blanket for The Meadowlands and the Hambletonian Society.
by Debbie Little
You may not know the name Terry Tauffner, but you know her work.
Tauffner's company, Corporate Images, Inc., has been working with The Meadowlands for 20-plus years and although what she's provided has changed and increased over the years, the quality and attention to detail has remained consistent.
"She's done everything for us: t-shirts, long sleeves, hats, bags, jackets, [drinking] glasses," said Rachel Ryan, The Meadowlands' director of marketing and event operations. "Especially, things that we need to have a rush on. Lately it's been, 'I need this by the end of the week,' or 'I need this in two weeks,' and she comes through every time."
Tauffner, 59, a native of Dutchess County, NY, started her business in 1996 with an embroidery machine in her garage and built her way up to her current location in neighboring Newburgh, NY, which she refers to as her "barn."
"Every time we expanded to do certain things ourselves, it was so much better because it enabled me to be really sure of the quality control that I was getting," Tauffner said. "I would farm stuff out and get it back and it was unacceptable, so I really started wanting to have more control over the quality control end of it."
Tauffner's company is a WBENC certified women-owned business and according to the WBENC (Women's Business Enterprise National Council) website: "WBENC certification is the most widely recognized and respected national certification for women-owned businesses in the U.S."
As demand for different products has increased, Tauffner has changed with the times, adding screen printing equipment, a laser engraver, a sand carver, a vinyl cutter and heat presses.
In 1998, she started her relationship with The Meadowlands — then run by the New Jersey Sports and Exposition Authority (NJSEA) — working with the late Norma Campbell, among others, to provide gifts, including the annual Hambletonian commemorative glasses.
Moira Fanning, director of publicity/chief operating officer for the Hambletonian Society, had nothing but praise for her dealings with Tauffner, especially when it came to reliability.
"I never worry whether I give it to her three months or three days ahead of time that it's going to be there," Fanning said. "Sometimes she'll drive it up in her car, but it'll be there."
According to Fanning, Tauffner did some corporate gifts for the Hambletonian Society and when they were looking for someone to do their blankets, Tauffner stepped up.
"We were struggling for a supplier both in the U.S. and Canada because the companies we used just petered out," Fanning said. "In Canada, we used to use Victory Lane, which everyone did and they went out of business, I want to say, maybe 10 years ago. Terry's pretty much risen to the occasion of whatever we've thrown at her."
Tauffner has done blankets now for several different tracks, in addition to The Meadowlands, including Dayton Raceway, Woodbine Mohawk Park and Yonkers Raceway. It's something she did because there was a need for it and it wasn't easy to do at the start because it required research and effort.
"There's really only one manufacturer — they're manufactured domestically — and I was able to find that manufacturer, get the blankets, decorate them and give them what they wanted by building a relationship with the manufacturer," Tauffner said. "Because we decorate in-house, we can do that. We can establish relationships directly with manufacturers and cut out the middleman, so to speak, to be able to do everything here and cut down the cost.
"Twenty years ago, I think, she was paying more for the blankets than what I charge her today. The Meadowlands as well."
It's the special, personal touches that Tauffner provides that both Fanning and Ryan appreciate.
"She customized our Breeders Crown watches so they're not just a generic watch in a box," Fanning said.
The Crown watches, presented to the winning caretakers, are engraved by Tauffner and presented in a small tack trunk with the BC logo.
Tauffner also suggested an update to the Hambletonian and Crown blankets, which Fanning wasn't sure about at first.
"The blankets used to be satin, real satin, which was very heavy and very expensive and I think she's the one who talked us into doing a synthetic fabric which I didn't want to do," Fanning said with a laugh. "But she promised that it would look and feel exactly like satin and it did and she's modified the snaps to snap onto the bike.
"She's very accommodating, very flexible and a very pleasant person, which is always great in a vendor."
According to Tauffner, those blankets are still satin, but her knowledge of her business has made them better.
"[Moira] still gets bridal satin blankets so the quality is still the same," Tauffner said. "What we did was step up the decorating process. The lady in Canada was making these big heavy bulky transfers and they were really thick and were printed with ink. Now what we do, is we actually dye the fabric of the blanket with her Hambletonian logo every year and we're able to get it so that you could feel it and you would never even know there was a logo on there.
"Again, that goes back to our expertise and our experience in the industry and trying to find the best means of decorating and customizing for our customers."
Although Tauffner did not grow up in the harness racing business she does have a connection to horses.
"My husband played polo and my daughter at 5, had her first little palomino pony, so we lived a little in the horse world and just have a real passion for it," Tauffner said.
She does actually have a connection to harness racing, other than through her business, since Dr. Janet Durso was the veterinarian for the two thoroughbreds that Tauffner rescued years ago. And her husband, Karl, actually played polo with Durso in Newburgh.
What's most important to Tauffner, whether she's dealing with corporations like Aflac or PepsiCo or the world of harness racing, is that she puts forth the best product that she can and makes her customers happy. 
"It's my business, so I have a personal stake in it and I want everything that walks out the door — whether it's a $5 lapel pin or a $500 blanket or trophy — I want everything to look perfect and I guess that's how I've stayed in business this long," Tauffner said. "I make a decent living doing what I do, and I don't need to be ridiculous in what I charge customers, especially my existing customers that I've developed relationships with.
"And I know that they support me and come to me with other things whenever they can and that's how I stay alive and I value all those relationships that I've developed with these customers for 20-plus years.
For Ryan, it's that attention to detail and accommodating attitude that makes her relationship with Tauffner one she wants to keep.
"I have nothing but praise for her for getting stuff done," Ryan said. "The fact that she understands [the business] and knows where she can go get the raw materials or the raw blankets that we need, makes it so much easier than to go to a vendor who's not used to it or having to find the stuff for the vendor. She can do it from start to finish without us having to be the middleman or having to do some of the research on our own. So that's why it was so easy to continue to use her for a lot of these things.
"The big thing is just the fact that she responds so quickly. When we send a question like 'Can you do this for us?' just responding within an hour, and I'd have to say usually less, usually it's within five or 10 minutes, I think that says a lot about her."
A LITTLE EXTRA
In honor of the International Women's Day celebration at The Meadowlands on Saturday (March 4), here are a few video clips from some of the women that drove in the event:
McKenzie Sowers on why it was important for her to compete in the race.
Mariann Nielsen on why she came to compete in the race all the way from Denmark and on how the track felt warming up.
Mariah Wright on her first time racing at The Meadowlands and comparing The Meadowlands to where else she's driven.
Lauren Tritton on winning one of the races and on not wanting to be mic'ed up driving Harry Knows IR, the 1-9 favorite.