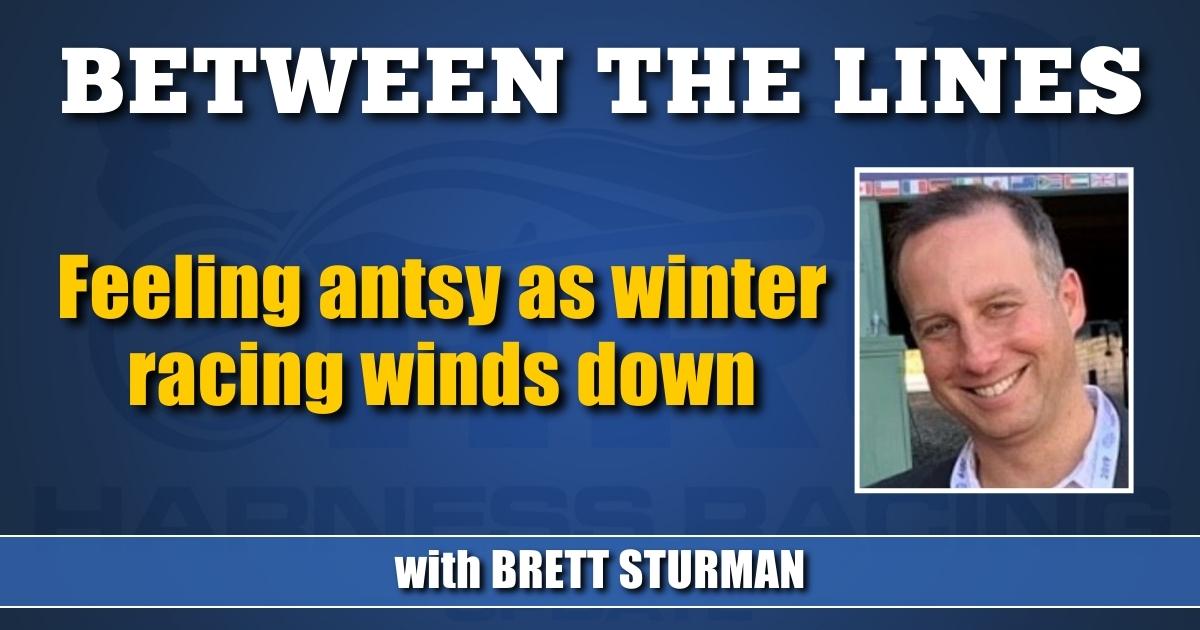 Feeling antsy as winter racing winds down
Don't worry, handles are up and top 3-year-olds are on the way.
by Brett Sturman
With the official start of spring two weeks away, racing will start to slowly transition away from the grind of winter overnight racing seen over these past 12 weeks or so. It's to be expected that up to this point, early in the calendar year, none of the better 2-year-olds from last year have yet to return, but what's a little more noteworthy is the lack of early-season racing opportunities for younger horses at all.
For 3-year-olds, there was once a time not too long ago when developing sophomores had the opportunity to start earlier in the year than they do now. Series racing at The Meadowlands included the Junior Trendsetter, a non-winners of two series conducted deep in the winter months that once launched the career of Wiggle It Jiggleit. Instead of a 3-year-old season that saw the better horses race for just five to six months, as is the case today, the season used to be more extended.
To illustrate, we're already in March and it still doesn't take much to be considered a "Top Performer" in the USTA's current listing of fastest horses. A 1:55 3-year-old pacer and a 2:00 3-year-old trotter are all squarely right in the top mix.
This past week, nominations were announced for The Meadowlands Pace as of the Feb. 15 sustaining payments, as well as nominations revealed for the Bobby Weiss series, a non-winners of two series for different divisions at Pocono in April. Just when you think you'd be able to reference those nominations against their performances in 2023, there's still very little to go on.
Of the 160 or so horses nominated to the Weiss series for 3-year-old pacers that starts in one month, more than half of those horses have yet to even qualify back this year. Many others are still finding their way in non-winners of one or two races at smaller tracks. For the Meadowlands Pace, it's even more glaring. Not unsurprising then, due to the higher quality of entrants and later timeframe, of the (unofficial) 57 entrants paid in as of February, less than three have set foot on the track this year.
Ironically, the fastest 3-year-old to date isn't nominated to either of those races. That would be Captain's Choice, a Captaintreacherous horse who has worked his way right up the non-winners ladder at Dover Downs and is an unbeaten 4-for-4 on the year, most recently winning in a season's-best 1:51.3. What's notable is that he appeared on the scene early last year as a 2-year-old at The Meadowlands in July when trained by Tony Alagna and appeared well enough regarded when he won at the Red Mile in 1:52.2 in September. This year, he's yet to lose under new connections.
So, which 3-year-olds actually have raced thus far? One horse that shows a line in 2023 and catches the eye thus far of horses that have been nominated to those races, is Sheer Terror. Weiss and Pace eligible, out of the 2-year-old filly champion Economy Terror, Sheer Terror qualified impressively last week to a 10-length win at The Meadowlands. Winning with a last quarter of :26.2 for trainer Joe Holloway, he easily sprinted clear of Caviart Scotland (out of the great Darlin's Delight), another Pace-eligible, trained by Nancy Takter. Still a maiden as he looked totally ordinary last year in four starts at 2, Sheer Terror will be one to watch as the Weiss series kicks off in April.
Other Weiss nominees' worth following could include the pair of Idiosyncratic and Panettone Hanover. Both trained by Ron Burke, each horse tested PA Stallion Stake competition last year and squared off together at The Meadowlands the end of last month in n/w of two. In that race, Panettone Hanover upended his 1-9 favored stablemate Idiosyncratic by a head in 1:54. Also at The Meadowlands, Weiss-eligible All Alone won this past Friday (March 3) in 1:52.4 with a last quarter of :26 for trainer Linda Toscano. Travis Alexander's Metal Man drew in as an AE for what would have been his season debut this week at Pocono; he exits a strong qualifying win and could be another to follow. Slipmeamiki, both Weiss and Pace eligible too, most recently finished second in a speed try from an outside post at Miami Valley.
Of course, while having stars and storylines might help for writing copy, harness racing doesn't seem any worse for the wear with the overnight crops. Just two nights ago — albeit with the aid of a slew of thoroughbred and harness signal scratches including that of Woodbine Mohawk Park — The Meadowlands handled over $4.5 million on Friday. It included an early Pick-5 pool of over $100,000, where two of the races consisted of amateur drivers. The industry handle year over year as of March 4 is up over 10 per cent, which is even more impressive considering this being the first year without a Pompano handle in the winter.
With more and more of the higher quality horses gradually returning as winter racing breaks and with handle on an upwards trajectory, there could be much to look forward to in the season ahead.