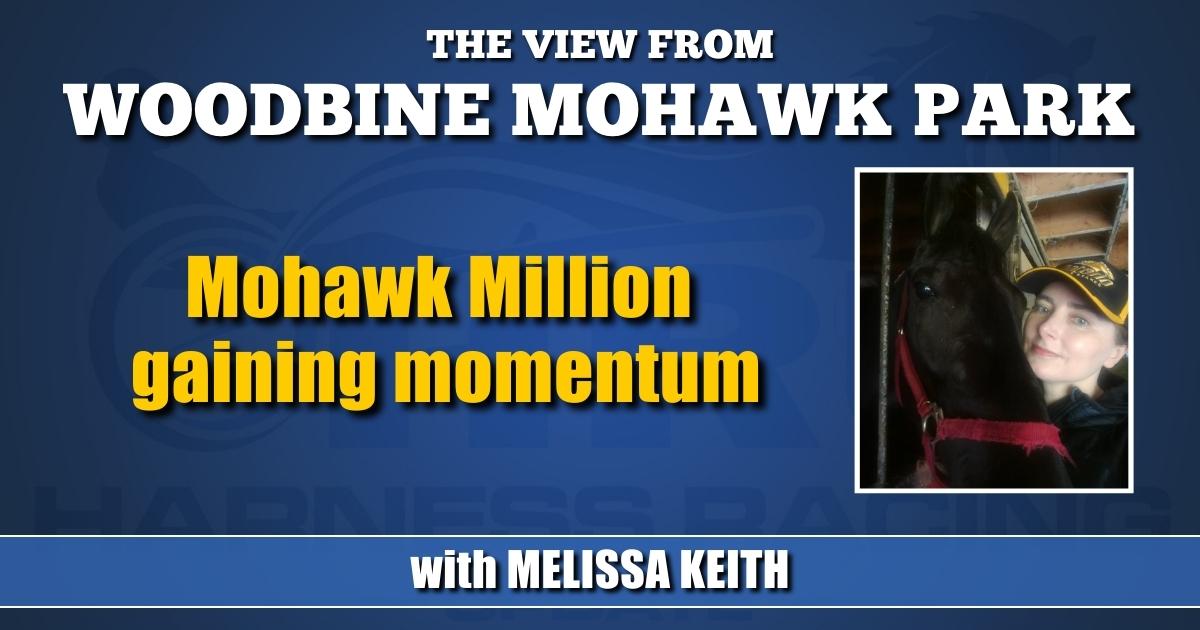 MOHAWK MILLION gaining momentum
The 2023 edition will go ahead. All nine slots have been sold for the fourth edition.
by Melissa Keith
On Monday (Feb. 27), Woodbine Mohawk Park revealed the names of the seven slot buyers for the 2023 Mohawk Million. The $1 million (all money in CDN $) Grand Circuit event for 2-year-old trotters features a unique format where owners, trainers, and breeders can purchase $100,000 slots for unspecified horses by a Feb. 15 deadline. The slots can later be transferred or sold. Particular trotters being entered only need to be named the week before the draw. This year's race is scheduled for the star-studded stakes card on Saturday, Sept. 23 at Woodbine Mohawk Park. 
Bill McLinchey, director of standardbred racing for Woodbine Entertainment, said he was appreciative of the continued support from major players in the industry.
"It was great that it filled," McLinchey said. "It came right down to Feb. 15 again, like the first three editions."
Two owners — Gino Toscani of Mount Hope, ON, and Determination (Serge Godin) of Montreal, QC — each bought two 2023 slots.
"It shows a huge commitment on their part," McLinchey said.
Individual slots were purchased by another five participants. The winner of the William Wellwood Memorial final at Woodbine Mohawk Park automatically earns a reserved slot.
Greg Luther (formerly Black Magic Racing LLC) of Blacklick, OH, is back. He entered standout Indiana stakes filly Yo Beth D
(2, 1:54.3s; $299,650) last year after negotiating for the Mohawk Million slot originally purchased by Doug Overhiser of New Smyrna Beach, FL.
Anthony Lombardi of Morris, IL, was part of the 2022 purchase with Overhiser, which was subsequently sold. This time, it's Lombardi's name on a 2023 slot.
"We're not part of those transactions," McLinchey said. "Some know they don't have [a competitive 2-year-old trotter] and they're shopping around that slot early. Most are doing it the weekend before the entries are due. There's a lot of communication and wheeling and dealing. The slot owners make the transactions and notify us."
Ecurie CSL (Sylvain Deschenaux) of Sorel-Tracy, QC, bought a 2023 slot. Last year, Deschenaux and co-owner Sophie Bourgeois' 9174 7998 Quebec Inc. were represented in the Million by Ontario Sires Stakes Gold winner Dws Point Man (2, 1:55.1s; $185,398).
"He purchased Crawford Farms' slot last year, at the time of the draw," McLinchey said. "He enjoyed being a part of it. It was really encouraging to see him come back."
Courant Inc. (Anders Ström), Delray Beach, FL, invested in a slot for the inaugural Mohawk Million in 2020, entering the now-exported Iznogoud AM S (3, Q1:54.1; $37,300 prior to export). After a two-year hiatus, Courant has returned for the latest edition.
"I'm assuming that ties in with the Greenshoe [3, 1:49.4m; $1,353,772] babies," McLinchey said, referencing the hotly-anticipated first crop of the 2019 Dan Patch Trotter of the Year, who was campaigned by Courant.
Hunterton Farms and Partners have continued to support the Mohawk Million, which has proven to be a mutually-rewarding combination. Last year's Mohawk Million champion Oh Well (2, 1:53.1m; $740,380) is owned by S R F Stable of Lighthouse Point, FL, and competed in the slot secured by the Paris, KY, farm.
"Hunterton Farms back in as a breeder is great to see," McLinchey said. "It must have reflected positively on the yearling sales for them."
The first two winners of the race were bred by Steve and Cindy Stewart's establishment: Dan Patch 2020 Trotting Colt of the Year Venerate (4, 1:51.1m; $936,735), and 2021 Dan Patch and O'Brien 2-Year-Old Trotting Filly of the Year Venerable (2, 1:52.0m; $1,187,798).
McLinchey said he was pleased that the Toronto Star published a Canadian Press article about the Mohawk Million slots this week.
"We're really going to work towards ideas so that it stays fresh and continues to fill," McLinchey said. "The Pegasus [thoroughbred slots race at Gulfstream Park] format has continued to change over the years. We're planning and always looking for ways to make our owners feel appreciated; that it's not a regular night."
Trainer Luc Blais agreed that the Mohawk Million is no ordinary race.
"We love that race," Blais said. "I think that it's exciting. I know that for [Determination owner Serge Godin], it's very exciting. It's a million-dollar race at Mohawk, our home track. We have a farm here, close to the track. So that's why."
Determination has also had success in past editions.
"We've been lucky in that race," Blais said. "We were second two times [with fillies Donna Soprano (2020) and Silly Me Hanover (2022)] and third [with 2020 William Wellwood winner On A Streak] in that race. We participate every year and the goal is to win the race. I think that it's like the Breeders Crown, the same level and prestige… It's very good for the game to have a new event like that."
Blais is currently training 10 2-year-old trotters for Determination and acknowledged it's much too soon to know which ones will be ready for the Mohawk Million.
"If you talk right now, I have a good feeling, but you know, when you're closer to qualification, you know more," Blais said. "I like what I've got right now."
Fillies have had a strong showing in the richest race for 2-year-olds, allowing for more choices when it comes to deciding which horses take the slots.
"Sometimes the filly is more mature than the colts," Blais said. "When they're good, they're good."
While the big event itself is months away from the first baby races of 2023, the Campbellville, ON, trainer said he is looking forward to it. Even the release of the slot owners' names generates anticipation each year.
"The people advertising that race do a very good job," Blais said. "Every year when we get close to that day, it's exciting. It's always a last-minute call. It's interesting."