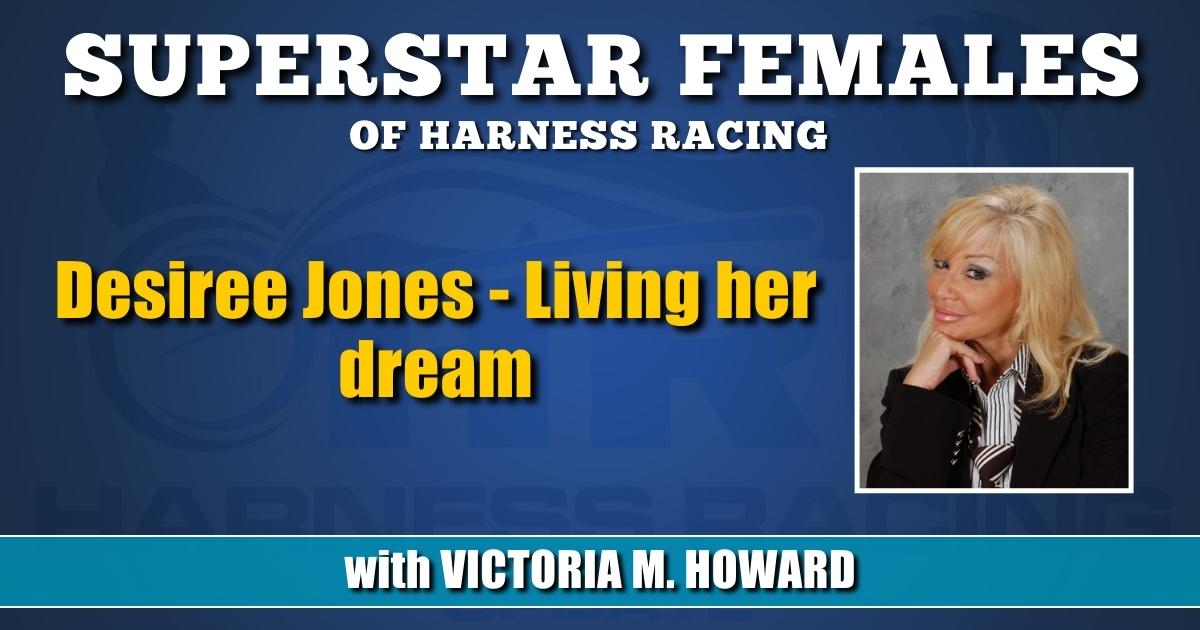 Desiree Jones – Living her dream
by Victoria Howard
It's no surprise that Desiree Jones went into harness racing, just look at who her parents are.
Her dad, Norm Jones, is a lifelong trainer/driver who began training horses in Eastern Ontario. He raced mainly at Blue Bonnets and Rideau Carleton Racetrack.
After moving to the Toronto area with his wife, Penelope Major Jones, also a trainer/driver in her younger years, Norm kept a stable of 25 to 30 horses in Rockwood, ON, and a small stable in New York where he raced at The Meadowlands in New Jersey.
During his career, Norm made upwards of $12 million training and driving standardbreds, and today is retired in Cambridge, ON.
"When I go home in the summer months, dad joins me at the barn three or four times a week, mostly telling me what I'm doing wrong," Desiree said with a laugh. "Unconditional love, he calls it, but he still gives me a great wealth of knowledge.
"Some of dad's better horses were Lord Stormont and RB Jet. Lord Stormont won the World Trotting Derby in Du Quoin, IL, and surpassed a million dollars in earnings.
"My father also used to compete in the "ice races' on the Rideau Canal, which held significant history in our sport."
Desiree and her brother Sandy, from a previous marriage, would follow in their patriarch's footsteps. Although Sandy never made the move to Toronto, choosing to stay in eastern Ontario and today still works as a trainer/blacksmith.
Sadly, Desiree lost her mother and another brother in 2011 and 2012, respectively, both to the effects of addiction.
"That experience only pushed me further into the horses," Desiree said. "I would say that the event of losing my family members really gave me the final push to make horses and racing my full-time career.
"When you spend most of your time in the barn surrounded by horsemen, you'll discover many people who have faced a lot of adversities in life. People from places that weren't always perfect or safe and have faced all sorts of different types of traumas and heartache. For some reason these people are drawn to working with horses for these magnificent animals are a good outlet and are therapeutic in a sense.
"Horses don't talk back. They don't judge you and will give you the love you need, and never want anything in return but to be taken care of: and maybe a carrot or peppermint once in a while. Since before I can remember, I would spend all my time at my happy place — the barn — with the horses. I was in awe with those amazing animals from the very start."
Desiree remembers that all she ever wanted to do was spend every minute at the barn.
"I guess you could say I was obsessed," she said with a laugh. "I begged my dad to take me out of school early so I could go to the racetrack with him or to the barn every night at feeding time. "Since I was too small to train or jog a horse to a jog cart, my dad got me a pony when I was 4-years-old.
"That was the beginning of my life working with horses and setting my career up.
"A few years later, dad let me jog and taught me how to rate a mile. I guess you could say he threw me to the wolves but it was the best teaching method at that time.
"Although dad taught me everything he could about racehorses, as the years went by, he didn't want my training horses to be my only option in life.
"Dad's owner at the time, Eric Baker of Stormont Meadows, agreed to give me a leg up if I finished my schooling first, so I took a short hiatus from the horses to attend college and received a diploma in Business-Marketing.
"If dad and Eric were hoping to divert my attention away from working with horses, their plan didn't work, for I returned to the horses as soon as I could say, 'yee haw' and kept a stable of four to eight racehorses — mostly homebreds — up until last year."
Today, at the ripe age of 30, Desiree trains out of the Cambridge area, about 25 minutes from Mohawk, racing mostly at Mohawk, but she travels to several smaller Ontario tracks for stakes races.
Last summer, Jones spent a few weeks in New Jersey with young horses and raced at The Meadowlands. In the fall of 2021 trainer Gino Toscano asked Desiree if she wanted to go to South Florida to winter train.
"Gino said they would be taking some racehorses and a few babies — emphasis on a few — but now we're here with 30 head," Jones said.
I asked Desiree how she liked training at Sunshine Meadows.
"I don't think you'll meet anyone that doesn't love training here," she said. "The conditions are amazing for both the animal and people. It makes a big difference when you don't have to add cork to a young horse or worry about their lungs in the frigid temperatures."
Desiree's best horse is a 3-year-old Archangel named What An Angel and her fastest is Whichwaytothebeach.
But who is her favorite horse of all time horse?
"I'd have to say that would be Lord Stormont: and this answer is biased, for my dad trained him and our family owes this horse a lot," Desiree said. "Lord Stormont made memories that lasted a lifetime. I love pulling up replays of his old races and seeing my dad's face light up every time."
As far as preferring trotters or pacers she said:
"Trotters, always. I was never raised with pacers for our stable was always filled with trotters. If we had a handful of pacers over my lifetime that was a lot.
"Yes, trotters are a challenge. They make you work that much harder to get there, and as crazy as that sounds, it's extremely satisfying to see a trotter in the winner's circle that you broke and trained down.
"Babies in general take every ounce of patience you have, and trotters will certainly make you pull your hair out, but they're lots of fun."
Desiree is a dedicated, loyal, hard worker. She can be seen on the track at Sunshine Meadows when the sun rises and is there until the late afternoon hours, living out her dream.