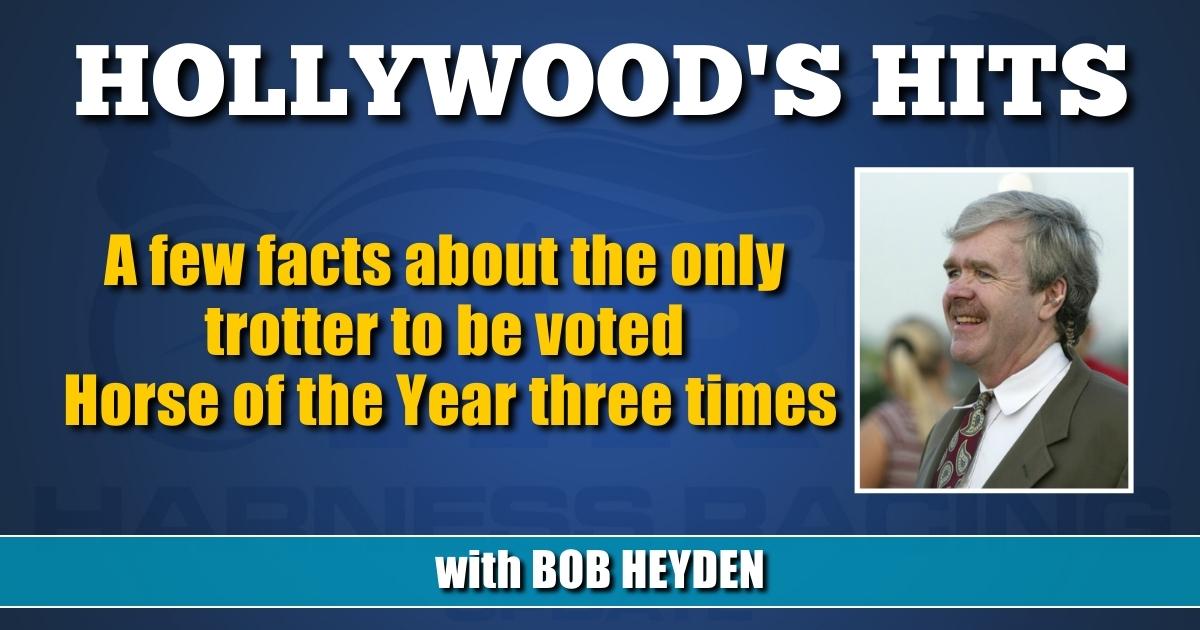 A few facts about the only trotter to be voted Horse of the Year three times
Plus, a look at the original Super Bowl.
by Bob Heyden
Monday (Feb. 13) marks the 30th anniversary of the only trotter to be named Horse of the Year three times, Nevele Pride.
Here's a couple of facts on the fastest trotter of his era:
1. He lived to age 28 and as a yearling sold for $20,000 (Hip 168 as Thankfuls Pride).
2. When he time trialed six days apart on both the mile and the half-mile, the two world records had a distinctly similar theme.
His 1:54.4 mark at Indianapolis set the new all-time standard. His 1:56.4 mark at Saratoga was the new half-mile record.
Here are the individual fractions in each: :27.3, :28.1, :29.2 and :29.3 for the 1:54.4 mile and :28.2, :28.4, :29.2 and :30.1 for the 1:56.4 record.
The first quarter was the fastest; second quarter, the second fastest; third quarter, the third fastest and the fourth quarter, the slowest, in both.
3. He was buried alongside Count Fleet and Meadow Skipper at Stoner Creek Farms. Not sure who Count Fleet was? He won the thoroughbred Triple Crown by a combined 36 lengths, matched by Secretariat in 1973.
4. His $3 million syndication was the highest upon retirement after 1969.
5. His first crop had Nevele Diamond, his second had Hambletonian winner Bonefish and many champions both here and overseas like Zoot Suit, Pershing, Messerschmitt, Panty Raid, Tarport Frenzy, Rosemary and La Pomme Souffle, the dam of 1980 2-year-old pacing king French Chef.
6. Property of a syndicate with a $10,000 initial stud fee, he retired as the richest trotting stallion ever at $871,738.
HOY REPEATERS ARE A RARITY
In the first 42 years of HOY balloting, 1947-1988, nine horses won it at least twice:
• Good Time ('49 and '52)
• Scott Frost ('55-'56)
• Adios Butler ('60-'61)
• Brett Hanover ('64-'66)
• Nevele Pride ('67-'69)
• Albatross ('71-'72)
• Niatross ('79-'80)
• Cam Fella ('82-'83)
• Mack Lobell ('87-'88)
In the last 34 years, 1989-2022, only once was there a
repeater:
• Moni Maker ('98-'99)
THE FIRST SUPER BOWL
1. He was born in 1968 when the NFL-AFL Championship Game was not yet named the Super Bowl.
2. In the half century since Super Bowl was the 1972 Trotter of the Year, Hambletonian winner and the fastest 3-year-old colt trotter in the sport's history at 1:56.2, no stablemates — trotter and pacer — have been 1-2 in HOY voting. Four-year-old pacer Albatross, also from Stanley Dancer's barn, was Horse of the Year in 1972.
3. Not only were they stablemates, but they also won their individual divisions by the same tally, 190-1: Albatross over Tarport Skipper and 3-year-old Super Bowl over Songcan.
4. Super Bowl was the eighth and final Hambletonian-winning son/daughter of Stars Pride and easily an all-time best.
5. The first crop of Super Bowl, to say the least, gives a nod towards the NFL's biggest game as well as the Miami Dolphins, with names like Blitz Hanover, Coach Hanover, Csonka Hanover, Dolphin Hanover, Fumbles, Griese Hanover and Touchdown Hanover.
(Note: Super Bowl's first crop was in 1974 and the Dolphins competed in the Super Bowl three-straight years from 1972-74 with a loss and then back-to-back victories including the only undefeated season in NFL history).
BILLY HAUGHTON'S FIRST HORSE OF THE YEAR
Green Speed was Billy Haughton's first Horse of the Year. He won the 1977 award. But, in 1976, Haughton served notice that he was coming for the hardware soon by placing four in the Top 10: Keystone Pioneer (2nd), Steve Lobell (3rd) Windshield Wiper (7th) and Handle With Care (tied for 8th).
THIS MAY BE THE ODDEST HOY STAT OF ALL
Delmonica Hanover was HOY in 1974.
Not only was she 5-for-17 on the year, but her win percentage (29) was less than in her three previous years:
1971 — 29 16-6-1 — win percentage, 55.
1972 — 26 18-4-1 — win percentage, 69.
1973 — 23 7-7-4 — win percentage, 30.
MACK LOBELL AND JATE LOBELL
In 1987, Mack and Jate went 1-2 in the HOY voting and just two years earlier sold at the same North American sale, 32 hip numbers apart.
They were Trotter and Pacer of the Year, respectively, and while it appeared clear that no one was unseating Mack at the top, Jate's adventurous Meadowlands Pace night certainly didn't help him.
After being stuck in traffic from an overturned tractor-trailer on the New Jersey Turnpike, Jate finished seventh in the Pace as the 4-5 favorite.
He actually had three horses finish in front of him at odds greater than 170-1:
Burning Chance (4th) 171.90-1.
Meadowbranch Bret (5th) 183.40-1.
Happy Affair (6th) 180.80-1.
WE CAN GO ANOTHER CENTURY AND NOT SEE THIS AGAIN
One horse upended two future Horses of the Year in the same race.
In the 1985 Pilgrim at Garden State Park, Armbro Dallas defeated 1985 HOY Nihilator and 1986 HOY Forrest Skipper.
SEVEN-FIGURE WILSONS AND THE HOY
We are now past a decade from the last edition of the Woodrow Wilson which began in 1977.
Even now, the six richest races ever contested remain Wilsons.
Zero winners of those seven-figure Wilsons were ever named HOY in the same year.
Niatross won the Wilson and HOY in 1979, when the purse was $862,750 — the year before it hiked into the stratosphere — but it was still the richest race to that point.
Nihilator won the HOY title the year after he won the sport's richest ever test when the 1984 Wilson went for $2,161,000.
Only 3-of-the-10 $1 million-plus Wilson winners got any HOY votes at all. McKinzie Almahurst in 1981, Fortune Teller in 1982 and the aforementioned Nihilator in 1984 who finished third in the HOY voting.
BOB-BING AND WEAVING
Bulldog Hanover getting the Proximity Award is just further evidence of sheer and utter greatness.
Three examples that only happen when you are indeed the best of the best:
1. Jate Lobell was undefeated in May of 1987 as a sophomore. In order to absolutely ensure that he'd compete in the $100,000 New Jersey Sire Stakes final, they doubled the purse to $200,000 and Run The Table upended him in the year's fastest mile 1:51.
2. Niatross being buried at the Hall of Fame. Enough said.
3. Tarport Hap passed away on March 12, 1977 and that same year, just four months later, a race in her honor for sophomore pacing fillies debuted.
ONE MORE THING
LeBron James is now the all-time leading scorer in NBA history. Kareem Abdul-Jabbar held it for 38 years and 10 months.
Could we be looking at a similar time period in harness racing for the all-time earnings record?
On July 31, 1987, John Campbell took it over from Herve Filion.
We are now 35 years and 7 months into that reign.
Campbell is over $299 million. Dave Miller is a little over $271 million and Tim Tetrick is over $255 million.
We might just have an even better scenario than the NBA had with two drivers simultaneously going after a hallowed mark.
The averages of Miller (58) and Tetrick (41) over the past several seasons bring them both into play three years from now. Although they may need a little more time, it's going to be close. Stay tuned.