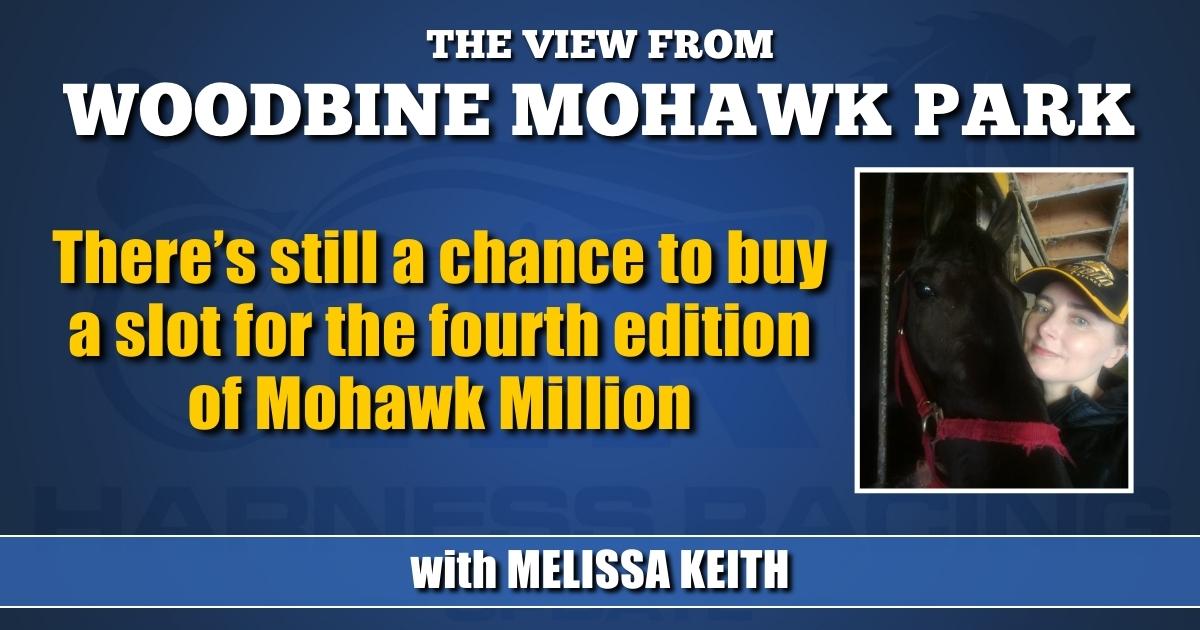 Slots filling for the fourth edition of Mohawk Million, but there is still a chance to buy in.
by Melissa Keith
When "slots" are mentioned in the context of harness racing, it's usually the racino gaming machines that come to mind. A few years ago, the Mohawk Million set out to change that.
Bill McLinchey is the director of standardbred racing for Woodbine Entertainment. He is also the man in current dialogue with owners, trainers and breeders of young trotters, discussing Woodbine Mohawk Park's relatively-new $1 million (CDN) signature event for 2-year-olds. The single-dash Mohawk Million features transferable entry slots for purchase, plus a 10th free slot for the colt, filly or gelding who captures one of Woodbine Mohawk Park's earlier Grand Circuit events for freshman trotters.
"This will be the fourth edition," McLinchey said. "There are nine slots available, and we felt it was important to try and boost up the [William] Wellwood [Memorial Stake] as well, so we offered a free slot to that winner."
The 2023 Mohawk Million is slated for the Saturday, Sept. 23 card.
"I think it's an important race on the calendar because it has a unique kind of tradition, a unique format," McLinchey said.
He likened it to the original concept for the thoroughbred Pegasus World Cup at Gulfstream Park. The inaugural running offered 12 slots at $1 million apiece, with owners/trainers able to reserve their place in the gate before naming the specific horse that would start.
While the Pegasus later discontinued that format, it still had potential.
"When we were in the initial planning stages, it was the Hambletonian Society that gave us the idea for 2-year-old trotters, with the hopes of including European interests and not being locked into just North Americans," McLinchey said.
He added that the Pegasus-like flexibility of the Mohawk Million concept is an attraction for anyone who owns and/or trains multiple young trotters. Late-maturing 2-year-olds can replace others who have tailed off or not met early expectations. There are no restrictions on where they were sired or foaled and no special Lasix restrictions for 2-year-olds.
"That's what makes it unique: They have the slot, but they don't have to name the horse until the draw day, which is the week of the race," McLinchey said. "Anyone that purchases [a slot] at this time, I think, is feeling that they have a shot of having that colt or filly that's good enough, but if it works out that they don't, then they have the opportunity to make a deal with someone who does have that colt or filly that's good enough at that point."
In 2020 and every year since, all nine paid slots have been filled.
"It went well," McLinchey said. "It was different because it was new and it was a different format, so people were just kind of wrapping their heads around how it all worked. Fortunately for us at Mohawk, we have a great group of owners who did step up and wanted to support the race, wanted to be part of a special event. We're always very appreciative of anyone who does step up, because I know it is a big ticket."
He said that both familiar names and lesser-known players have taken part: "Brad Grant was involved in the first three; Serge Godin (Determination), he was also involved in all three; Gino Toscani bought two slots in the second year and one slot last year."
Dan Patch 2-Year-Old Trotting Colt of the Year Venerate (4, 1:51.1m; $936,735) captured the first Mohawk Million, racing in a slot purchased by Brad Grant, Marvin Katz and partners. The 2021 edition went to Dan Patch and O'Brien 2-Year-Old Trotting Filly of the Year Venerable (2,1:52.0m; $1,187,798), for whom Grant made his slot available. Last year, the S R F Stable's Oh Well (2, 1:53.1m; $740,380) won the Million, his slot was purchased by a breeder with a strong connection to the race.
"A unique piece last year was that Hunterton Farms bought a slot, because [Hunterton's Steve Stewart] had bred the winner of the first two editions," McLinchey said. "Hunterton, along with their partners, felt it was important to support the race and see that it carries on, so they purchased a slot, knowing that they don't race horses, but they would be making a deal with someone who did have a 2-year-old. Their slot was the winning slot last year. So that was really refreshing to have breeders involved and make the commitment to the race. We're very happy to have them."
With the Feb. 15 deadline approaching, there are still slots available for the 2023 Mohawk Million.
"We are not sold out yet," McLinchey said on Tuesday (Feb. 7). "The first three years, it's really come down to the final day. I fully expect that year four will be no different."
To learn more about buying one or more slots, interested parties can email him at bmclinchey@woodbine.com.
The price to play remains the same.
"It's $100,000Canadian, and it's two installments: $50,000is due February 15 and then the second installment of $50,000is due June 1," McLinchey said.
McLinchey said Woodbine Mohawk Park was grateful to everyone who participated during the early years of the COVID-19 restrictions.
"The first two years, you really had to tip your cap to some of the non-Canadian [slot] purchasers, because they purchased and weren't even able to get across the border to see the race," McLinchey said. "It's been really refreshing to see the people that have supported it, and each year, there's always a new person who will step in and try it."
Gino Toscani has been one of the loyal supporters of the race and reached on Wednesday (Feb. 8) at Sunshine Meadows Equestrian Village in Delray Beach, FL, the owner/trainer/driver told HRU he was ready to help provide "whatever they need" to make the Mohawk Million an ongoing success.
"It's an exciting race and if you have trotters, it's really one of the best to race in," Toscani said. "They give everybody a chance… You can always sell [your slot] if you don't have a horse good enough to go into it. You can sell it to someone or make a deal for so much. The best part about it is you don't have to nominate a certain horse. If you have a stable of 25 horses, hopefully you have one that you can put in it. If you own quite a few, yes, I would recommend it."
Currently training 25 freshman trotters, plus another 15 2-year-old pacers, Toscani said that this early in the year, no one really knows which babies will rise to the million-dollar level by late September.
"It's too soon for that," Toscani said. "They're all going well, but that doesn't mean anything. If you have a number of trotters, it's nice to take a shot at it, see if you can race in it. The good part is everybody gets $10,000back [for finishing sixth through last]. That helps a little bit too."
The Mount Hope, ON horseman acknowledged that there's a calculated gamble involved in buying slots. "Yes, and it would also be nice if we drew a little better, because one year I got the 10 hole and last year I got the nine hole [with fifth-place finisher What an Angel (2, 1:59.0s; $62,655 ]," Toscani said. "It's risky, but the whole business is risky. Without owners, it wouldn't be able to go. Let's face it: We buy the race. It's an interesting night. We have to help support it, so that the big races like that keep going. It helps breeders; it helps everybody."