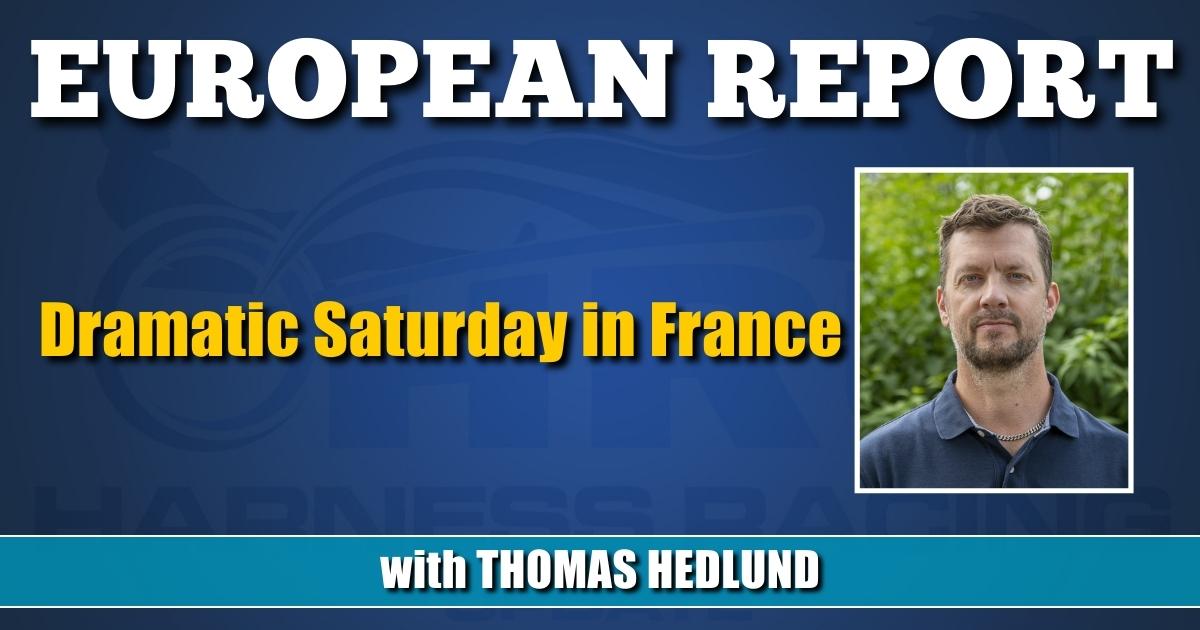 Dramatic Saturday in France
Calgary Games out of the Prix d'Amerique.
by Thomas Hedlund
One contender showed great condition, another one disappeared from the discussion ahead of this year's edition of the Prix d'Amérique.
It was announced at noon Saturday (Jan. 14) that Timo Nurmos' Calgary Games was scratched from today's (Jan. 15) $125,000 Prix de Belgique, due to problems with the throat.
That means that one of the favorites to win Prix d'Amérique 2023 is out of the game, because even if Calgary Games recovers and gets in shape for the big race, he will not be allowed to enter Prix d'Amérique due to his lack of earnings during the prior season.
So, Calgary Games will leave Paris and go back to Menhammar Stuteri, Sweden, where his stud duties wait.
It's a tough setback for the entire Prix d'Amérique aura, and not just for the Swedish harness racing fans that will miss a popular horse to back in France's biggest race. The Prix d'Amérique needs top trotters from all over the world and the myth surrounding Calgary Games is exactly what makes races of this quality as big as they are.
The $125,000 Prix de Belgique is the last qualification race ahead of Prix d'Amérique and three spots for the big race are at stake.
IDAO DE TILLARD WINS PRIX DE CROIX
On Saturday's (Jan. 14) race card at Vincennes, 5-year-old Idao de Tillard (Severino) was the heavy favorite in the $125,000 Prix de Croix for 5-year-olds and even if Thierry Duvaldestin's trotter had to do most of the job outside of the leader I Love Me, Idao de Tillard took a pretty safe win in a moderate mile rate of 2:01.1 over 1.7 miles.
Idao de Tillard secured his Prix d'Amérique spot when he claimed the $215,000 Criterium Continental on Dec. 24 and he is definitely one of the hottest horses aiming for a win in the big battle on Jan. 29 at Vincennes.
Replay here.
PRIX DE BELGIQUE (JAN. 15 AT 3:15 P.M. CET / 9:15 A.M. ET)
Horse – Driver (* already set for Prix d'Amérique)
1. Hip Hop Haufor* – Christian Bigeon
2. Horsy Dream* – Eric Raffin
3. Beads – Yoann Lebourgeois
4. Hussards du Landret* – Benoit Robin
5. Hirondelle Sibey – Louis Baudouin
6. Calgary Games – SCRATCHED
7. Decoloration – Gabriele Gelormini
8. Elvis du Vallon – Charles Cuiller
9. Bleff Dipa – Alexandre Abrivard
10. Zarenne Fas – Paul Philippe Ploquin
11. Gu d'Heripre – Franck Nivard
12. Italiano Vero* – David Thomain
13. Hooker Berry* – Jean-Michel Bazire
14. Moni Viking – Matthieu Abrivard
15. Hohneck – Francois Lagadeuc
16. Vernissage Grif – Alessandro Gocciadoro
17. Cokstile – Gennaro Casillo
18. Delia du Pommereux* – Pierre Yves Verva
RESULT FROM PREVIOUS PRIX D'AMERIQUE QUALIFICATION RACES:
$125,000 Prix de Bretagne (Nov. 20)
Hip Hop Haufor
Italiano Vero
Ampia Mede Sm
$125,000 Prix du Bourbonnais (Dec. 12)
Hooker Berry
Hussard du Landret
Etonnant
$215,000 Prix Tenor de Baune (Dec. 24)
Horsy Dream
$215,000 Criterium Continental (Dec. 24)
Idao de Tillard
$125,000 Prix de Bourgogne (Jan. 1)
Delia du Pommereux
Flamme du Goutier
Ampia Mede Sm