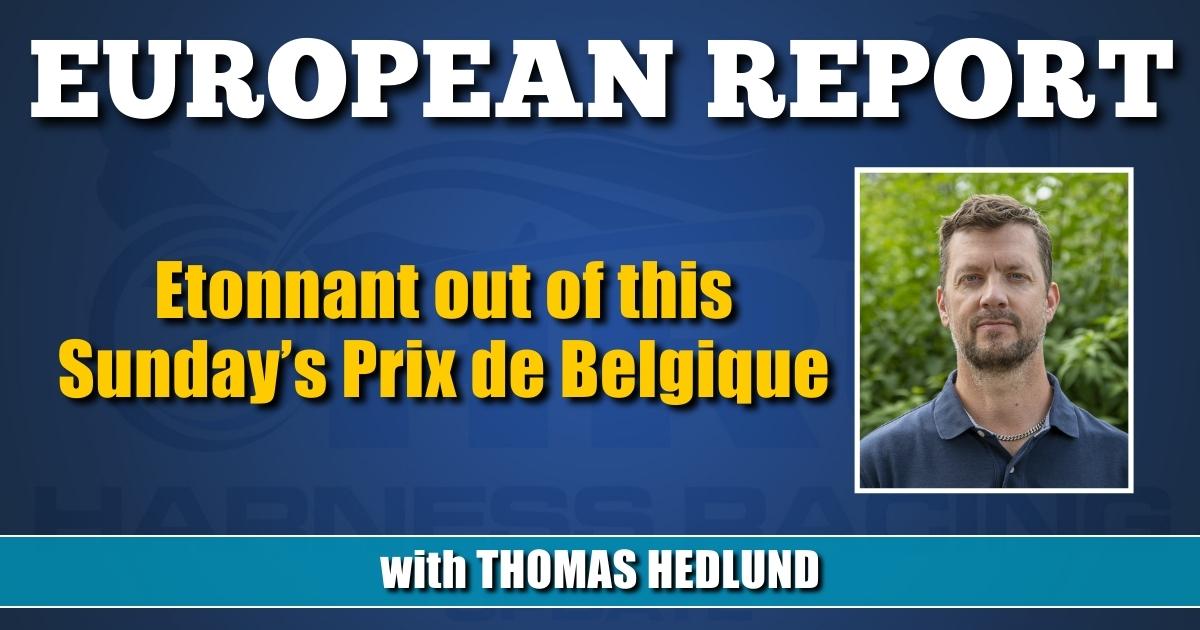 Etonnant out of this Sunday's Prix de Belgique
by Thomas Hedlund
Sunday's (Jan. 15) $125,000 Prix de Belgique, the last out of four preparation and qualifying races ahead of Prix d'Amérique, will miss one of France's best older trotters as Richard Westerink's Timoko son Etonannt tied up earlier this week.
The future of Etonnant in Paris this winter is uncertain at this point, but it's clear he will miss Sunday's race at Vincennes.
Mythical trotter Calgary Games was among the 18 horses expected to enter Prix de Belgique when this text was written on Wednesday (Jan. 11). Timo Nurmos' trotter has his chance to grab his spot in the big race on Jan. 29. A top-three finish this Sunday will secure Calgary Games' entry in the Prix d'Amérique.
Saturday's (Jan. 14) Prix de Croix for 5-year-old colts and mares over 2,850 meters has gathered a splendid field of trotters. Thierry Duvaldestin-trained Idao de Tillard and Philippe Allaire's Callmethebreeze are the most merited horses. Idao de Tillard won the $215,000 Criterium Continental in his previous performance and is ready for a start in Prix d'Amérique on Jan. 29.
HORSES REMAINING IN THE LIST FOR PRIX DE BELGIQUE AS OF WEDNESDAY NIGHT:
Delia du Pommereux
Cokstile
Vernissage Grif
Hohneck
Moni Viking
Hooker Berry
Italiano Vero
Gu d'Heripre
Zarenne Fas
Bleff Dipa
Elvis du Vallon
Hussard du Landret
Horsy Dream
Hip Hop Haufor
Decoloration
Calgary Games
Hirondelle Sibey
Beads
STAND BY HORSES:
Happy Valley
Equinoxe
Fakir de Mahey
Eric The Eel
Heraut d'Armes
Grace du Digeon
Oracle Tile
Short In Cash
Enjoy The Game
Hermine Girl
PARIS STAKES ROUND-UP
The $125,000 Prix Maurice de Gheest for 3-year-old colts was held at Vincennes, Paris, on Saturday (Jan. 7) afternoon and when it comes to big stakes races for young trotters, Philippe Allaire is often seen in the winner's podium after the races. This time he had Koctel du Dain (Boccador de Simm), paired with David Thomain to count on and Koctel du Dain was unstoppable from the lead while first choice Kamehameha crossed the finish line as runner up with plenty of power saved after a pocket trip.
Replay here.
The 3-year-old fillies battled in Sunday's (Jan. 8) $125,000 Prix Gelinotte where Fabrice Souloy trained Kalamity d'Heripre proved to be the best after a quite tough trip. Franck Nivard drove Souloy's trotter and the first kilometer was spent three wide before Nivard pushed his horse to the lead with a half-mile to go in the 2,175 meters long race.
Kalamity d'Heripre held her challengers behind her on the stretch and won in a stakes record of 1:57.2 over 1.3 miles.
Replay here.
Allaire had the big favorite when the $125,000 Prix Charles Tiercelin for 4-year-olds was on Sunday's card, but crop dominant Just A Gigolo couldn't defend himself when Alessandro Gocciadoro played his card right with Don't Say Gar (Varenne). Just A Gigolo was served a second-over trip and Franck Nivard opted to attack three wide before Vincennes' last turn as leader Jack Tonic seemed to have plenty of gas to use in front. With 600 meters remaining, Just A Gigolo landed outside the leader Jack Tonic, who defended himself well until he lost his gait 50 meters before the wire.
Far outside, from far behind in the field, Gocciadoro followed as third-fourth three wide in the last turn and his Don't Say Gar flew on Vincennes' home stretch. Just a few meters before the wire, the Italian bred 4-year-old was first and the performance was impressing.
Replay here.
Jean Luc Dersoir trained Elite de Jiel (Niky) was very eager in fourth over when the $92,500 Prix de Lille was held at Vincennes the same day and some well-merited trotters showed up behind the gate when the race was on. Elite de Jiel, driven by Francois Lagadeuc, got the order to attack far outside as the stretch began and when Bepi Bi got room to speed on the inside when leader FairPlay d'Urzy went off stride at the top of the stretch, it seemed to be an impossible mission to reach the front horses. But Elite de Jiel's finish was something extra and the 9-year-old mare secured the win in a mile rate of 1:54.4 over 1.3 miles.
Replay here.