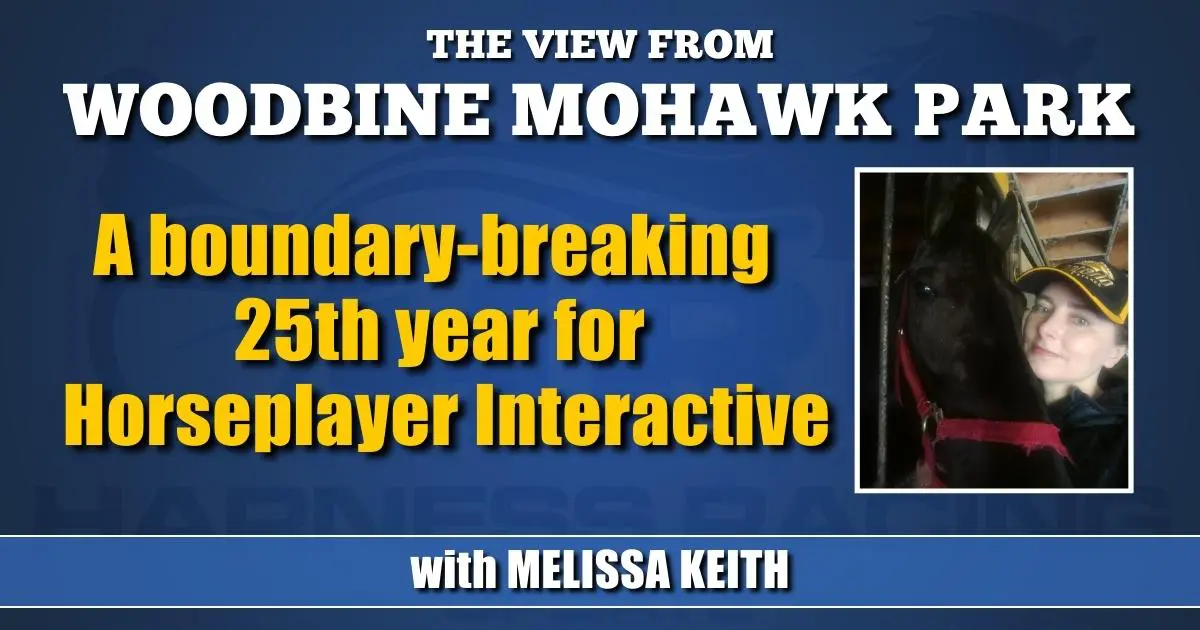 A boundary-breaking 25th year for Horseplayer Interactive 
Part 2 of our conversation with Woodbine's Chris Lush.
by Melissa Keith
Woodbine Mohawk Park conducted its first live races of 2023 on Monday evening (Jan. 2), beginning the new year on a positive note: Last month, the Campbellville, ON track announced that its annual all-sources wagering for 2022 had gone over the $400 million (Cdn) mark for the first time, exceeding its previous record of $364 million, set in 2019.
In last week's column, Woodbine Entertainment's chief technology, innovation and wagering officer Chris Lush shared some developments from Horseplayer Interactive's 25th anniversary. 
HPIbet.com and the newer, AI-focused darkhorsebets.com remain Canada's only legal ADW sites for horse racing; both are intellectual property/brands of Woodbine Entertainment.
"We built [HPIbet] in such a way that it's extensible," Lush told HRU. "When we initially built it, it launched in Ontario, with Woodbine being in the Ontario market. But then there was value for us to be able to offer it to any of the partners for us in the Canadian jurisdiction. So it kind of went out on its own and became a brand across Canada."
HPI.bet offers signals from horse racing worldwide, with regional availability of specific tracks decided by the home market area (HMA) of each HPI customer. "We just work with the HMA, or whoever runs the HMA in each jurisdiction, to ensure that whatever they are allowing into their home market, we offer that same product mix through HPIbet," he said. 
"If a customer is betting into a pool for Ontario racing, any one of the tracks in Ontario, you're betting into a Woodbine pool. We host those pools. If you're betting a race in BC, we actually host those pools as well, because it falls under our hosting agreement."
Lush said that HPI customers across Canada ("probably 76 or 78 per cent of all of the wagering") favor big American tracks: "They're playing Gulfstream; they're playing Belmont; they're playing Santa Anita… and of course Meadowlands standardbred. They enjoy playing into those big pools."
Canadian dollars wagered online are commingled with the U.S. pools.
"Somebody else is hosting those pools," said Lush. "If it's actually one of the existing tracks with Monarch Racing [e.g. Santa Anita, Gulfstream], they use the same tote as us [i.e. AmTote International, the Stronach Group-owned tote company], so technically it's kind of a shared pool."
He added that HPI offers certain international tracks that do not themselves allow commingled pools.
"We host separate pools for the Japanese Racing Association [JRA]; they don't let international parties bet into their pools directly, but they export their signal and let other countries host a pool. So, in North America, Woodbine actually hosts the JRA pool – 80 per cent of the wagering is actually American, in that pool, but a lot of Canadians also enjoy betting on the Japanese racing. We host the pool that's only for North American customers, all commingling into a pool that doesn't include the Japanese.
"The flipside of that is Hong Kong, which has the largest pools in the world, and they also allow a large contingent of international partners to commingle into their pools, so as an HPI customer, if you're betting on Hong Kong, we're placing your dollars into that Hong Kong pool. It's a massive pool."
Canadian tracks offered via HPI always have commingled pools, said Lush: "It's never just Canadians. It's always a big mix with the United States customers [and] HPI customers across Canada."
Lush told HRU that Horseplayer Interactive is not yet a partner with PMU (Pari Mutuel Urbain), which controls France's betting market, but discussions were ongoing. PMU is number one in Europe and third in the world by total wagering on horse racing, bringing in €6.0 billion in 2021, a year-over-year increase of 13.2 per cent.
"There's a lot of complexities with how we're allowed to wager and how we're allowed to import signals. We have what are called 'joint venture agreements' with international racing parties. Through that joint venture, we're both jointly going into a pool and then we're each retaining a portion of the pool for our takeout or our fee. The complexity with us right now is, we have to do it that way; it's the only way that we're allowed to offer those signals. We haven't got to a point with PMU, who run the French racing, on the import of those signals. We've had some great conversations lately, and we're hoping to be able to offer their product; even better, we're actually hoping to offer our [Woodbine/Mohawk Park] product to PMU customers. If we had France wagering into our live pools, the liquidity of the pools would just increase astronomically."
(In this context, "liquidity" means a consistently-high volume of wagering activity.)
In the domestic market, Canadian horseplayers have strong preference for certain tracks.
"I can tell you the most popular track, bar none, is Woodbine Mohawk Park," said Lush. "That's a very easy one to answer for you. Our HPI customers enjoy a lot of other Canadian racing… Between Flamboro Downs and Western Fair, those would be the [next most popular] by wagering. Meadowlands still attracts a fair amount of our customers; we always think of them as sort of the 'other' big track in North America. But when you look at the gross wagering on Woodbine Mohawk Park versus Meadowlands, actually more money is bet at Woodbine Mohawk Park into the pools, so from that perspective, we always like to think it's the biggest [harness] track."
In 2022, single-game sports betting was legalized in Canada. Woodbine Entertainment, Ontario's only company with a pari-mutuel license, did not receive a license to offer online sports wagering. Since then, Lush and his team of "well over a hundred people" handling technology across the Woodbine organization have worked to adapt to the new gaming landscape. 
"With fixed odds coming into the market, especially with sports betting being legalized, we in the horse racing industry had to look at that and say, 'Okay, what is the risk and what is the opportunity?'" he said. "How do we actually get our product in front of all of these customers?
"We're actually working with the CPMA [Canadian Pari-Mutuel Agency] and in Ontario, with the AGCO [Alcohol and Gaming Commission of Ontario], to look at approving the ability to integrate our product through HPIbet… into these [sports betting] operators. So if you happen to be a customer of FanDuel or bet365 or BetMGM – one of the big players – we want to give you the ability to place a wager on a horse race."
"What we're actually going to be doing is integrating the back end of HPI to their front end [i.e. the sports betting site], so that when [customers] place a wager, it actually comes through our [HPI] systems, into our pools, through our tote system, and that way, the industry is still operating the horse racing but we're also attracting a whole new customer base and it's generally a younger demographic. So this is our way of opening up the [horse racing] market and allowing other partners to offer product, but at the same time, ensuring that we have control over how that's offered and that there's money going back to the horse industry."
Innovation helped boost Woodbine Racetrack and Woodbine Mohawk Park's handle, even with new rivals for the Canadian betting dollar, during the COVID-19 pandemic. 
"We finally breached that $1 billion mark [in 2022], which is incredible," said Lush of the combined handle of Woodbine's harness and thoroughbred products. "You know, a lot of that stems from the digitization of wagering: Believe it or not, when COVID first hit, and we were able to get racing started back up again, upwards of 80 per cent of the North American market was all on digital platforms. And when you're on digital platforms, as opposed to OTBs or tracks, the exposure to your product is almost the same as anyone else's. For the first time, people saw the product that we had, the Woodbine thoroughbred and Mohawk standardbred, and said, 'Wow!'"
Numbers backed up the enthusiasm: 38,000 HPI/Dark Horse customers placed wagers in 2022; 6,800 new customers signed up.
"The quality; the pool liquidity; a lot of things just attracted those customers, and it stuck. We've seen growth for the last three years now. We're really happy with those results, and I guess they set a high water mark I need to beat next year," he said.
Woodbine's "digital assets" were a major part of the winning equation that brought $592 million in wagering ($447 million originating from Ontario) to HPIbet in 2022, as of Dec. 29. "Innovation, in my mind, has mostly been focused on wagering," said Lush. "Different technology; different ways that you can do different things; and of course providing value to our customers. At the end of the day, one of our biggest goals is finding a way for our customers to win, which is very different from most gaming partners."