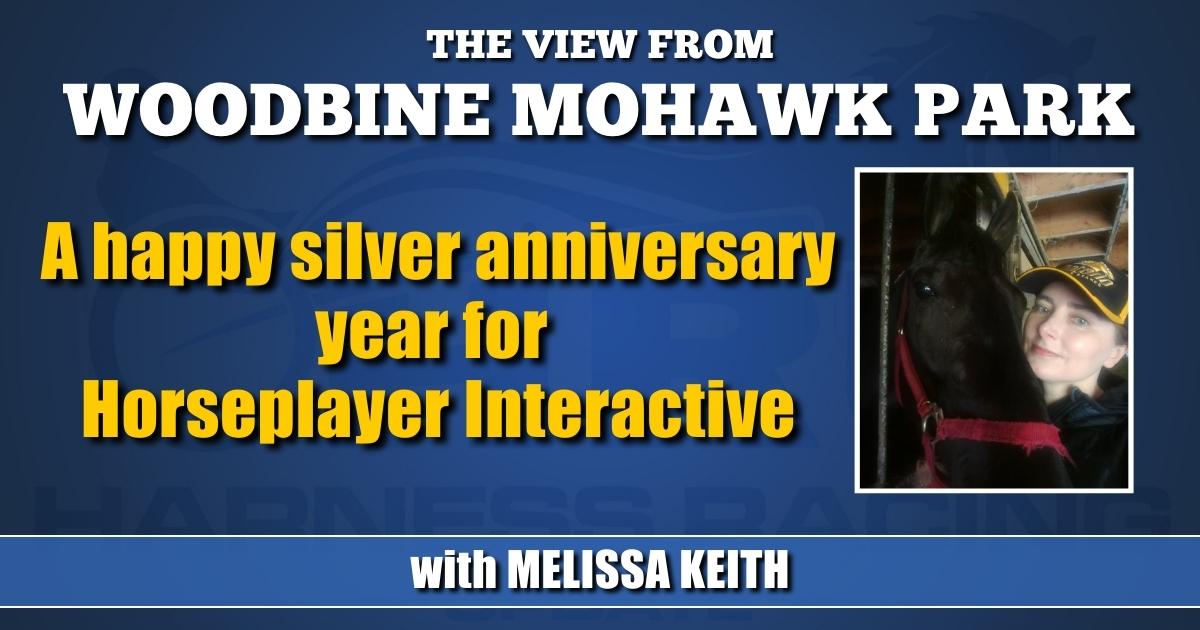 A happy silver anniversary year for Horseplayer Interactive
Chris Lush talks about the Woodbine betting platform's innovation in recent years.
by Melissa Keith
Chris Lush took a short break from the Woodbine Mohawk Park holiday party last week to talk about Horseplayer Interactive's 25th anniversary year. The chief technology, innovation and wagering officer for Woodbine had plenty to celebrate with colleagues. On Dec. 15, Woodbine Entertainment announced it had surpassed $1 billion (Cdn) in all-sources wagering for the first time in its history, with Woodbine Racetrack's 2022 thoroughbred meet attracting $621 million in all-sources handle and the 2022 Woodbine Mohawk Park standardbred meet (still in progress) drawing $424 million in all-sources handle, with 10 cards left at the time.
HPIbet.com, Woodbine Entertainment's advance-deposit wagering (ADW) site, was established in 1997 and remains, as noted on the home page, "Canada's only dedicated horse racing wagering platform." It began in 1997, offering telephone, Internet and TV services.
"I came on board in 2016, and we were just going through a facelift, to introduce sort of a newer generation: better video streaming; lower latency, which we really wanted to do; and then it really just became an innovative product set from there," said Lush.
Latency refers to how long it takes for computer data to be transferred from one point to another as instructed.
"Believe it or not, we are just shutting down our IVR systems this year. IVR is the telephone betting," he said. "I'm hoping to have it shut down by New Year's Eve. It's funny, because… we still have, I think it's in the tens of millions of dollars a year wagered through telephone betting. This is basically people using touch-tone phones to walk their way through a bet. Unfortunately, the systems that operate that and the hardware are all 'end of life' and I can't get replacements anymore."
The last telephone wagering clients are being assisted in the move to online wagering.
"We're just trying to get our customers, who still love betting on horse racing, to actually migrate to HPIbet," Lush told HRU. "For some of the bigger players who we have a connection with, we're offering them tablets preloaded with a home page for HPIbet. That gives them the ability to still access the racing they want, and we actually go so far as to help them train. We walk them through on how to place a bet on the platform… That customer is probably in their late 60s, 70s, and some are actually in their 80s, so it's a very different demographic.
"Some of the customers that I talk to tell me about when they used to go down to [Old] Woodbine [aka Greenwood] Racetrack in the Toronto Beaches and place bets on the live races. There used to be tellers who walked around and gave them tickets in the stands. I'm still listening to the stories…It boggles my mind."
In 2015, HPI relaunched with a specific focus: "The big key there was mobility," said Lush, whose initial position at Woodbine was senior vice president IT, becoming senior vice president, technology, wagering and broadcast in 2017.
"What we were finding was, year over year, we were seeing a trend: from customers that were logging in via desktops and laptops and a Windows OS [computer operating system], to customers actually accessing the website on their phone. So that launch we did was a mobile-friendly launch, so that if you open [HPIbet] on the browser on a phone, you get a different perspective in terms of the UI [user interface], but the usability is the same."
It sounds simple, but it's not, noted Lush.
"There are different browsers that you have to deal with. I'm going to say probably 90 per cent of our customers are using Google Chrome, and of course Safari if you're on an iPhone. But you need to be able to cater to all of them, and each one of those products or platforms has different pieces that you need to accommodate, so mobilization of the site, believe it or not, one of the first things it does is go out and ask the customer – in the background, through the technology: 'What are you connecting with? What browser are you using?' By doing that, we can actually provide the best experience possible for that customer."
Back in 2006, the shift in Canadian wagering tendencies was already underway. That year, "Woodbine Goes Wireless" let on-track bettors play a variety of tracks (around 150 at the time) via Blackberry and other mobile devices.
"When I came on board, it was a good mix between desktop, tablet, and phone [wagering]," recalled Lush. "Today, that has skewed to the point where we're seeing probably 75 per cent of connectivity happening over mobile [devices]. Of course, I think COVID accelerated that."
He said that privacy has always been paramount for online wagering customers, with HPI maintaining records for legal reasons.
"We are obligated through the CPMA to ensure that customers are residents of [a Canadian province] and over the age of 18. So we do know a fair bit about all of our customers, but that information is kept in a very secure vault and only our very specific wagering teams have access to that data."
Woodbine keeps in contact with players via three or four annual surveys, reaching out periodically to HPIbet customers about their satisfaction with HPIbet.
"There is a group who work on my team, called our Player Development Team," said Lush. "In that group are managers who reach out to some of our customers and talk with them, almost on a weekly basis, because we're always trying to work with them: 'What would you like? Are there other products you would like to see? Other enhancements to our platforms?'"
The players of Horseplayer Interactive have expressed changing preferences over the years, originally focused more on access to particular tracks, but changing to a more sophisticated request in recent times.
"Sometimes it is product," said Lush. "Some customers will come to us and say, 'Can you make this [track] available for wagering?' and we'll do our best. I work with an international consortium of simulcast partners and to be honest, I think Canada might be one of the leading countries internationally, in terms of the number of signals we actually bring in, because we offer Japanese racing; we offer Hong Kong; we offer South Korean racing; we offer Australia; and most of Europe and South America."
"Most of the feedback we get, a lot of it is – this is simplified – they want better handicapping resources, which means more information. Historically, [requests] would have been product, maybe usability. I think most of our customers now are: 'I love the usability of the site and I love the product. I'd love more handicapping information, more insights – anything to give me an edge, as a customer, to place a winning wager.' That's what we've been focused on, probably for the last two years now."
Artificial intelligence (AI) informs the enhanced handicapping tools on HPIbet and its younger relative, Dark Horse Bets (darkhorsebets.com).
"Dark Horse was built in a way to provide a different experience of wagering," Lush told HRU, describing Woodbine's ADW app for a different breed of bettors. The original version of Dark Horse launched in 2020.
"It is really a different demographic we're targeting… a younger, 'new to horse racing' type of audience. A lot of the innovation we have on that platform…became what we call 'SmartPicks.' SmartPicks is actually an algorithm that we wrote. It uses AI on the back end and it runs on Google's Cloud. What it does is take a lot of past performance information and then applies an algorithm to that to determine the probability of the horse winning a future race. We built that, in a way, for Dark Horse, but we recognized that it would give an intrinsic value to our existing customers on HPIbet as well, so we decided to actually import all that data. It actually happened on HPIbet this year."
In addition to handicapping tools, the wagering menu of standardbred and thoroughbred tracks has also increased during his time with the company.
"It varies by time of the year, but it's over 500 [tracks] now," he told HRU.
"I think in the last five years, bringing South Korea on board, bringing a lot more Australian and now New Zealand racing on board; Jamaica is now running and we offer their product. We have a fairly large Jamaican contingent in the GTA and they love the fact that we offer Jamaican racing they can wager on. We're always catering to find out what other products we can bring in. It's something we never lose sight of, and our customers seem to appreciate that."
Tracks offered in a single day on HPIbet have multiplied.
"[Kentucky] Derby day is generally the biggest wagering day of the year, and it has the most tracks running… I wouldn't be surprised if we set a new record this year, with probably closer to a hundred." (Unlike American ADWs, HPI cannot offer greyhound racing: "It's illegal under the Criminal Code of Canada, so we're not allowed to place wagers on it," he confirmed.)
The 25th anniversary year of HPI was marked by strong numbers across Canada.
"38,000 customers placed a wager with us on our platform in 2022. That's a high water mark for us, and in a substantial way. 25,000 of those were in Ontario."
Woodbine's chief technology, innovation and wagering officer added that harness bettors can look forward to even more positive developments in the new year.
Details in the next column.