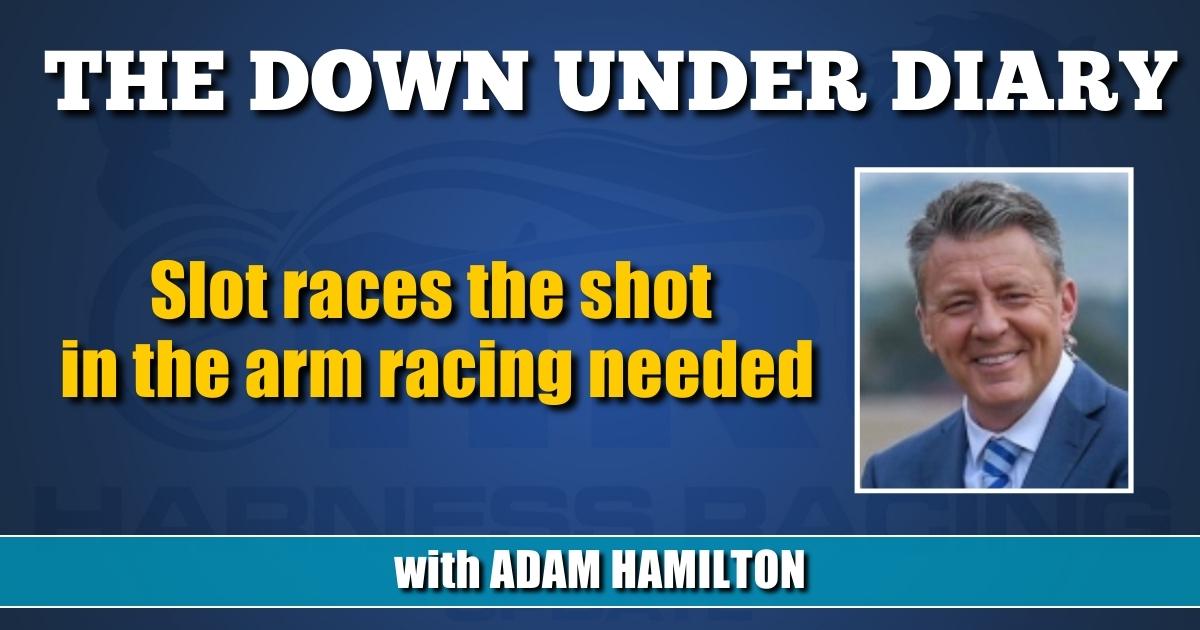 Slot races the shot in the arm racing needed
by Adam Hamilton
Slot races are polarizing.
But there is no doubting their rapid emergence in Down Under harness racing has been the shot in the arm the industry needed.
What's unquestionable is slot races have done three crucial things: created more, much-needed aspirational races; boosted the talkability of harness racing both inside and outside of the industry itself; and stirred the wealthiest people in the game to throw significantly more money into it.
There will be three harness slot races across Australia and New Zealand in 2023 – two of them run for the first time.
The trailblazer was NZ's "Race by Grins", which was run for the first time in April this year and proved hugely successful despite the host club, Cambridge, having to basically "fly solo" to make it happen, with little help from the broader NZ harness industry.
The old "build it and they will come" motto has proven somewhat true with Harness Racing NZ showing far greater "love" for next year's second-running of The Race by Grins and even kicking in some extra prize money to take it from $NZ900,000 to $NZ1 million.
"We were thrilled with the first year," Cambridge CEO Dave Branch said. "Slot holders, owners, trainers and drivers really embraced it… from Australia as well as NZ."
NZ's leading media commentator Michael Guerin predicted The Race by Grins could quickly become NZ's most sought-after harness race, usurping the great NZ Cup in November, which has stagnant prize money and will increasingly struggle to get consistent and strong Australian participation given how close its run in the calendar to the Inter Dominion.
"It falls in a good spot on the Aussie calendar and getting a few Aussies across for it, which Dave (Branch) and the team at Cambridge did so well last year, is crucial to take the race to another level," he said.
Already, the connections of arguably Australia's best pacer Rock N Roll Doo have declared their intention to chase the Race by Grins next year.
And global wagering giant Entain, through its Ladbrokes brand, have snapped up Rock N Roll Doo to race for their slot.
That's a huge "get" because things have changed since Cambridge locked in its April 14 time slot for 2023.
As only harness racing could do, for one of the new slot races, the $A1 million Nullarbor at Perth's Gloucester Park, will be run on exactly the same night.
Yes, harness racing Down Under is pretty good at shooting itself in the foot.
In defence of those behind the Perth race, their timing was part of a broader strategic play and was in no way a direct attack on the NZ race.
The Western Australian racing industry body, Racing and Wagering Western Australia, announced slot races for all three racing codes in WA – gallops, harness and greyhounds – and wanted them all run on the same weekend – April 14 and 15.
So, the harness and greyhound (Sandgroper) races will be on Friday night and the $A4 million thoroughbred equivalent (the Quokka) will be run the following afternoon at Ascot racetrack.
"We opted for NZ for a couple of reasons," Rock N Roll Doo's trainer/driver Michael Stanley said. "It might sound strange, but it's a lot easier to get flights to and from Auckland than it is Perth.
"And the Gloucester Park is small (half-mile) and we don't think Rock N Roll Doo would handle it overly well.
"Plus, we took him across to NZ for the Cup in early November and he handled the trip well."
So, what does Stanley think of the slot races?
"Great, why wouldn't they be? Anything that gets people talking and writing out the sport the better," he said. "It's added another dimension with our horse, first deciding which race to target and then negotiating with slot holders for the right fit.
"There was a lot of interest in Rock N Roll Doo. It's great to see others think as much of him as we do."
Rob Tomlinson, managing owner of WA's best pacer Magnificent Storm, echoed Stanley's comments.
"We're thrilled they've launched the Nullarbor over here. It's perfect timing for us with a horse like Magnificent Storm right at the peak of his career," he said.
"There's been a void in the calendar around that April/May time and to have a $A1 million race here in our backyard and not have to travel to chase it is fantastic.
"My company actually bought a slot in the race and originally planned to run Magnificent Storm in that slot, but there was so much interest in him and some attractive offers, we did an outside deal."
Like Rock N Roll Doo, Entain (Ladbrokes) has locked Magnificent Storm in for its slot in the Nullarbor.
The "king" of slot races in Australasia is the TAB Eureka, but it's not run until Sept. 2 and is very different to the Race by Grins and Nullarbor.
The TAB Eureka is restricted to 3- and 4-year-old pacers only and they must be Australian-bred. It is unashamedly designed to try and boost the Australian breeding industry and build domestic stallions.
A large slice of its funding comes from international stallion levies, impacting NZ and North Americans.
That's been quite controversial, but the fact it's been so well embraced by owners, trainers and drivers has largely negated that.
Having the world's richest race at $A2.1 million is quite a tag.
Ever since the race was formally launched last year, talk has been rampant about which slot holders will snare the most sought-after pacers, headed by the freakish 4-year-old Captain Ravishing and last year's triple Derby winner Leap To Fame.
And that's just what Harness Racing Australia's CEO Andrew Kelly wanted.
"We want this race to be talked about 24 hours a day, seven days a week and 365 days a year," he said. "It's been a great start and it'll only build even more as the month's tick down towards the first running."