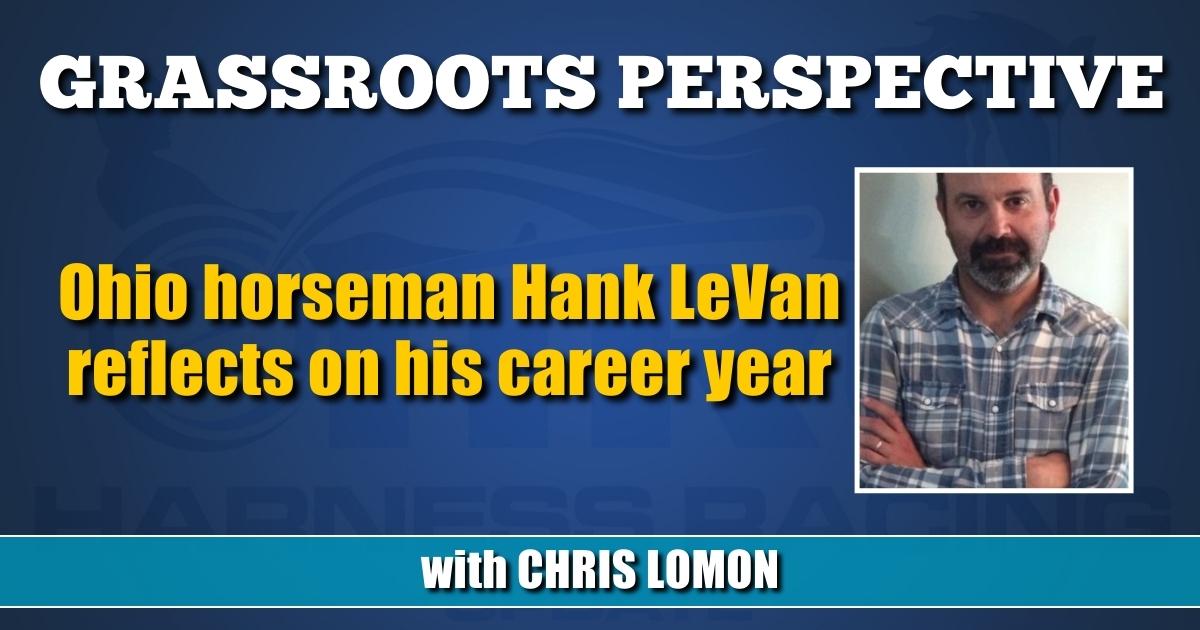 Ohio horseman Hank LeVan reflects on his career year
by Chris Lomon
Nothing, not the howling winds, the blowing snow, or the bitterly cold temperatures, could dampen Hank LeVan's disposition on this day.
The walk from the house to the barn in Woodstock, OH, is typically a welcome one — a short, often pleasant stroll.
That certainly wasn't the scene on Dec. 23, the day a widespread winter storm wreaked havoc across a large portion of the U.S. and Canada, including the LeVan homestead.
Yet, it was, for the most part, a minor inconvenience in the eyes of the standardbred horseman who had a career-best year both as a trainer and in the sulky.
"It was a good year. About halfway through the summer, I knew it had the possibility of being a good year. Some of the 2-year-olds were really starting to step up, the 3-year-olds were getting sharp, and things really just started heading in the right direction."
LeVan, who comes from a racing background (his grandfather Herb trained, and his father Louis owned), launched his career, as a part-timer, in 2017 when he won two races, along with seven top-three finishes, from 17 driving starts.
Three years later, he added trainer to his resume, winning 38 races from 234 career starts, accompanied by $284,066 in purse earnings. LeVan led the Buckeye fair circuit in 2020 with training purse earnings of $167,636 and tied for third in wins with 31.
The 2021 campaign, LeVan admitted, was somewhat of a disappointment, a year in which he trained 24 winners and drove 28 (he posted 45 victories in 2020) to victory.
LeVan, who has a master's degree in agricultural communication, extension, and leadership from Ohio State, used those results as motivation for this past season, determined to bounce back with a big campaign.
And that's exactly what he achieved.
"It was a bit of a rebound year, you could say. The year before was not very good. The year prior to that – really, my first year doing it full time – we had quite a bit of success and had some nice horses. To be able to come back and have another strong showing, I was pleased."
Even so, the 28-year-old felt there was more he could have accomplished, a nod to the personal lofty standards he sets for himself.
"I'm probably my biggest critic. We probably had too many horses for the help that we had. I'm kind of wired that way. I'd rather be out in the barn and giving everything that I've got to get that next opportunity, whether it would be to train a horse or drive a horse. I guess I don't feel satisfied unless my back's really up against the wall, as bad as that might sound."
That said, there were several reasons for LeVan to celebrate, including the performance of rookie trotter Frantastic L, who he co-owns with his wife, Megan, Darmofal Racing Ent, and Edward Perry.
Bred by Andy Burkholder, the daughter of Team Six—Perceptive Caviar went 10-3-1 from 19 starts in 2022, three of those wins coming in Buckeye Stallion Series races.
Although she ended her campaign on a down note, finishing ninth in her Buckeye Stallion Series final, Frantastic L bankrolled north of $70,000 on the year.
"She had a very good year. Winning those three legs of the Buckeye was great, and I thought she was in a really good spot going into the final. And she ended up having a tough start. Unfortunately, in the final, she wasn't herself, but she had an amazing year. We're excited to get her back going and seeing what she can do in 2023."
That he is even engaging in a racing conversation is somewhat of a longshot. LeVan was around horses starting at an early age but was never highly involved in the sport growing up.
Instead, he was fully immersed in livestock showing and judging. It was the summer after his junior year in college that his connection to racing began to grow when his grandfather needed a helping hand at the fairs.
LeVan's interest in the sport and the horses soon heightened. So much so, in fact, that he and his father purchased a horse together.
It turned out to be a winning investment.
Cursive L, a nod to the letter emblazoned on the family's racing colors, was trained by LeVan's grandfather, and gave LeVan his milestone first win as a driver in 2017 at the Ottawa County Fair.
He's never looked back since.
Currently, LeVan has 24 horses in his bustling stable. Although it requires a lot of overtime, working and developing the horses remains a labor of love.
"They are all very different. We have 12 yearlings that will be 2-year-olds in less than a week, five that will be turning 3, three that will be turning 4, and the rest are aged horses. It's more horses than we've ever had."
Of all the lessons he's learned over the years, it was one about life, not work, that LeVan thinks about regularly.
Observing his grandfather, seeing the way he carried himself at the racetrack and how he treated others, is a trait he's tried to emulate.
"He passed away in September 2021 and everyone that knew him, had good things to say about him. He's a people person. I reflect on that from time to time, and when I'm at the races, I think about what he would do in a certain situation. I wish he was here so I could pick his brain on the horses, but I know that he would be proud. But I do wish he was here to see it."
As for what he's most proud of in his own career, LeVan takes a momentary pause to ponder the question.
"I wasn't very involved with the horses growing up. We would help a little as kids, but it was showing livestock and playing sports. My dad was really the one who was interested in the horses. My grandfather trained and my dad owned, but he would help my grandfather at the barn. I don't want this to come off sounding the wrong way, but for not being in the sport a long time, to be able to pick things up and progress like we have, I guess I'm a full steam ahead type of person when it comes to doing something. I want to do it right and do it the best I can, and at a large scale."
Which is what LeVan has been able to accomplish, throughout the good times and bad, big wins and bad breaks, along with everything else he's experienced.
His roadmap to further success is already in gear.
"I like training the horses, but I would like to be a driver, to get where I have more opportunities. We have a fairly big stable which races predominantly at the fairs, and some step up to race at the pari-mutuel tracks, so I would like to pick up some more drives if we don't have something in the race. I have had success in drives that I've been given, so I'd like to have more of that and be in the right situation to capitalize on that and potentially break through. The plan would have my dad becoming more involved on a daily basis, training our horses, so that I can focus more on the driving.
"Short term, it's about getting them all to the races. We've had some good success with that in the past. I would say 90 percent of our horses have made it to the races. Maybe not all of them have been great, but a large majority of them make it. With the 12 we have now, I hope we can get them all there."
When he's not in the barn, it's all about family for LeVan, the oldest of six children.
Spending time with his wife, their 2-year-old son Perry, and preparing for the arrival of their second child in May doesn't mean much time for leisurely pursuits, but he's not complaining at all.
"It's an exciting time for us. I come from a big family, so to be here, at home, having the farm, it's been a lot more conducive to family life when we were stabled at the fairs or at grandfather's farm, where I would be gone the whole day and be home late. Now, I can make that quick walk to the barn and still see my family."
A good life that LeVan is grateful to have.
"I feel very fortunate to have discovered that love for racing, just like my grandfather had and that my dad has. Some days are tough, but you find a way to push through and try to make tomorrow better."