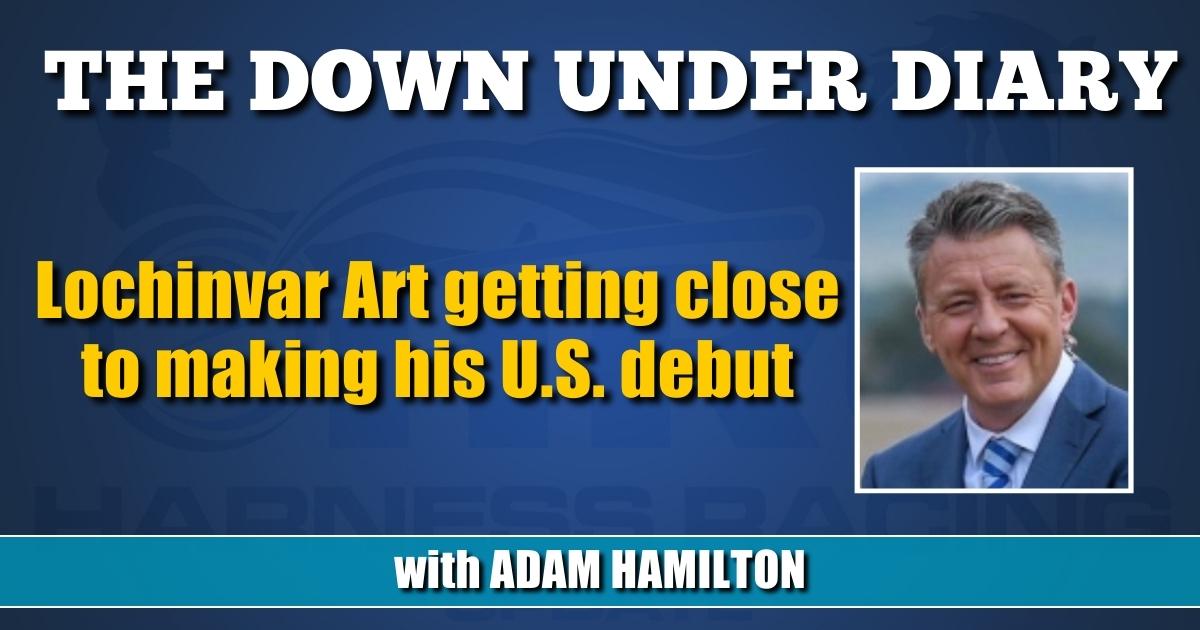 Lochinvar Art getting close to making his U.S. debut
by Adam Hamilton
Trainer Shane Tritton thinks former superstar Aussie pacer Lochinvar Art is the best-credentialled modern day Down Under pacer to try his luck in the U.S.
While Kiwi champ Lazarus' CV read even better, his greatness came as a stayer over distances much longer than a mile in New Zealand and Australia.
"Sure, Lochinvar Art had good form in staying races too, but I watched him closely and he was a brilliant sprint horse. Go through his record and it stands out," Tritton said.
"He smashed the Melton track record when he ran 1:48.6 over 1720m in January, 2020. Nobody thought you'd ever see that time run at Melton and nothing has come close since.
"Soon after that he beat a terrific field in the Chariots Of Fire over a mile and then he sat parked in the Miracle Mile two weeks after that and beat all bar King Of Swing, who was the ultimate Menangle mile horse.
"The racing in Australia didn't give Sal (former trainer David Moran) the chance to keep him to sprint racing, you have to race over all different distances when you're a Grand Circuit horse in Australia.
"As great as Lazarus was, he hadn't done much sprint racing when he came here, whereas Lochinvar Art has. I think that's a really important factor."
Lochinvar Art was sent to the U.S. by owner Kevin Gordon to join Tritton and wife, Lauren, soon after he had a "small bleed" when sixth at Melton on Sept. 17.
Only now is he starting to get the hopples on and get a "little bit more serious" in training.
"I said at the time, it was actually perfect timing when he came across. It basically gave us five months to get him exactly where he needs to be for his first major target, which will be the Borgata series," Tritton said.
"It's been so important just to be able to take our time. He had four weeks jogging, stepped-up a tad for the next four weeks and has had the hopples on three or four times now.
"We'll spend the next four weeks getting him fitter and look to qualify him in late January or early February. He'll have a couple of runs in February or early March before the Borgata starts.
"We haven't decided yet, but he may qualify at The Meadowlands and have a run or two there before going to Yonkers for the Borgata, which is a bit like the Inter Dominion is Down Under. It's five weeks of heats with the top eight qualifiers going through to the final which will be worth $US700-800,000.
"Yonkers is basically our home track, it's where we race most, and we think the style of racing will really suit him there. It's a bit more like Aussie racing than The Meadowlands. It's a tough style of racing and he's a tough horse.
"We had Nandolo win three heats of the Borgata last year so we know the sort of horse it takes."
Tritton said the Borgata would also be a great "testing ground" to shape targets for Lochinvar Art through the rest of 2023.
"Our plan is to aim at the biggest races because that's where he belongs at his best, but he's got to earn some good money and show he's up to it through the Borgata to chase those top races afterwards," he said.
So, how does the former Down Under champ feel and look so far?
"He's great. He looks terrific and the fact he tries to kick Lauren out of the cart when he goes out to work says he's a happy horse and feeling good," he said.
"But it's too early to say how good he's going because we deliberately haven't asked him to let rip yet.
"It's a bit like having a Ferrari in the garage and not being able to drive it, but we've got a plan to take our time and we're sticking to it.
"What I'll say is that I hopped the cart behind him the other day and you can feel why he was such a great horse. It just feels like there's a stack of acceleration there if you asked for it."
Most importantly, Lochinvar Art is healthy.
"Yes, the vet went right over him when we got him and gave him a great report. We've had a bit of work to do on his feet, but they're good now. He's being treated with Lasix, too, for the issues he had back home," Tritton said.
"We're stoked with him on every level so far."
Team Tritton is going through something of a rebuild, but Lochinvar Art isn't the only horse they have high hopes for in 2023.
"He's the headline act if we can get him back to his best, for sure. But we've got a mare called Maybelline and a three-year-old for next year, It's A Me Mario should be in the good races, too," he said.
"Even though we won almost $US1 million for the stable in 2022, with Nandolo leading the way, it was a year of rebuilding in many ways. We've got seven yearlings about to turn 2 and four about to turn 3, as well."
Another "import" also has Team Tritton excited.
"This one is a bit different," Shane said. "We've been sent the two-time champion Irish trotter to train.
"His name is Harry Knows. He's a French-bred, who was born in Ireland. He's won something like 22 of his 29 starts.
"Obviously, it's going to be very different over here, but he feels like he's got a big motor. We're hoping for big things."
LOCHINVAR ART
Breeding: By Modern Art out of Ponder In Paris (by Ponder)
Record: 56 starts; 28 wins; 16 seconds; 6 thirds
Earnings: $A1,405,516
Fastest winning time: 1:48.6 over 1720m at Melton
Major wins: Group 1 Hunter Cup, Group 1 Victoria Cup, Group 1 Chariots Of Fire (also second in Group 1 Miracle Mile)