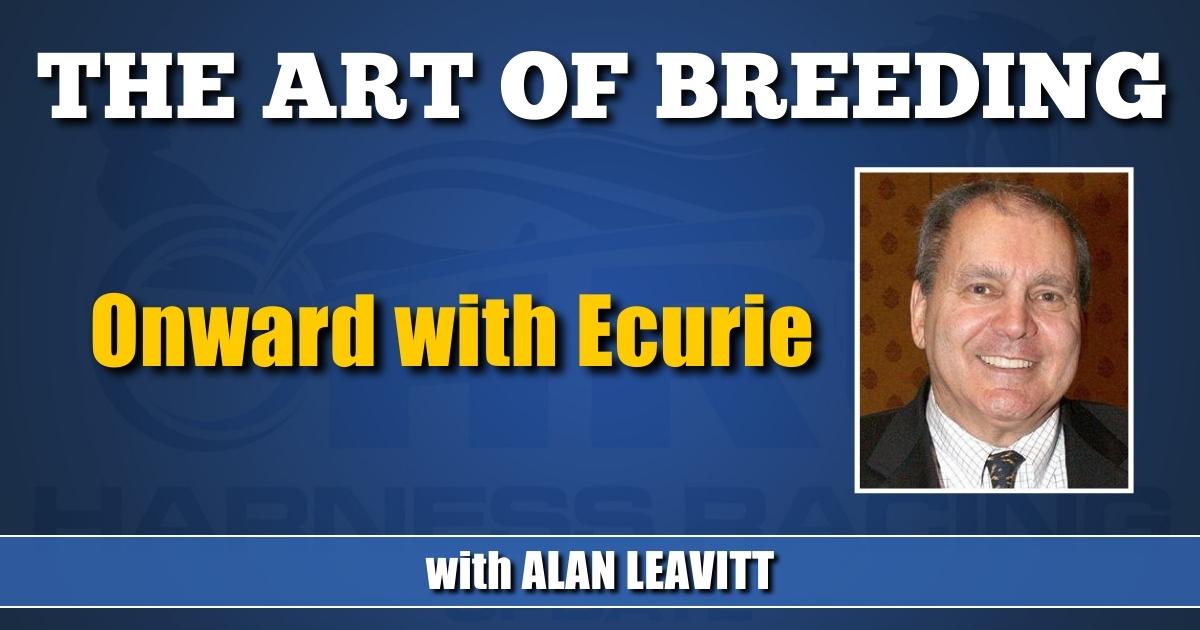 by Alan Leavitt
For the second year in a row, Ecurie D DK whipped all the top older trotters in the Breeders Crown open trot final for trainer Ake Svanstedt. In 2021, Svanstedt drove his horse to the win, and this year Dexter Dunn, who was ubiquitous on finals night, got the drive.
Now coming 7, it's likely Ecurie will be again racing next year. That means that he'll be a relatively older horse when he finally enters the stud.
As someone who regards a stallion's 2-year-old time on the track as definitive in predicting his future sire potential, I'm stumped by Ecurie on that point because I can't find any information about his 2-year-old year. But giving him the benefit of the doubt, he does bring an interesting pedigree to his possible future as a sire.
Not that Svanstedt and his charming wife Sarah ever need to ask me for advice, but to me Ecurie would be ideal to both breed and continue racing at the same time. That's said because he is now a fully mature horse, meaning that the double burden of breeding and training would not limit his physical development, or have an adverse affect on his fertility.
Ecurie's age also argues in favor of getting foals on the ground ASAP. He has already lost several desirable breeding years, and best not to concede any more of them to the competition.
Right now Ecurie's connections are thinking of his earning capacity only in terms of racing purses. But if he should click as a sire, he could earn a fortune in stud fees. Like Matt Damon and the ancient Greeks both said: "Luck loves the bold."
Back to Ecurie's pedigree, what stands out is the influence of Jean Pierre DuBois, who is France's answer in harness racing to Italy's thoroughbred grand master, Federico Tesio.
On a personal note, my wife, Meg, and I know DuBois well. We spent one of the most pleasant days of our lives with him in France when he showed us all of his vast holdings. And the day started in a little café when we dunked our baguettes in our coffee while a noisy parrot kept up a steady stream of conversation in French.
Ecurie's pedigree is exactly half American and half French. He's sired by Infinitif and out of To Soon, by Muscles Yankee. The tremendous influence J.P. DuBois has had on the world's trotting breed is evident in Ecurie's 3 by 4 cross to one of DuBois' masterpieces Coktail Jet.
That makes Ecurie line-bred to Coktail Jet. As a quick reminder, when the sum of the generations in which the same name appears twice is 6 or less, that is technically defined as Inbreeding.
When the sum of the two generations in which the same name appears is 7 or 8, you have Line Breeding.
When there are no generations in which the same name appears twice for a total of 8 or less, the horse so bred is defined as an Outcross.
The great majority of our American-bred pacers and trotters are Outcrosses. I personally prefer closer breeding, although one must use only superior individuals, because the closer you breed, the more basic qualities are enhanced. Ecurie's pedigree is close to the ideal, with its double dose of great French blood through Coktail Jet and great American blood through Pine Chip on the top, or Tail-Male line, and Muscles Yankee on the dam's Tail-Male line.
Here I want to mention the success Lindy Farm, i.e. Frankie Antonacci, has had with the frozen semen of Love You, one of the great French sires of the present day. Seventy years ago, Jim Harrison predicted that great trotters would some day be the result of breeding French stallions to American bred mares. That day has come, in spades.
Because I spent probably half my life learning from Jim, I know he was taking into account the facts that the stamina in a pedigree comes from the sire's side, the top side, and the speed comes from the bottom, or mare's side of the pedigree.
Although it is possible to successfully employ frozen semen, it does have its complication, and not every American breeder is able to deal with it. I predict that one day soon some American with foresight will bring a French stallion, the whole horse, back to the states and stand him here.
When that comes to pass, and it's inevitable, then we'll have a new, American breed, that dominates the trotting races at every level. And somewhere Jim Harrison will be smiling, very contently.