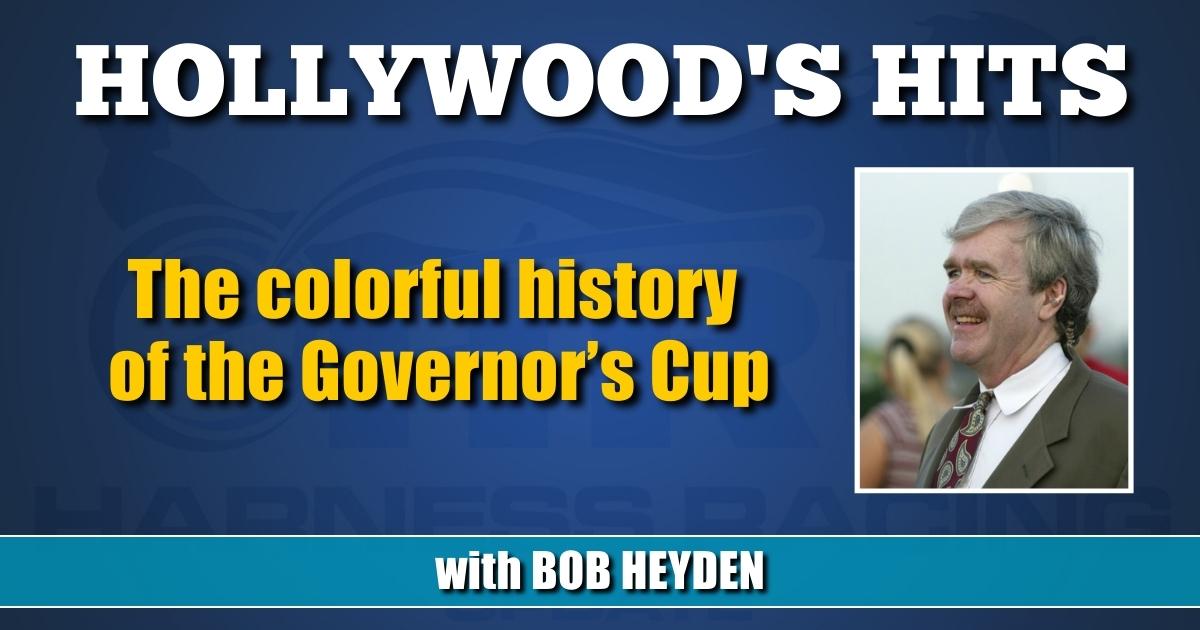 The colorful history of the Governor's Cup
by Bob Heyden
It began in 1985 and to this day it is the only standardbred race ever to debut at $1 million and follow that up with a seven-figure purse in its second year.
The first one, won by Barberry Spur, went for $1,357,500; the second, won by Redskin, went for $1,513,500.
Bill O'Donnell won the first two. Richard Stillings and Jerry Smith were the two victorious trainers, respectively, and to this day 36 years later Redskin still holds the all-time 2-year-old earnings mark for a trotter or pacer at $1.407 million.
Let's go on to 1987. Oh, wait. The Governor's Cup wasn't held that year. After almost $2.9 million, combined, in the first two years and the race was discontinued in 1987.
In 1988, a 30-year-old by the name of Tommy Haughton won the $705,100 Governor's Cup. It was his biggest career win.
In 1989, John Campbell joined in the fun with In The Pocket for a pot of $681,100. This colt would go on to be a prominent Down Under stallion.
This was the Gene Riegle Era. He is the only trainer to win this race three straight years and with superstars: Artsplace in 1990, Western Hanover in 1991 and Life Sign in 1992. All three went on to fabulous careers.
In 1993, Gallo Blue Chip's sire Magical Mike won the Governor's Cup. It was owner David McDuffee's unofficial intro to the big time thanks to a $550,000 purse.
The late Kevin Thomas' CA Connection won the 1994 Governor's Cup, but that youngster is likely better known for being tied with Davids Pass in 1994 for the fastest fourth-place finisher in the Meadowlands Pace elims. He lost the coin flip with Davids Pass, who then won the final and CA Connection the consolation
In 1995, Live Or Die won it for Val D'Or Farms (they won it 26 years later again with Early Action) and Bob McIntosh.
In 1996, The Big Dog and Joe Anderson took.
Chris Ryder's first major freshman stakes win came in the 1997 Governor's Cup with divisional champion Sealed N Delivered.
McIntosh won again in 1998 with the unheralded Island Fantasy and would make it three with Western Shooter in 2001.
Division champ and Breeders Crown winner Tyberwood won in 1999 for Richie Silverman and Gary Machiz.
Bettors Delight took the 2000 Governor's Cup. The all-time siring king repeated as divisional champ in 2001 at 3. Western Shooter is the very unusual Governor's Cup winner who never did race again. He lost his battle with a virus in early 2001 and left us all wondering what could have been. His 1:50 late-November scorcher is the stuff of legends.
Life Sign's son I Am A Fool was a convincing 2003 winner and a late-season sensation. Pat Lachance is the rare trainer/driver to win the Governor's Cup in 2004 with Syncros Z Tam. Jeremes Jet was clearly the best 2-year-old of 2005 and parlayed his Breeders Crown/Governor's Cup scores to easily capture the division, something Paul MacDonell would repeat two years later with Somebeachsomewhere, who was six-for-six, but done for the season by the time the 2007 Governor's Cup rolled around. Santanna Blue Chip, from the first crop of Art Major, took advantage in 2007.
No Pan Intended won the 2003 Triple Crown and his greatest credit as a stallion came in 2008 when Nebupanezzar won the $647,800 Governor's Cup final.
In 2009, One More Laugh served notice of what was to come with a 1:49.2 stakes record for Tim Tetrick and Ray Schnittker. That son of McArdle banked over $2.8 million when all was said and done.
Big Jim got Phil Hudon his biggest win in the states in 2010 for a $709,000 pot.
Yannick Gingras got on the board in 2011 with A Rocknroll Dance, the very same horse who got him on the Meadowlands Pace board a year later.
J K Endofanera proved to be a handful every year he raced. He started his career with Linda Toscano for the Three Brothers Stable and captured the 2013 Governor's Cup for Brian Sears.
Artspeak won the division thanks to a convincing Governor's Cup win in 2014. Boston Red Rocks got hot at just the right time in 2015 winning both the Governor's Cup and the Breeders Crown for Peter Blood. Downbytheseaside previewed his award-winning sophomore season early by taking the Cup in 2016.
Captain Crunch in 2018 and Papi Rob Hanover in 2019 certainly left good impressions with stirring Governor's Cup triumphs. We eagerly look forward to their youngsters on the track shortly.
There is no doubt the Governor's Cup, which also was not held in 2012, has a distinctive history. More than three and a half decades later it remains a circle on the calendar of all horsepeople who dream of 2-year-old riches.