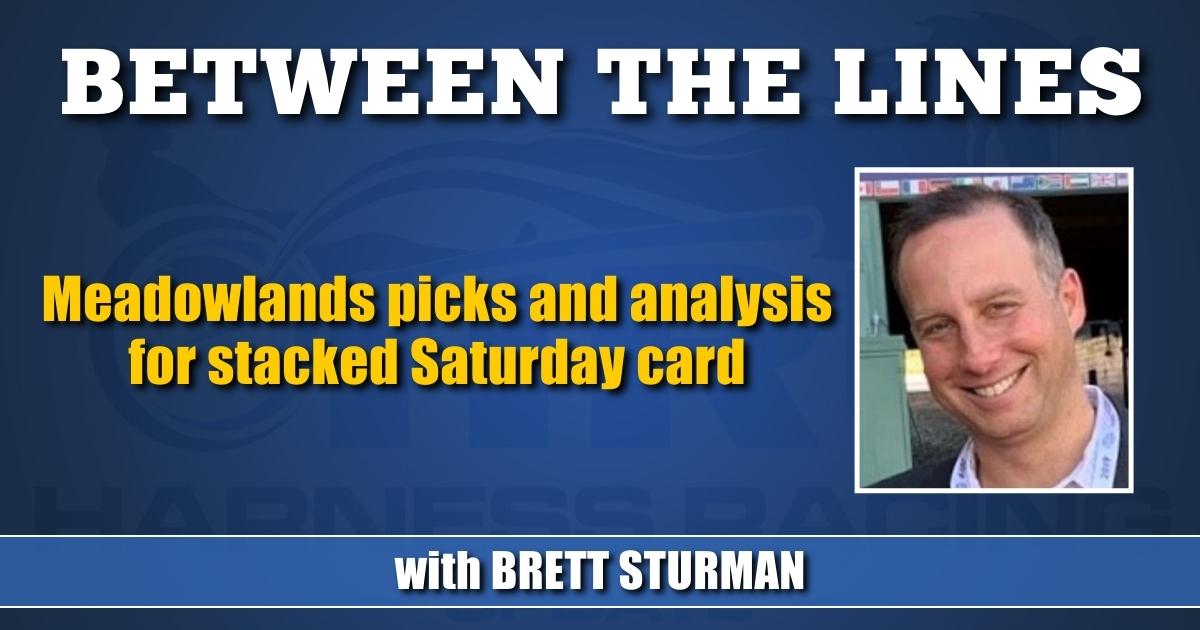 Meadowlands picks and analysis for stacked Saturday card
Both the Fall Final Four and TVG Finals are on tap.
by Brett Sturman
The Fall Final Four and TVG Finals combined with the swan song for Bulldog Hanover will make for one last stellar race card in this harness racing season. Here are my thoughts for all the stake races.
RACE 4, $475,400 GOLDSMITH MAID FINAL
Mambacita was locked in for almost the duration of the stretch last out in her Kindergarten final and then broke promptly once she was free. That was unfortunate for her but she'll have a chance to make amends; gets a third straight attempt to try to figure out Bond. Bond was aggressively handled last out when she retook by the half in :55. She held off a big longshot to win that race and Svanstedt will once again be leaving early from the outside; will be favored but no cinch. Heart Of Fire was towed into it beautifully last out and nearly sprung the upset; was a winner two back and deserves some respect. Quick Stop and Wild Jiggy S were two others that were rallying late in that same race. Blonde Bombshell won in the Garden State last out in a race where she gapped for most of it before somehow finding her best stride late.
Picks: Mambacita, Wild Jiggy, Heart On Fire
RACE 5, $416,200 VALLEY VICTORY FINAL
Volume Eight looks imposing off that 1:52-flat crush job when last seen two weeks ago in the Kindergarten final. He was actually stung a bit while trying to two-move to the lead past Purple Lord before eventually clearing through a :55.4 half. It still didn't matter, as he turned that race into a romp through the stretch and looks to parlay that here into a possible Dan Patch award. Celebrity Bambino delivered on a 2/5 promise last week when he closed well, having to make up a couple of lengths wide into the stretch. He did have to fend off a surprising late inside threat of Kimmeridgian and I'm sure will now be keeping close tabs early on Volume Eight. Upstaged was finding his way through seams last week as a big longshot who caught the eye; Te Amo Lindy was weaving late, likewise. Kilmister was all the rage early in the season.
Picks: Volume Eight, Upstaged, Celebrity Bambino
RACE 6, $140,000 TVG MARES TROT FINAL
The storied career of Atlanta comes to an end where she'll square off against When Dovescry for the umpteenth time, as well as rival Bella Bellini. Atlanta couldn't get that elusive Breeders Crown win last month but was still a very good second when racing on the front end. In that race, Bella Bellini always had the look of a winner the moment she was tipped off cover. When Dovescry tired after an extended first-over trip in the Breeders Crown; was outkicked by Atlanta by nearly a full second in their recent qualifier and I believe she'll be returning to the races in 2023. Refined had some good late trot to offer in the Breeders Crown.
Picks: Bella Bellini, Atlanta, Refined
RACE 7, $428,400 THREE DIAMONDS FINAL
Strong Poison went a tough trip in the Breeders Crown won by Sylvia Hanover, and I think we'll get redemption here in the Three Diamonds. She had a no-shot journey last week from post 10 where even with a second-over trip wasn't really close, but steadily made up a ton of ground and lands an ideal starting slot. Bellisima Hanover found a late seam from the pocket to get by 1/5 favorite Charleston two weeks ago. Worth noting that Cultured was third in that same race and she came out of it to underwhelm as the favorite in the Three Diamonds prep last week. Zanatta pulled off the surprise win last week in part from an excellent Dube steer; will still rate a longshot. Vivian's Dream went a tough trip last week and seemed stalled at one point first-over but was surprisingly still in the mix late. Earthwindfire should have never sat second last out at 1/9 in a four-horse field and now is banished to post 10.
Picks: Strong Poison, Vivian's Dream, Bellisima Hanover
RACE 8, $330,000 TVG OPEN TROT FINAL
What are we supposed to make out of this race? Yes, it's back to Dunn on Ecurie D who crushed in the Breeders Crown the last time these two were together, but this horse put in a definite clunker last week regardless of who was driving. Anything near his best would be good enough but does need to bounce back. It's Academic has gotten increasingly sharp in recent starts and two of his three wins on the year have come in just the last two weeks. Deserves credit for staving off Bella Bellini last out and no doubt as to the racing strategy. Back Of The Neck should have been better in the Breeders Crown but maybe the post was a hindrance. From this spot, should be able to track cover just like he did in winning the Maple Leaf Trot and Dayton Derby. Jujubee got good earlier in October but feel that he now needs to prove it again. Lovedbythemasses has been going at it all year and has knocked on the door many times against these. Incommunicado had some late trot last week once angled to the outside. Amigo Volo was a placing away from a 100/1 shocker in the Breeders Crown.
Picks: It's Academic, Back Of The Neck, Ecurie D
RACE 9, $158,000 TVG MARES PACE FINAL
A couple of 3-year-olds in here taking on older and the question is can inseparable fillies Treacherous Dragon and Niki Hill go with 4-year-olds Test Of Faith and Grace Hill? I'm not sure. A bad post hindered Niki Hill in a game Breeders Crown defeat and she has another outside post here. On the other hand, Treacherous Dragon lands the rail and she's found a knack for getting her neck in front when it counts; anxious to see how she responds to the challenge. Test Of Faith was second to Treacherous Dragon in that qualifier, the first time they've been on the track together, but Test Of Faith outkicked her by three-fifths of a second, and seeks atonement from that Breeders Crown miss. It'll be interesting to see how Miller elects to drive her; I have no idea at this point as to what position she'll be in but the post is obviously good. Grace Hill has improved noticeably the past couple of months and was excellent at Woodbine Mohawk; seeks the early jump once again. Fire Start Hanover just sold for $550,000 two weeks ago at Harrisburg; Nifty Norman continues to train.
Picks: Grace Hill, Test Of Faith, Treacherous Dragon
RACE 10, $345,000 TVG OPEN PACE FINAL
It's one last chance to witness greatness in the form of Bulldog Hanover, as he'll complete his career and a 4-year-old season for the ages in the TVG Open. His Breeders Crown win was stylish, and he remains simply in different territory than anyone else; will go out on top. Lou's Pearlman was solid last week in springing the mild upset; loses Dunn now, however. Abuckabett Hanover debuts for new connections following a $534,000 purchase in days after the Breeders Crown; new trainer Andrew Harris also co-owns. Tattoo Artist will be blasting from the outside. He disappointed here last week but set the pace two back in a world record mile only to be bested by the pocket sitting Allywag Hanover; the same fate for Bulldog Hanover from the Red Mile in October.
Picks: Bulldog Hanover, Lou's Pearlman, Abuckabett Hanover
RACE 11, $430,000 GOVERNOR'S CUP FINAL
Despite a 6-1 morning line, El Rey will take tote action and more importantly, is the one to beat in my estimation. Four races removed from a 1:49.4 win, he really picked up his game in the fall at Lexington and he couldn't have been any more impressive than when he found a late gear from an impossible spot last week in the tougher of the two Governor's Cup eliminations; best. Combustion, another sub-1:50 2-year-old, won his elimination last week but couldn't have had a better trip when he attacked from third approaching the three-quarters and got first run on a leader that eventually tired. Can win, but it won't be easy. Breeders Crown upset winner Ammo had the pocket trip in that race but was outkicked by Combustion. In the other elimination, Stormalong capitalized on a pocket trip to get by pacesetter Can't Stop Lou to deliver a $30-win mutuel; heavily-backed favorite in that race came up empty. Save America had a second-over trip but wasn't fast enough late; a case can be made he's tailed off a bit (or others have caught up to him) since earlier in the year. If anything, big longshot Girldad was moving best of anyone in that elimination.
Picks: El Rey, Ammo, Can't Stop Lou