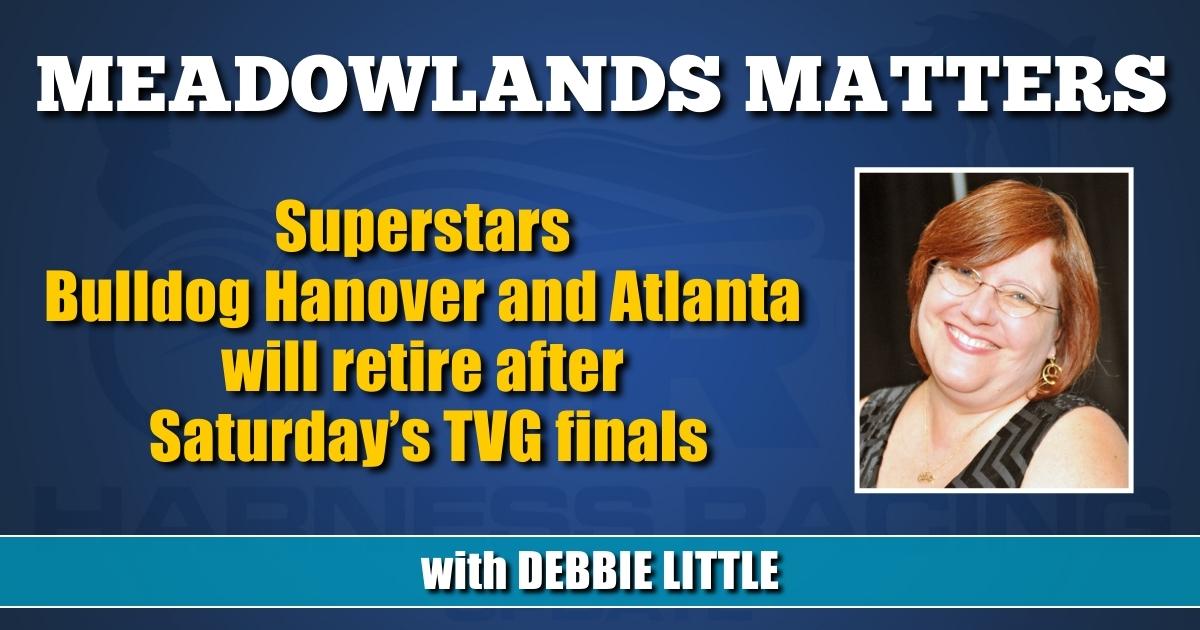 After Saturday's TVG finals at The Meadowlands superstars Bulldog Hanover and Atlanta will retire from racing.
by Debbie Little
Is there a better place for a retirement party than The Meadowlands? Not if you're Atlanta or Bulldog Hanover, who will hit the track for their final bows in their respective TVG finals on Saturday night (Nov. 26).
Here, their owners reflect on what's transpired and is still to come.
"I'm kind of bracing myself for that last one, to see him coming down the stretch the last time," said trainer Jack Darling. "It crossed our minds a few times [to race him next year] but it just really isn't practical. There's nothing more for him to prove and he's just got such value as a sire and so many people want to breed to him that we've just got to move on to the next part of his career."
In addition to training Bulldog Hanover, Darling co-owns the presumptive Horse of the Year with Brad Grant.
"Both of them have given me a lot of thrills and won a lot of big races," said Grant, who also co-owns Atlanta with Crawford Farms Racing and Howard Taylor. "I think both of them have really got people over the years interested in our business. I mean, Atlanta had a great following and Bulldog, this year with what he's done. They're two big holes to fill in our sport, never mind in any barn."
Michelle Crawford believes it will be a bittersweet night for Atlanta's owners and thinks there is so much that contributed to her being a "Queen".
"Natural born ability," said Crawford. "Her gigantic heart and perseverance. Her breeding from a prolific dam [Hemi Blue Chip] and sire [Chapter Seven]. The perfect storm."
Crawford will get to take Atlanta home as her sole owner following the TVG Mares Trot, which is Atlanta's last competition for the current partnership. As a result, Crawford wants to thank all the people who made it happen.
"Rick Zeron, Scott Zeron and their grooms and trainers," said Crawford. "Anthony Altamonte for making the connection for us to be able to be a part of her amazing journey. Then, on to the most current since her 3-year-old campaign, Ronnie Burke and the Burke Brigade, Mickey Sr. and Jr. and especially Margaret [Gillon] for your impeccable care for our girl. Then the obvious, Yannick Gingras for guiding her through the finish line to the most exciting victories and giving us all goosebumps more often than not. Thanks for your love and care, too, Vicki Gingras.
"Then, I would like to thank our wonderful partners, Brad Grant and Howard Taylor, for allowing us to be a part of the most fulfilling animal anyone could have hoped for and more. The friendship and partnership has advanced to Monticello, Atlanta's full brother bred by Stefan Balazsi, so the hopes and dreams persevere. What a proud moment for [Stefan], I'm sure. To own this world-class champion is not only a blessing but an honor and we can't wait to see what she brings back to the industry with her future babies. Thanks for the ride, Atlanta. My heart is full."
There's an interesting story connected to how Taylor got hooked up with all of his top horses and Atlanta is no exception.
Taylor has the reputation for almost always saying yes when asked to take a piece of a horse, so it's no surprise that he ended up connected to several yearlings after the 2016 sale in Harrisburg.
"Two weeks [after Harrisburg] I get a bill in the mail and it included two horses I've never heard of in my life," said Taylor. "One of them was named Django Unchained [whose name was changed to Atlanta. The other horse was Courtney Hanover].
"So, I called up Harrisburg and said who the hell are these horses?" said Taylor. "[The person at Harrisburg said] 'Well, Rick Zeron bought them and he told us that you had agreed to take a quarter."
Taylor remembers a friend introducing him to Zeron at the sale.
"So, I called up my friend, because I didn't even know how to get in touch with Rick at the time, and I said I just got these horses with Rick Zeron. How the hell did that happen? [The friend said] 'You were standing there and he said if I bought a couple of horses would you take a piece and you said yes.'
"I swear to God, I never remember that conversation. I do remember meeting him briefly. Maybe he mumbled and I didn't understand what he was saying. I don't know. But it's funny how that ended up being Atlanta and that's how I got her."
Taylor knows he will miss his great mare and like Crawford and Grant is happy for one last chance to see her race.
"I'm sure she's one of, if not the, greatest horse I've ever owned and one of the greatest horses ever," said Taylor. "I guess it would be her, Tall Dark Stranger and Buck I [St Pat], but I think she's accomplished more than anybody.
"This is going to be very, very emotional. In fact, I cancelled a trip to make sure that I'm there."
Connections of both horses felt that The Meadowlands was the perfect venue for their retirement festivities.
"To be brutally honest, it's the last race on the schedule, but fittingly, it's a place where she had her glory," said Taylor. "She's the track record holder there [1:49.1, tied with Ecurie D DK], she's the Hambletonian winner there, she's done a lot of good there. And it's the center of the harness racing world. So, what better setting for her to have her last race?
"Even if I didn't own her, she's the kind of horse, and there's not been that many, that I would go to the track to watch her race just to say that I saw her race. To me, she's that special. And the battles with Manchego and now Bella Bellini are just amazing. She's just unbelievable. Never makes a break, gives you 110 per cent every start. Just an amazing animal."
Darling agreed that retiring Bulldog – a son of Shadow Play out of the Artsplace mare BJ's Squall – at The Big M, where he went 1:45.4 and became the fastest harness horse in history, is appropriate.
"At the first of the year, I just remember thinking that race is quite late in the year and there's a 30-day gap in his schedule, so at the time, I wondered if we'd be sticking around for that, but it worked out well," said Darling. "He's as good now as he's even been.
"He's got the greatest demeanor for a stud that you can imagine. I've described him many times as the most perfect horse I've ever run across. If he could just pass on his talent, his heart, the lungs he's got, breathing capacity, the amount of try he's got and he's got such a great mind to him. His attitude and his mind, he's almost half human sometimes, I think. If he could pass all those traits on, he could really help the breed. I'm just really excited for what this horse could do as a sire. I'm just so happy that he's going to get the chance to show what he can do."
As for the possibility of Horse of the Year honors, Darling and Grant are playing it close to the vest.
"There's no doubt he should be mentioned," said Grant. "What happens will happen. He's done a great job, so he'll definitely get mentioned and if he wins it, that would be a bonus."
"I'm always slightly superstitious," said Darling. "I don't like to get ahead of myself. I don't like to count my chickens but that would be a great honor for him."