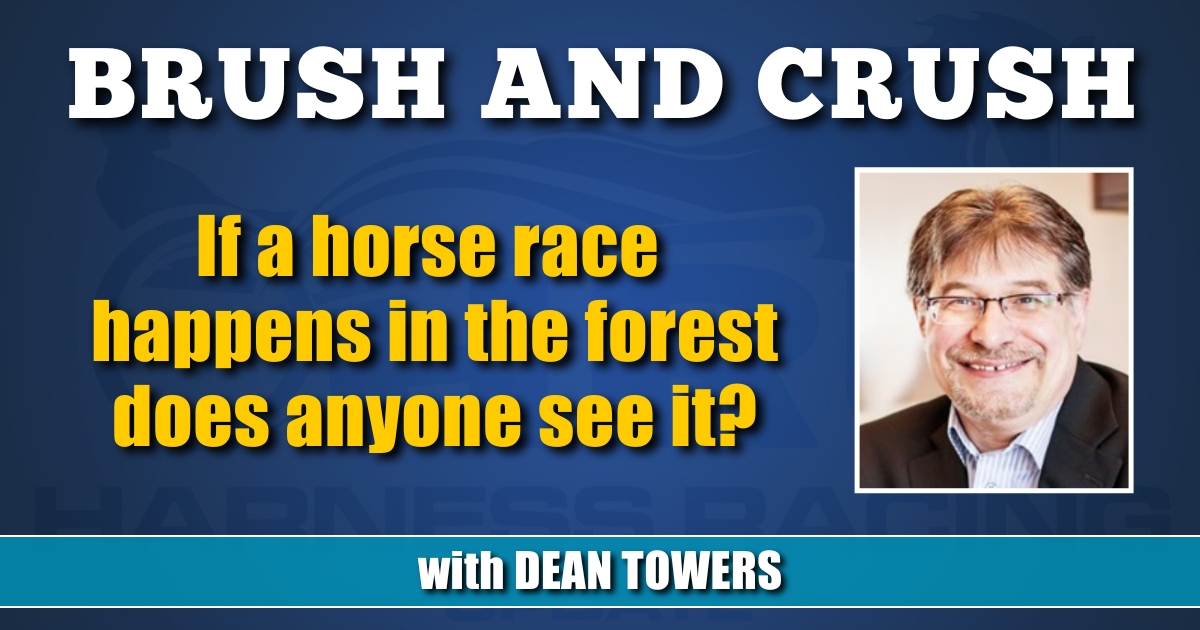 If a horse race happens in the forest does anyone see it?
Recent changes to the 'horse racing network' illustrates how the sport not owning or investing in its product has resulted in negative consequences
by Dean Towers
This past week, FanDuel — the owners of TVG, the horse racing network and advance deposit wagering company – announced their net gaming revenue breakdown.
Sportsbook – 66 per cent
Online Casino – 23 per cent
Daily Fantasy – 4 per cent
Horse Racing & Sponsorship – 7 per cent
In 2018 — just four short years ago — horse racing accounted for 42 per cent of their revenues. Although these numbers were just recently released, people in our industry didn't need a crystal ball to figure out this was happening. Recently, viewers of TVG have noticed more and more screen creep on the channel when consuming their favorite racing content. At times it has even been a meme.
And, sadly, for this sport it's likely going to get worse.
On Thursday, FanDuel officially announced it will be adding more niche sports to its network. Three thousand hours of "under-loved" sports from all over the world planned to be telecast, enhancing its vision of a "virtuous circle" between live sports and betting.
At this point I think it's reasonable to conclude that the sport of horse racing, which once had two cable channels, will soon have none.
For those who say television and broadcast is not important, I think they make a valid point. The world is changing, and it's not like the sport just goes away. The thoroughbred side through the NYRA Bets deal with Fox Sports (which the Meadowlands has piggy-backed onto) is ensuring the sport at some levels is being represented. We can watch the 7th at Dover on our phone via an ADW feed.
However, when a branded U.S. horse racing network replaces the Three Diamonds Final or Clark Stakes with a handball game from Thailand, not even the most optimistic of us can spin it as a good thing.
Everyone needs a bogeyman as a deflection – just watch your favorite political team make someone on the opposing team one – so I guess we're supposed to make FanDuel that shadowy figure in the corner. They're the problem, and there's nothing we can do about it. We all know that's not true.
The sport of harness racing, particularly, has neglected itself for a long time.
Through a quarter-century, where the sport generated billions upon billions of slot revenue, the sport has sold its betting signal to places like TVG for almost nothing, instead of building its own platform.
It went cap in hand to betting networks, paying them fees to show the races, instead of trying to distribute its own product, through its own broadcast (something Bob Marks has been talking about for years).
And maybe most importantly, it did little to make this a great betting game, where a network like TVG wouldn't want to drop it for some obscure sport a half a continent away.
The money was always there. In fact, it probably is still there. But, despite some factions in this sport clamouring to use a small slice of it for promotion and broadcast, and even lower takeout, the Springsteenian screen door slammed in their faces at almost every turn.
A year from now we might flip over to TVG to catch the 9th at the Meadowlands, only to find it's not there anymore. But if we're being honest with ourselves, with the sport's lack of vision, investment and long-term commitment, could it have turned out any other way?