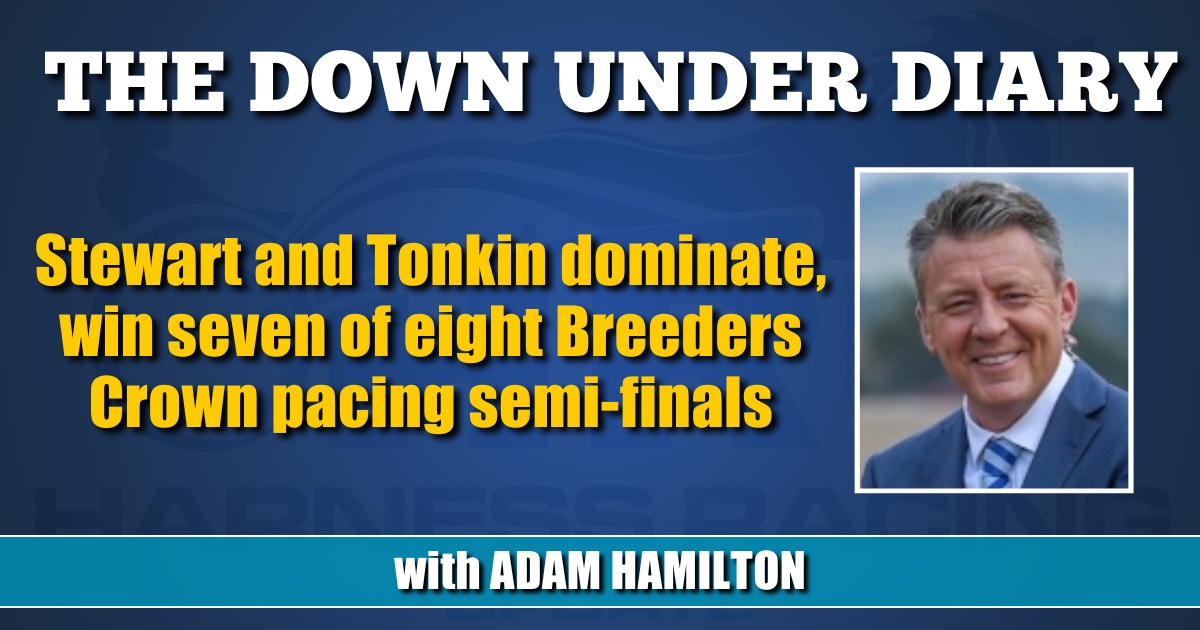 Stewart and Tonkin dominate, win seven of eight Breeders Crown pacing semi-finals
by Adam Hamilton
Australia has never seen dominance like it before.
Maybe the world never has, either.
The Breeders Crown is one of the marquee events for young horses and one stable – the juggernaut that is Emma Stewart and Clayton Tonkin – won seven of the eight pacing semi-finals at Melton on Nov. 12.
That's never happened before in Australia.
But this dominance has been building.
Aussie harness historian Paul Courts confirmed Stewart and Tonkin bettered their own record with the haul of seven semis.
"They really set themselves for the Crown, but they've raised their own bar this year," Courts said.
"They won 10 of the 13 heats and then seven of the eight semis, that's their best haul yet."
Courts recounted Stewart and Tonkin's recent Crown dominance:
• 2021: Won eight of 13 heats and five of eight semis
• 2020: Won 10 of 13 heats and six of eight semis
• 2019: Won seven of nine heats and eight semis
• 2018: Won all nine heats and six of eight semis
Stewart and Tonkin's stable driver, Mark Pitt, who drove six of their seven Crown semi winners, spoke of their dominance.
"They've been renowned for quite a few years now for producing top young horses, but they just do it year-after-year. It's amazing," he said.
"I was just saying to Clayton the other day, this could be the best crop they've had yet. There are some really outstanding young horses in this batch."
One of them is unbeaten Bettors Delight filly Major Delight, who made it eight wins from as many starts in her semi-final.
She's drawn the pole for the final and will be unbackable odds.
"We haven't seen a filly like her for many years. I think when she works it out completely, she's going to be top of the tree," Pitt said.
That's a huge call when you consider Stewart and Tonkin had the magnificent Ladies In Red dominate as a 2-year-old filly just two years ago.
Is Pitt saying Major Delight is better than Ladies In Red at the same stage? 
Stewart's already gone on record saying: "Clayton and I think there is something really special about this filly."
Captaintreacherous colt Captain Ravishing has looked awesome winning five of his six starts since being transferred to Stewart and Tonkin's stable by owner Hass Taiba.
His only defeat came when he drew the back row and was forced to sit parked in record-smashing times when a tiring fifth over the unsuitably long 2760m of the Victoria Derby final last month.
Captain Ravishing has gate five in the final and will stifle betting.
He's paced closing quarters of 26sec flat or faster, including one of :25.1, in three of his wins for the new stable.
Stewart and Tonkin also look to have the 3YO fillies' Breeders Crown at their mercy with last month's Victoria Oaks winner Encipher, another outstanding Captaintreacherous filly.
She made it 10 wins from 17 starts when she led and blasted home in :53.2 and :26.4 to win her semi as she liked. And she's drawn to run to the front again from barrier two in Saturday night's (Nov. 19) final.
Then there are the 2-year-old boys.
Brilliant Captaintreacherous colt The Lost Storm showed he had strength to match his speed when he smashed the record time by a 2-year-old at Melton and still kept going for a narrow but outstanding win.
It was his fourth win from just five starts and he posted a blistering 1:53.9 mile rate for 2240m.
Stewart and Tonkin won the other semi in that division with Hes Watching colt Techys Watching, who also went quick time at 1:54.8.
It's very realistic they could win all four Group 1 Breeders Crown pacing finals at Melton on Saturday night.
Pitt is their stable driver, but Kate Gath is the regular driver on Encipher.
She also drove star mare Tough Tilly to win last night's Crown Mares' free-for-all for Stewart and Tonkin.
It was a fitting win for Gath, who was driving at her first meeting back home after completing her first New York Marathon the previous weekend.
"I ran the marathon to support EB Research and Tough Tilly races for the same cause," Gath said.
"I had some great support and I'm so glad I did it, but the last six kilometres were not enjoyable – pure torture – but I'm ready to have another crack now when the times is right."
Gath ran the New York Marathon in 3:28.23. It was just her second marathon.