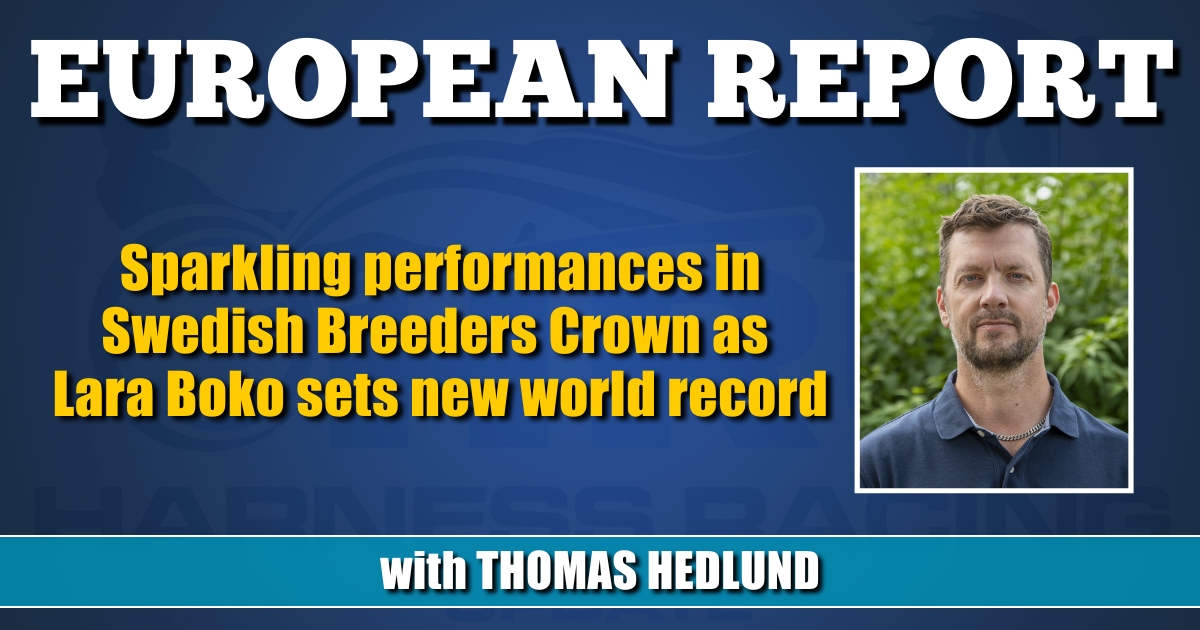 Sparkling performances in Swedish Breeders Crown as Lara Boko sets new world record
by Thomas Hedlund
Four divisions of $320,000 Breeders Crown were held in Eskilstuna, Sweden on Sunday (Nov. 13) afternoon and in the foggy weather the fans were just able to see some really great performances.
The 4-year-old mares were first out and Timo Nurmos' Lara Boko (Djali Boko) entered the race as heavy favorite after her impressive win in the elimination two weeks earlier.
Driver Mika Forss aimed for the lead and hit Lara Boko's favorite position shortly after the start, which, obviously, was a factor that suited the horse and driver well. But Lara Boko has at some occasions been incautious with her energy throughout the races and when the field hit the first kilometer, the pace was set high. Glamorous Rain left the two hole with 500 meters to go and challenged leader Lara Boko at the stretch, but the leader held on and hit the wire in a mile rate of 1:54 over 1.3 miles, a new world record for 4-year-old mares over the distance on a 5/8 mile track.
"It's an incredible mark in the middle of November. The track is great, but it's not summer here by now. Lara Boko is special in many ways and today she was very fired up behind the gate, so I had some doubts about her, but she solved every moment of the race without problems. I hope that she can stay sound and be healthy. It would be interesting to face all the great mares next year", said Mika Forss after the big win.
Glamorous Rain finished second ahead of her stable mate Felicia Zet.
FRANCESCO ZET MAKES HISTORY
Daniel Redén-trained Francesco Zet (Father Patrick) came to Eskilstuna with eight wins in as many attempts as a 4-year-old this season and already before the final in the $320,000 Breeders Crown he had made history. Francesco Zet's triumph streak started already last fall when he won $800,000 Kriteriet at Solvalla and, some months later, the $320,000 Breeders Crown for 3-year-old colts and geldings. He started this season by winning the $200,000 Kungapokalen, followed by the $240,000 Sprintermästaren and the $800,000 Derby, the Swedish Triple Crown. No other colt or gelding in the history had managed to continue the winning path by capturing the Breeders Crown as a 4-year-old after two seasons like this, but Francesco Zet has shown, basically in every start this year, that he's something special.
Örjan Kihlström gently pushed Francesco Zet to the lead on the back stretch the first time and in front he was unbeatable, for the ninth time (13 wins in a row from last fall) 2022.
The son of Father Patrick jogged to a safe win in a mile rate of 1:54.2 and this might have been the last appearance for him on a racetrack.
"First of all I'm so proud and happy for everything about this horse. Francesco Zet is unlike all other horses that I've worked with in my life and I'm so happy that the season ended well. It's a pressure having him in this shape throughout an entire year and now we'll see what happens. Obviously I want to see him compete, but many breeders have contacted us regarding Francesco Zet's services as a stud and I'm aware of the difficulties with combining breeding and racing, at least for this horse," said Redén.
Sourire Frö was the runner up and Karat River claimed the bronze medal.
Francesco Zet's nine starts and wins this year have resulted in $860,500 in his bank account and, in total, he has made 19 starts with 17 wins and $1,498,706 in lifetime earnings.
DANCER BRODDE TOPS AMONG CROWN 3-YEAR-OLD COLTS
The 3-year-old colts and geldings division of the $320,000 Breeders Crown was more open before the race, even if Roger Walmann's Bedazzled Sox was the clear first choice.
Bedazzled Sox, who has shown great ability to leave quickly behind the gate, was not even close to reaching his favorite position and driver Torbjörn Jansson had to settle in third over as the leader was Dancer Brodde (Bold Eagle) and trainer/driver Johan Untersteiner.
Dancer Brodde was allowed to keep the pace quite slow during the race's first 1,200 meters and horses deep down in the field seemed to have obvious problems catching the front horses.
Bedazzled Sox finished strongly in third after an attack three wide at the back stretch and Dancer Brodde never got seriously challenged in the stretch.
The winner finished in a mile rate of 1:56.2 over 1.3 miles.
Post 1 behind the gate over 2,140 meters in Eskilstuna is kind of the mythic one since it's been historically tough for horses to keep the lead from that number.
"I've been driving here for 10 years and I know that post 1 is tricky, but I took a chance and chose that number, because I had a feeling that my horse would be fast if he had his day," said Untersteiner.
QUEEN BELINA WINS CROWN FOR SOPHOMORE FILLIES
Queen Belina (Nuncio) got stuck behind horses with plenty of power when the $560,000 Oaks was held at Solvalla in late September but in the $320,000 Breeders Crown for 3-year-old fillies, it was her time to enter the winner's circle.
Trainer Jörgen Westholm, who earlier this year succeeded in the $400,000 E3 with Spraven, stood beside the track and saw Kihlström behind his chestnut filly in Sunday's race. Kihlström found a perfect spot in second over and Queen Belina started the three wide attack with a half-mile to go. There were never any doubts about who was the best horse in the field this time and Queen Belina sprinted to a safe win in a mile rate of 1:57.1 over 1.3 miles.
"Queen Belina is just a fantastic individual to work with and I'm so satisfied right now. This is what we aim for every year, winning races like these", said Westholm after his first Breeders Crown triumph.
GOCCIADORO DOMINATED IN MONTEGIORGIO
Alessandro Gocciadoro sat behind winner Bengurion Jet (Maharajah) when the $134,500 Gran Premio Palio dei Communi was held in Montegiorgio, Italy on Sunday afternoon (Nov. 13).
Bengurion Jet impressed in his elimination and Gocciadoro hit the lead with his horse in the final later same day. With a half-mile to go, Gocciadoro let stablemate Global Trustworthy take the lead and Bengurion Jet had to wait until the home stretch before he could attack for the win. The tactic succeeded and Bengurion Jet won in 1:54, ahead of Global Trustworthy and Africa Jet.
Gocciadoro can continue to capture big trophies in his home country this Sunday (Nov. 20) as the 4-year-old race the $217,000 Gran Premio Unione Europea is scheduled in Modena, Italy. He will drive Charmant de Zack from post 1 behind the gate and the duo will most probably entering the race as favorite.
THE FIRST "B-RACE" IS HERE
The $125,000 Prix de Bretagne is the first qualification race ahead of the 2023 Prix d'Amérique and the race is scheduled at Vincennes this Sunday (Nov. 20).
It's clear that a new generation trotters, both from France and the rest of Europe, are trying to reach the highest levels in the big races for older trotters. This can be ascertained after a glance at the entries' list for the race.
Last year's Prix d'Amérique winner Davidson du Pont is out of the game due to injury and many new names show up at Vincennes Sunday.
The definitive entries list was not ready when editing the news for HRU, but some of the horses in the list are:
Flamme du Goutier
Hooker Berry
Italiano Vero (4-year-old)
Zarenne Fas
Galius (runner up in PdA 2022)
Fakir du Lorault
Alcoy
Violetto Jet
Decoloration
Ampia Mede SM
Hussard du Landret