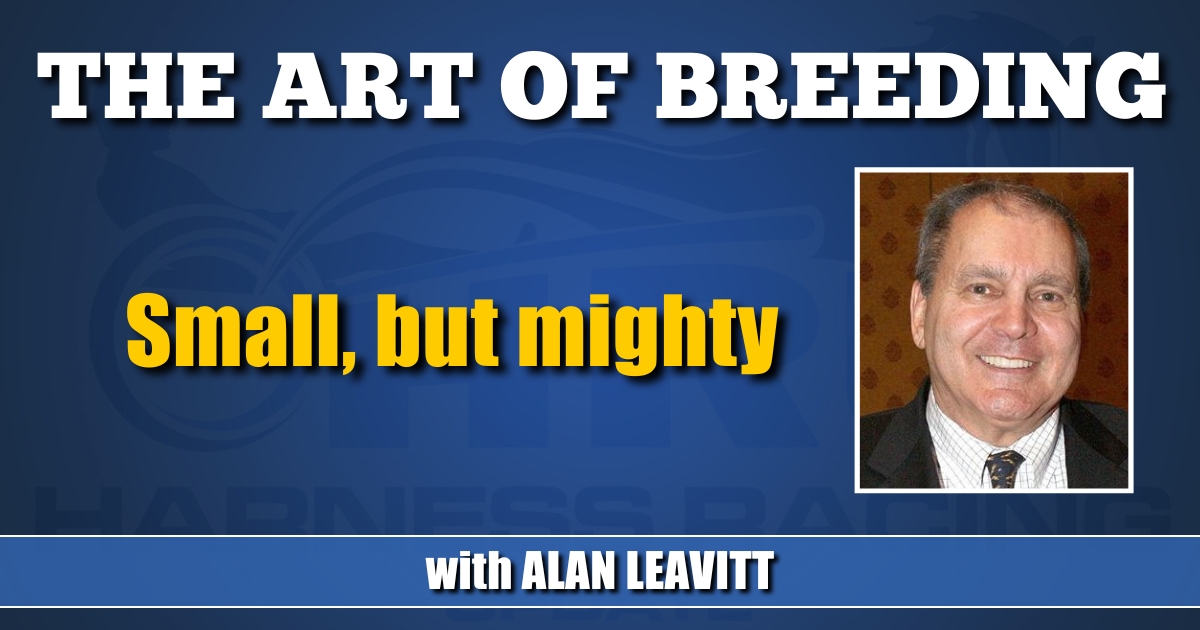 by Alan Leavitt
My favorite little horse, Double Deceiver, is again getting some public notice as he heads for the Matron Stakes at Dover. Double D is actually one of the few top trotting colts I know personally. That happened because he spent some time here at the Red Mile this summer, and his groom, a wonderful lady I've known for a long time, gave me free access to her small but mighty charge.
Double Deceiver is a nice little guy, and, for my part, it's a shame he's a gelding. Jim Harrison taught me light years ago that a little stud will sire progeny whose size almost always goes back to the norm, which is normal, medium size.
From personal experience, one of the first pacers I ever stood was Muncy Hanover. He was a son of Adios, owned by Norman Woolworth, trained and driven by Earle Avery, and he wouldn't have measured 15 hands. Nevertheless he gave Bullet Hanover the fight of his life in the 1960 Little Brown Jug, when he won the first heat.
Johnny Simpson had Bullet, who had been picked out by Tom Murphy, the "Wizard of the Turf." Murphy was one of the top standardbred trainers, who then switched to the runners and did well, who then went to Wall Street, but dabbled in standardbreds as the advisor to Leonard J. Buck, whose nom de course was Allwood Stables.
I was just getting in then, and my path crossed Murphy's a few times. I still have a vivid memory of Murphy's pale eyes of whatever color they were, looking right through my physical self to my soul.
Murphy did have a son, Tom, who was about a different in every respect as he could be from his Old Man, but he was in our biz for a few years. Billy Haughton was his trainer, and the first yearling Billy bought for him was Laverne Hanover.
Laverne was a top colt, who among other races won the Jug, and then was a big money winner in the free-for-alls. We had him at Lana Lobell as a stud, but he flopped, like all the other big name sons of Tar Heel.
The only exception was a horse named Steady Beau, and again I have a good reason to remember him.
At 2, Steady Beau, who was by Tar Hell, out of Steady Beat, by Adios, won the biggest 2-year-old purse stakes for pacers. He has bred by U. C. Steele, who named every horse he bred with a name that started with S, for his last name. Lyss (short for Ulysses) Steele bred only pacers, and he was quite successful. He was also very smart, and we were friends.
Steady Beau didn't come back at 3, and in 1963 he wound up in the mixed sale in Harrisburg. The morning he was to sell, Lyss Steele approached me with a proposition. He and three other breeders would join me in buying Steady Beau, and I'd stand him at Lana Lobell. He accurately guessed that the colt would sell for around 20-25,000, and he brought exactly $25,000.
However, being attentive to detail, I looked over Steady Beau in the long lineup along the wall they had in those days at Harrisburg. What I saw looked more like a horse who had been abandoned in a storm than a promising sire prospect. The whole time I looked at him he stood with all four feet in the same spot, never raised an ear, and you could have run raft trips down his rough coat.
So, I was smart enough to walk, and a guy named John R. Colvin bought him. He took Steady Beau to his farm in Tennessee, and I was reliably told that the horse had to make a two foot jump to get over the front wall after the stall door was open.
Mr. Colvin did advertise his prize, with his ads always starting with "My sermon today…"
Despite all his handicaps, Steady Beau was a sire, and a good one. After he hit, his owner made a deal to syndicate him and stand him at Rodney Farm in New York. Before he actually made it to New York state, Steady Beau suddenly died mysteriously. No reason for his loss was ever given. With him went the only shot Tar Heel had at extending his sire line, and today only a few old fools like me even remember his name.
And now, back to Muncy Hanover and the 1960 Little Brown Jug. Muncy won the first heat, setting a new world record for 3-year-old pacers on a half-mile track. Bullet Hanover made a break in that heat, and was out of the money for Johnny Simpson.
Simpson was totally open about what he did next, which was to go back to his tack room and attach a "whip spur" to his whip. A whip spur is exactly what it sounds like; a spur that screwed on to the shaft of the whip.
For the next two heats, Simpson raked that spur over Bullet's hind end, and when they were over, he had the winner of the Little Brown Jug.
That was far from the only time Simpson used a whip spur. When he ran an ad in a campaign for USTA director, he added a picture of himself and Stanley Dancer in their colors, with their whips, in the Roosevelt paddock. There, clear as daylight, you could see the trusty spur on Johnny's whip.
There are no spurs on whips now, and little Double Deceiver won't need one as he goes on his merry way to winning a million dollars. And I think it's our loss that he won't get the chance to reproduce his speed and courage.
But then nobody asked me before they castrated him, maybe because they remembered how wrong I was about Steady Beau.