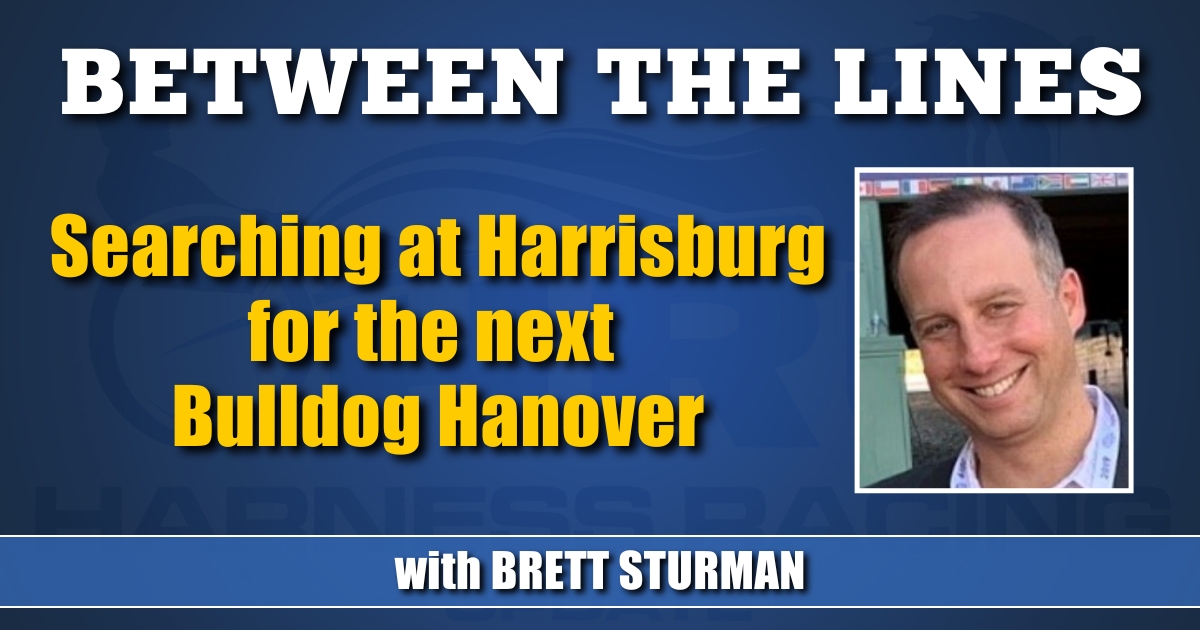 Searching at Harrisburg for the next Bulldog Hanover
by Brett Sturman
Purchased for just $28,000 by Jack Darling at the Standardbred Horse Sales Company yearling sale in Harrisburg, PA three years ago in 2019, Bulldog Hanover will go down as, among other things, one of the best yearling purchases ever. Sold as Hip 795 in that sale, Bulldog Hanover was the 12th living foal out of BJ's Squall, whose production record up that point could be considered average. Of course, it didn't hurt that BJ's Squall herself is a half-sister to the likes of Betterthancheddar and Courtly Choice, but the point being you never know when a dam is about to throw an exceptional one. With that in mind and conformation notwithstanding, here is a sampling from the first 1,000 yearlings sold this week for prices within $10,000 plus or minus of what Bulldog Hanover sold for. Could the next sub 1:46 pacer be in here?
HIP 85 SEVENNSEVEN ZETTE, CONSIGNED BY HUNTERTON SALES AGENCY, SOLD FOR $37,000:
Bay colt by Chapter Seven is the first foal out of the dam Lady Zette. Though she was unsuspecting in her race career, Lady Zette is a half-sister to Alarm Detector, who himself is a Chapter Seven. Alarm Detector sold for $110,000 as a yearling and was one of the sport's best 2-year-old trotters early in his career when he won the William Wellwood and had success in his 3-year-old season as well while still racing at the highest of levels. Third dam Jambo has produced 2004's Trotting Colt of the Year Ken Warkentin.
HIP 206 JAYPORT BEACH BOY, CONSIGNED BY TWINBROOK FARMS, SOLD FOR $33,000:
Standing at Winbak Farm for a fee of $6,500 (CDN) for one of the fastest horses in history, it'll be interesting to see how McWicked's success on the track correlates to his performance as a sire. Out of Beachy Girl who was a force as a 2-year-old back at the Red Mile Grand Circuit meet in 2007 and has produced eight winners from nine previous foals as a broodmare, this bay colt is a half-brother to 2019 and 2020 O'Brien winner Century Farroh (Mach Three), known best for battling it out with the sport's best free-for-all horses over that time.
HIP 226 VILLAGE BLUE CHIP, CONSIGNED BY BLUE CHIP FARMS, SOLD FOR $30,000
Second foal out of Carlo's Superstar, who at 2 won a late closer in 1:53.1 at the Red Mile, and was once a $100,000 yearling. Second dam is L Dees Lioness who was a killer at 2 and whose mark of 1:50.2 taken at that same age would have been a record back in 2012 if not for I Luv The Nitelife besting that time on the same night. L Dees Lioness has produced Life's A Puzzle; one of the better 2-year-old's racing right now from the first crop of Lazarus.
HIP 236 GROOVY JANE ANN, CONSIGNED BY WINBAK FARM, SOLD FOR $23,000
Bay filly is a full sibling to Groovy Joe (Roll With Joe). One of the more successful progeny of Roll with Joe, Groovy Joe was a top New York Sires Stakes performer at 2 and 3, and was a 1:48.4 career winner and earned almost $500,000. Dam Chotat Milk was a fast and highly-accomplished filly in 2004 and 2005, and has produced six winners from seven foals as a broodmare. Second dam Tre Cress has produced Peenie; another hard hitting performer who earned over $700,000 in his career.
HIP 389: DUSTY DUNGAREES, CONSIGNED BY PREFERRED MARKET EQUINE, SOLD FOR $30,000
Led by Southwind Avenger and Splash Blue Chip, sire E L Titan produces this bay colt out of Pacific Edge. He's a half-brother to Adare Castle who has been one of the best trotting fillies in Canada the past two seasons having won countless Ontario Sire Stakes while earning close to three quarters of a million dollars, and don't forget that Adare Castle has wildly overachieved as she was once an underestimated $10,000 yearling from this sale two years ago. Second dam Pacific Photo has produced a couple of decent ones in Margarita Way and Bold Fresh.
HIP 480: AIM UP, CONSIGNED BY PREFERRED MARKET EQUINE, SOLD FOR $30,000
Sire Stay Hungry has burst onto the scene this year with his first crop that includes fast winners such as Annapolis Hanover, Hungry For Love, Hungry Man and a host of others. There's been a lot of his yearlings that have gone for reasonable amounts thus far at Harrisburg this week including this one, a bay filly. She's the first foal out of her dam, though second dam Must See was a fast 2-year-old and has since gone onto produce Pacer of the Year and successful sire, Well Said. Also is closely related to So Surreal who has been proving himself as a sire after his racing career ended prematurely; hails as well from the family of another world champion, Glowing Report.
HIP 545: EXPEDITION PASS, CONSIGNED BY CONCORD STUD FARM, SOLD FOR $25,000
This is the lone Alarm Detector yearling thus far that fits into the sold price range of this column, as part of that sire's third crop. Second dam Angel Eyes Hanover has produced Ambassador Hanover, a 1:51.2 winner at 3, the same year he was a fast closing third in the Hambletonian.
For those seeking to catch lightning using the same sire as Bulldog Hanover, Hip #'s 529 and 624 are by Shadow Play. Hip 529 Short Sweet Ride ($25,000) is the first foal from Across Hanover, who is a half-sister to near half-million dollar earner Appleoosa Hanover. Hip 624 Play Dew ($18,000) comes from the family of Artbitration; a bargain basement yearling that went onto win over $700,000.
HIP 757: MARIE'S CHOICE; CONSIGNED BY WINBAK FARM, SOLD FOR $25,000
From the first crop of Meadowlands Pace, Little Brown Jug and Canadian Pacing Derby winner Courtly Choice, this bay filly is out of Marietta Hall, a hard-trying and high-earning filly from about 15 years ago. Her production record hasn't matched her record on the track, but she's a full sister to near million-dollar earner Cammibest, as well as a half-sister to It's That Time and Tomy Terror.
HIP 932: EASY CHEESY, CONSIGNED BY WINBAK FARM, SOLD FOR $30,000
This bay filly is a full sister to Wisdom Tree, a NYSS standout from a few years ago who earned close to $700,000 while taking a career mark of 1:49.1. It's worth noting that Wisdom Tree was just a $28,000 yearling, right in line with this one. There's loads of talent from this family going back to the production of second dam Can Du River, including world champion Allamerican Captor, Class Six, Amazon Art, and the list goes on.