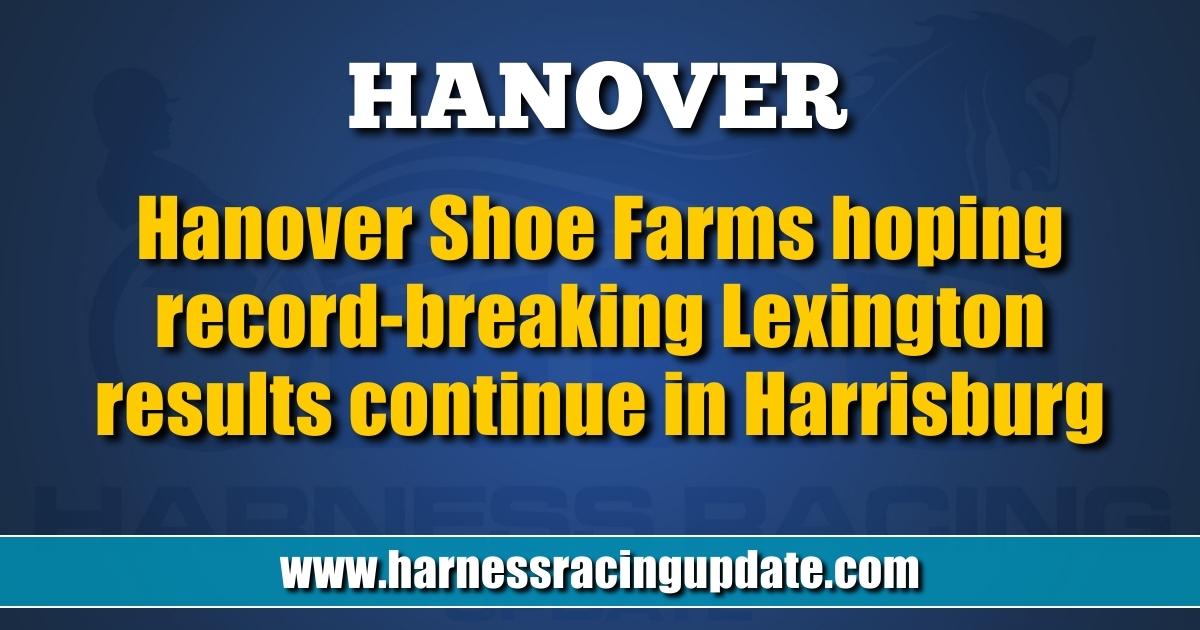 Hanover Shoe Farms hoping record-breaking Lexington results continue in Harrisburg
by Dave Briggs
A little over a month ago, Hanover Shoe Farms set a Lexington Selected Yearling Sale all-time record for consignor average of $194,174. The farm's executive vice-president Dr. Bridgette Jablonsky said she hopes that carries over into the Standardbred Horse Sales Company's yearlings auction that begins Monday in Harrisburg, PA.
"We did take 23 very good yearlings to Lexington, but we have very, very good yearlings for Harrisburg," Jablonsky said. "The interest has been very good. We've had lots of people every day since we started showing, so I think there are still people that need yearlings and we still have very good ones left."
In particular, Jablonsky said she has two fillies — one a pacer and one a trotter — that she loves.
"The pacer is Hip 153 (Time Out Hanover) and she's a Stay Hungry sister to Tickertape Hanover, who was probably my favorite colt last year. This is just a beautiful, beautiful eye-catching filly with just a great disposition. We've had her in the paddock almost every day and sometimes twice a day and she never puts on a bad show. She's always good-gaited and very, very smart. To me, she's just the complete package and just a really nice filly. One of the nicest pacing fillies I think you'll see.
"Hip 38 (Date Night Hanover). She might be as pretty a trotting filly as I've seen in years. She's a Chapter Seven out of Don't Wait Up. She's a sister to Delayed Hanover. That family is just exploding right now… The pedigree is deep – it's Trixton's family, Venerate's family. It's one of the best trotting filly families in the business, but, beyond all that, the filly is beautiful. Just gorgeous. She really, I don't think, can be faulted. She trots beautifully in the paddock. She's dual-eligible and I think she's a real superstar, I really do.
"She's very similar to the Stay Hungry filly, there's not much you cannot like about them. I hope she does well and I think she'll be well-received. Like I said, I can't see too many people looking at her and not liking her. It's almost impossible."
Jablonsky also mentioned the following yearlings:
Hip 7 Amethyst Hanover: American Jewel's "nice, big, strong Bettors Delight filly. It's the first time she's been bred to Bettors Delight or anything other than the Somebeachsomewhere line. The Somebeachsomewhere line is great, but this is a change for her and it's a beautiful Bettors Delight filly."
Hip 129 Shebebakin Hanover: "is a pretty Captaintreacherous filly. Sister to Perfect Sting."
Hip 131 Sula Hanover: "is a Downbytheseaside sister to Sylvia Hanover. We actually have siblings to both of the 2-year-old Breeders Crown winners."
Hip 63 Good Faith Hanover: "She's a Greenshoe sister to Gaines Hanover."
Hip 119 Pennteller Hanover: "is a Chapter Seven out of Possess The Magic. He's beautiful, big, dark, just a beautiful colt. If you look at the pedigree closely, you'll see it's a big sire upgrade for the mare. Previously, for some reason, for a mare of her stature, she hasn't been bred accordingly. I'm not insulting the other stallions she's been bred to, but that's the facts. So, it's a Chapter Seven out of her that looks to me like something really, really interesting."
Beyond being proud beyond belief to be the breeder of the world's fastest standardbred and presumptive Horse of the Year Bulldog Hanover, Jablonsky said Hanover takes as much pride in being the breeder of a number of the top free-for-all pacers: Allywag Hanover, Abuckabett Hanover, Rockyroad Hanover and Linedrive Hanover, to name a few.
"There was a time when those five were the five dominant free-for-allers back at the Meadowlands, before Tattoo Artist came in the mix and Rockyroad, I think, got hurt," Jablonsky said. "There were a couple of races where they were the top four in world record time. I think that is a big boost to us. I'm proud of the numbers that start. I'm proud of the earnings. We may be able to break the (all-time breeder) earnings record again this year, which would be amazing, so I think it all helps. I think the broodmare band is steadily getting better and better and the stallion roster is terrific. I think we're just kind of riding the wave right now."
As for the next generation, Jablonsky said she "couldn't be happier with the two first-crop stallions, Stay Hungry and International Moni. Stay Hungry really has done very well. He had horses come out at the very beginning with horses pacing in :50 with last quarters in :25. He's really shown up and really held his own with the big boys, Captain and Always B Miki.
"International Moni, I think… did a fantastic job. He stood for $5,000 and he didn't get a great book of mares. For him to do what he did, I think, is really, really special. For me, I wasn't looking for them to be ready early, because, being a Love You, a lot of them are big, heavy horses and I thought they might be better later on, but he came out of the box swinging from the baby races on. He's been terrific and captured both the Massachusetts Sires Stakes Finals for 2-year-olds. He had good horses racing in Kentucky and he's holding his own in Pennsylvania. He's really done a terrific job.
"Somehow, and I never know why this happens, but this second crop of yearlings we have are much, much nicer than the first crop. I'm excited to sell those.
"The Greenshoes, as well. I couldn't be happier with the way they were received in Lexington. People love them and they are acting just like he was. They are correct and they are being bought by the right people, being put in the right hands. With the mare he breed and the people that are training them, he has every reason in the world to be a good sire."