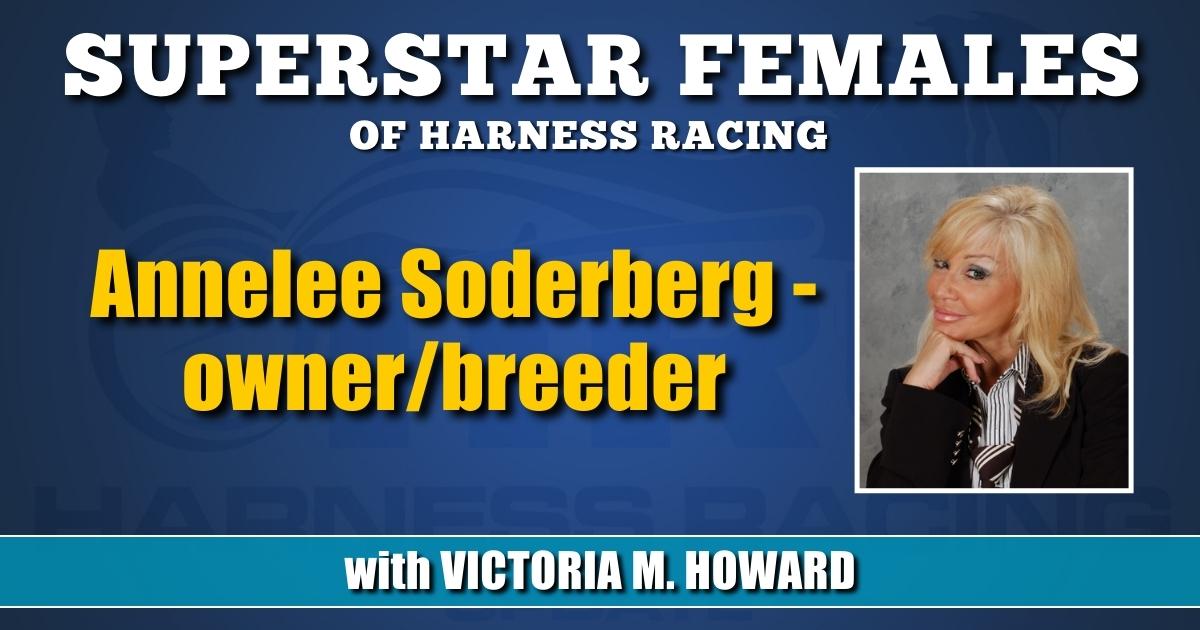 Annelee Soderberg — owner/breeder
by Victoria Howard
Born into a "horse family" in beautiful Sweden, when an offer came to visit a friend in Dallas and see America, Annelee Widegren didn't have to be asked twice.
Her love for horses started very early. For her sixth birthday she was given a present that every little girl dreams of: her own pony. One year later, young Annelee got her first horse.
"I helped my dad in the stable as much as my parents would allow. From the very beginning, I fell madly in love with harness racing and standardbreds.
"While helping out in my dad's stable, I actually drove in a couple of races. My best placement was a second. Although I loved it, I didn't want driving or training horses as my full time job.
"My brother, Dan Widegren, is still a trainer in Halmstad, Sweden.
"Back in Sweden the 'family horse' was Coro (Iran Scott—Jeannette Fortuna) who my dad trained and drove, winning some really nice races."
Fast forward to 1983.
"In 1983 my friend and I travelled to the United States. We spent Christmas in Texas before leaving for a warmer state — Florida.
"At that time, Florida had a booming racetrack located in south Florida called Pompano Park Racetrack, The Winter Capital of Harness Racing and of course I wanted to see it.
"My father, Emil Widegren, a trainer and driver, was friends with several trainers stabled at Pompano Park — one being Hakan Wallner. Hakan immediately offered me a job at Continental Farms grooming horses and that was the start and beginning of a long career with standardbreds.
"I was blessed to have lived the best of both worlds — Sweden in the summer and Florida during the winter months. In 1990, I moved permanently to Florida and have remained here ever since.
"While I was in Florida I had my own racehorse named Petrolianna that was racing in Sweden. I named Petrolianna in honor of the horse I groomed at Wallner/Lindstedt Stable in Florida, who just happens to be the dam of Lindy Lane.
"I also worked for the Jerry Silverman stable, but when they shipped north, I remained in Florida.
"It was also in 1983 that I met a man named Perry Soderberg for the first time. Perry was working for Stanley Dancer and later he was a trainer at the Team Nordin stable."
Unbeknownst to Annelee at that time, Perry would one day become her husband (almost 40 years later) and change her life in a good way.
Perry is one of the sport's elite bloodstock agents who works exclusively for some of harness racing's top owners, such as Al Libfield, Sam Goldband, George Segal and Marvin Katz.
Several of Perry's personal "selections" have won the Hambletonian, Breeders Crown and many other stake races in the United States. He has also hand-picked approximately 60 yearlings that later became successful stallions, such as Father Patrick, Bar Hopping, Captaintreacherous, Muscle Massive and Western Vintage, and others.
"Marrying Perry brought a lot of changes. We live and work side-by-side 24/7, and that is the only way we want it.
"Coming back into the horse business introduced me to a lot of forever friends that have the same passion and interest that I have. My husband is a true expert and very thorough. I have never met anyone who has so much knowledge as he has.
"We work together as a team, however, he will always be the expert and I learn something from him new every day.
"Perry is also on a year-round basis working all aspects of the Libfield/Katz breeding and racing operation; including mating recommendations for their extensive broodmare band.
"When Perry picks out yearlings he looks at conformation, all over athleticism in the paddock, and of course pedigree. He has an extensive alternative equine veterinarian education that includes practicing acupuncture, chiropractor, and laser therapy on equine athletes. That education, along with the knowledge of the structure, has shown to have a lot of use when evaluating the yearlings.
"My husband says that I have that 'special eye and feel' for the horses that cannot be taught or learned, but is part of your gene."
Perry said Annelee is an indispensable part of his life and work.
"Since Annelee came into my life, things have changed in so many ways — both privately and professionally. In addition to being dedicated, effective and talented, she is a social star, which anybody that ever met her can attest to. She is a very talented horsewoman who has quickly picked up on my line of work.
"In addition, she makes sure our work schedule runs smoothly and also photographs and video films yearlings and foals for our clients. She has a great eye for horses that shines through every day. That is a talent she not only was born with, but also benefited from growing up around horsemen."
As for horses particularly special to Annelee, she said Petrolianna and Coro have a special place in her heart.
"Our best horse and also my favorite is Rattle My Cage, who I own with my husband. He is a strikingly beautiful 4-year-old (Love You) colt. Can you tell that I love him?"
The Soderbergs own horses that are trained by another superstar team — Ake and Sarah Svanstedt.
"Harness racing has many good trainers that eat, live and breathe horse racing. I admire their dedication and it is a true elite group out there," Annelee said.
"We have had our racehorses trained by several trainers that were all true professionals. Today, Perry and I have three very interesting horses in training with the Svanstedts; they are Rattle My Cage, Pure Hope S and a new colt Bryant Bros S.
"Presently, we have eight broodmares in foal living in Kentucky at Kentuckiana Farm, and four weanlings, along with one stallion: Western Vintage.
"We also own shares of several stallions."
In recent years, Sweden has imported fantastic American modern bloodlines, while adding French bloodlines as well to our sport.
"The mix of breed seems to click and I believe both Swedish and American racing and breeding has benefited significantly, given the recent standouts we've been watching. I may not yet be an expert on picking out young horses, but hopefully I'm getting better, and my husband's track record speaks for itself."