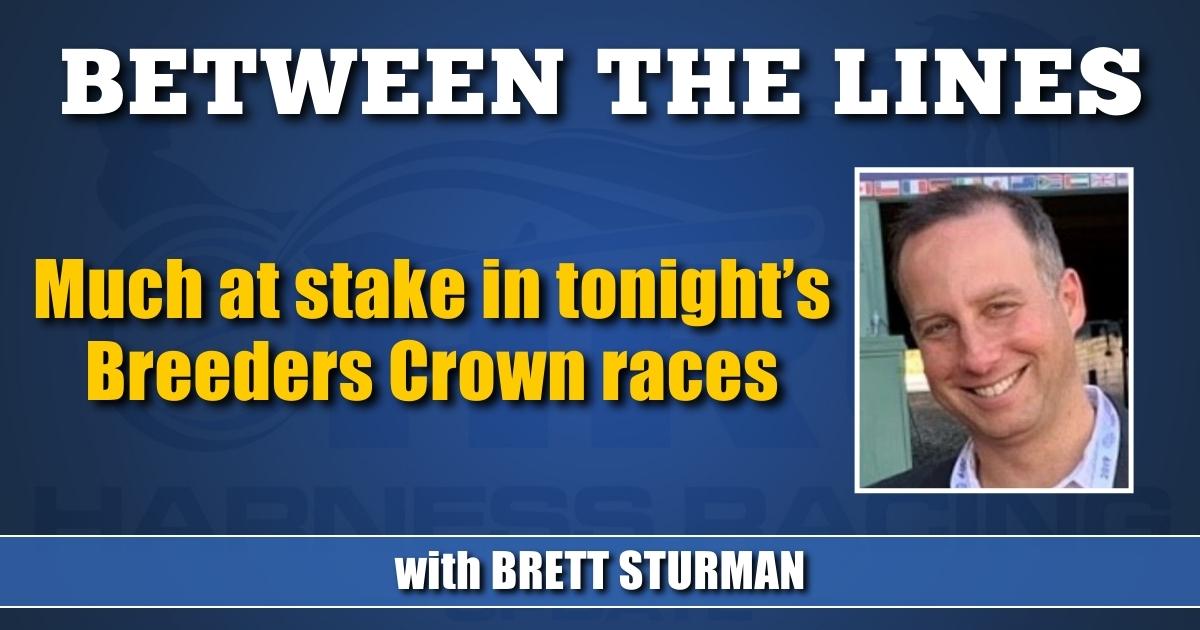 Much at stake in tonight's Breeders Crown races
by Brett Sturman
The eight Breeders Crown races to be contested tonight (Oct. 29) at Woodbine Mohawk Park are loaded with intrigue and have the potential to go a long way in determining divisional honors, as well as leaving horses with a lasting legacy. Here is my race-by-race rundown.
RACE 2 — BREEDERS CROWN MARE TROT
In what lines up to be the second to last race of her illustrious Hall of Fame career, Atlanta rates a live chance to capture what would be her first Breeders Crown win. She's rebounded nicely since the last time she raced here in September in the Maple Leaf Trot where she was over-raced, including a 1:50.3 win last out in the Allerage Farms in her final Red Mile appearance. She enjoyed the pocket ride in behind Next Level Stuff that day and was able to hold off familiar rival When Dovescry who tried to track her down from third that day. You'd think Atlanta will be looking to get the jump on Bella Bellini who hasn't fired her best in her last pair, but it's back to the big track now which will obviously suit her style much better.
Picks: Atlanta, Bella Bellini, Next Level Stuff
RACE 3 — BREEDERS CROWN MARE PACE
It seems like Test Of Faith has been ripe for an upset in her couple of races, but it still hasn't mattered as she always has an answer and continues to always be the best in this group. Last week, longshot So Much More had room to rally up the inside and looked for a moment that she was going to sprint by but could never clear and missed by a nose. Mikala caught the eye late in that same race, coming on strong from last to close within a length and a half. Test Of Faith has had her number, but she continues to be close to that foe, just as she was in the Milton elimination and final. Grace Hill came from last and weaved through traffic to somehow score in the other Breeders Crown elimination last week, doing it a in a pace-less race no less. A win or a second would take her over $1 million for her career. Racine Bell probably should have lasted coming off that soft :56.4 half mile; goes second-time Sears and will be going forward early as usual.
Picks: Test Of Faith, Mikala, Grace Hill
RACE 4 — BREEDERS CROWN 3YOFT
In one of the premier matchups over the entire Breeders Crown event, Joviality and Jiggy Jog throw down in a race that could sway the division. Both were outstanding off the pace winners last week and for Joviality in particular, she came from further off the pace than she has maybe all year. Known mostly for her gate speed, she was reserved from well out of it and then exploded home to win going away over Misswalner Fashion who couldn't fend her off despite getting the two-hole ride. She still starts a couple slots to the outside of Jiggy Jog, but won't be at as much of a disadvantage as she was two starts back when she had to start from the second tier. Like Joviality, Jiggy Jog closed in :26.2 last week and in doing so, stopped the clock in 1:51.2. She had open lengths to make up on Fashion Schooner who for a short while there, looked like she was in position to steal away but couldn't stop the late race onslaught of Jiggy Jog. Warrawee Xenia may have lost a bit of her luster in the last few weeks but she was loaded late last week after saving ground; McClure had to negotiate traffic and just missed second.
Picks: Jiggy Jog, Joviality, Warrawee Xenia
RACE 5 — BREEDERS CROWN 3YOFP
It's been quite a return for last year's divisional champ Niki Hill, as she's already notched wins in the Bluegrass and in the Glen Garnsey since returning from an injury sustained in May. That recent qualifier against Treacherous Dragon here at Woodbine Mohawk Park a week ago could have set up as a preview for the main event. In that morning race, Treacherous Dragon tracked from second, Zeron urged her on a bit to get on terms as Dunn gave some urging to Niki Hill before the matter had been settled late; post 10 may not make it easy. Treacherous Dragon was great as mentioned in that qualifier and makes her first start back since winning the Jugette; looks dangerous. Gallucci stablemates Silver Label and Prohibition Legal come off a 1-2 finish in their Ontario Sire Stakes Gold Super Final. Sea Silk gave way badly from the pocket after being used when last seen but can bounce back. Queen Of Success showed a new dimension last out and she was strong despite a shuffle; encouraging.
Picks: Treacherous Dragon, Queen Of Success, Niki Hill
RACE 6 — BREEDERS CROWN 3YOCT
This division for 3-year-old male trotters has been one of the more wide open divisions all year, so it's no surprise that last week's Breeders Crown eliminations produced winners at odds of 7-1 and 28-1. The larger of the two upsetters, King Of The North, was last year's 2-year-old champion and last week's elimination win was his first victory of the year, coming in his 12th start. But he had been racing well in many races leading up to his elimination so it's not like that 1:51.1 lifetime best mile was a total shock. Donning headgear in victory last week with the "WW" emblem, champion thoroughbred trainer Wesley Ward is part of the ownership group for King Of The North, and he could be very much alive for a Breeders Crown-Breeders' Cup double in the week ahead. Cool Papa Bell was wildly overbet last week considering it was just an elimination race, and did well for himself to close from a hopeless spot which should serve him well for the final. He can a close a ton and it won't be easy from an outside post, but a win in this race just might be enough to give this year's Hambletonian winner divisional honors. Slay got the second-over trip in his elimination, but I think might have been caught a bit off guard by Double Deceiver deep to his inside who snuck up the rail from last. Slay was amazing here three back in winning the Canadian Trotting Classic; Double Deceiver could use another Miller Magic steer. Branded By Lindy gapped second-over cover early before finding his best stride late. Fast As The Wind seems to be in line for a good trip from the inside; could surprise in a wide open event.
Picks: Cool Papa Bell, King Of The North, Slay
RACE 7 — BREEDERS CROWN 3YOCP
In the glamour division, both odds-on favorites delivered as expected in their eliminations and sets the stage for what should be a thrilling race. Bythemissal continues to race on a tear, and I thought his win last week was scary. I don't think Page moved at all in the bike throughout the stretch; I guess he was that confident. Starting from post two, not only does he have the post advantage on his main adversary, but fellow stablemate Birthday lands the rail. It could make the strategic advantage that much more. Pebble Beach has now put together two straight wins after five straight runner-ups, and McCarthy had him on the front end last week earlier than usual. He's likely to be forwardly placed again as he looks to replicate his North America Cup success from this track earlier in the year. I Did It Myway tried hard to get to Bythemissal last week just as he tried hard when he rallied two back in Lexington against Pebble Beach; high quality horse may only need to be within striking distance turning for home. Ponda Warrior was extremely impressive last week in his elimination coming into Woodbine Mohawk by way of Hoosier Park. Indiana Sire-Stakes champion closed with a ton of place in his elimination to just miss second; looks like him and Zeron got along well. Greatest Ending picks up a new driver in Gingras. Fourever Boy might have tailed off just a touch since early September.
Picks: Bythemissal, I Did It Myway, Pebble Beach
RACE 8 — BREEDERS CROWN OPEN TROT
Fashion Frenzie has only lost a single time this year and it was in the Maple Leaf Trot, a race he was actively used in. Going for dangerous connections of Moreau and Roy, he was a two
length winner a couple of weeks ago in the Open Handicap, and that was a race in which Forbidden Trade sat nicely right in behind him the entire way but couldn't make any real impression. A ton of credit should be given to Greg Wright Jr. on the work with Jujubee and the progression that last year's Breeders Crown winner has made since returning to races in September. His win last out in the Allerage was well deserved and is a major player once again. Back Of The Neck was powerful when last seen here at Woodbine Mohawk in the Maple Leaf Trot, a race he won surprisingly easy. He since followed that up with a similar off the pace score at Dayton and no disgrace whatsoever with his formidable try in the Yonkers International. Ecurie D went on a speed mission last out at Yonkers in a mile and a half race and folded. Of more importance now is the driver change to Dunn.
Picks: Fashion Frenzie, Ecurie D, Back Of The Neck
RACE 9 — BREEDERS CROWN OPEN PACE
The Breeders Crown main event is saved for Bulldog Hanover, and it's back to business with no longer having to toy with the idea of racing solely to break another speed mark. His and Dunn's focus now will be to win the Breeders Crown and lock up Horse of the Year, something that he'll be heavily favored to do as his season for the ages winds down. Give credit to Allywag Hanover for sticking right with Bulldog Hanover and moving past him; he always looked like a major threat every step of that race in the Allerage. His prior two races against Bulldog Hanover were horrific trips so it's not like his win was a total fluke; it's possible he could spring the upset again. Tattoo Artist has been thriving with James MacDonald driving; wasn't terribly outmatched against Bulldog Hanover in the Canadian Pacing Derby.
Picks: Bulldog Hanover, Allywag Hanover, Tattoo Artist