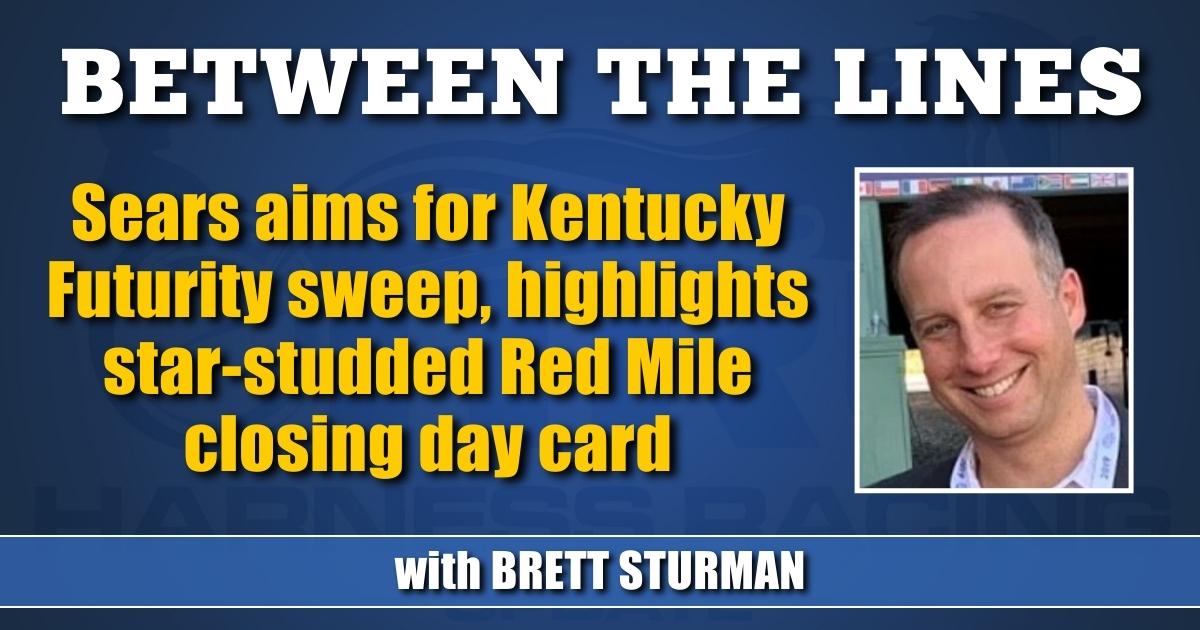 Sears aims for Kentucky Futurity sweep, highlights star-studded Red Mile closing day card
by Brett Sturman
Already one of the more anticipated race cards of the year, Kentucky Futurity Day at the Red Mile will get an added boost with a higher degree than normal of subplots throughout the day. Those include getting on the card Bulldog Hanover where another world record is possible, the third to final career race for Atlanta, another showdown involving Niki Hill who already seems back in top form, a competitive Tattersalls Pace, and more. But the Kentucky Futurity, along with the Kentucky Filly Futurity get top billing, and driver Brian Sears holds the cards in both.
In the Kentucky Futurity for 3-year-old colts, Sears was listed on both Marcus Melander-trained horses, Periculum and Temporal Hanover. In somewhat of a surprise, Sears opted for Periculum, who had been driven almost exclusively this year by Melander's brother, Mattias, and up until last week had posted a record of one win through 11 starts on the season while racing consistently against the sport's best sophomore trotters. But last week, Sears picked up the drive on Periculum and the result was a resounding 1:50.3 win in his division of the Bluegrass. That win was enough to convince Sears to go with him over Temporal Hanover, a horse that has earned $657,000 to date this season, including a win with Sears three races back in the $300,000 Earl Beal at Pocono.
On the decision, Sears said, "I felt like Periculum just seems fresher right now, and that there might be some more of an upside to him. Temporal Hanover also raced good last week, and I was happy with his effort too, but the other horse (Periculum), he came home so good and just seemed like he's the fresher horse right now."
Elsewhere in the Futurity from the inside out, how good was Slay in the Canadian Trotting Classic? It's hard to say how much ground he lost while on that break coming into the stretch, but he was definitely worse off for it, and the fact that he was able to somehow re-gather his momentum to come back on for the win was something else. Branded By Lindy won the KY Championship Series finale the last time he raced here; looked like he was getting towed into it in the CTC when he broke. Rebuff hasn't been bad since arriving in Kentucky but hasn't come back to that summer Meadowlands form either. Pretender gave it a good try last out on the front end and will start from a similar outside post. Hambletonian longshot winner Cool Papa Bell will almost have to come from off the pace, can he surprise again? Justice starts from the second tier and looks to build from his Bluegrass win.
In the Kentucky Filly Futurity, the road goes through Joviality as has been the case all year. Unbeaten on the year in races restricted to fillies, she comes off a three-length score in a division of the Bluegrass at the Red Mile last week. What could complicate things this time is starting from post-12, a second-tier post in a full field.
"There could always be issues in a race like that, with 12 horses," said Joviality driver Sears. "Not being on the gate can be a disadvantage and with horses coming from the outside, but you just have to avoid trouble situations as much as possible and try to get some type of smooth journey. The 12-hole gives us a chance to not have the cleanest trip but I wouldn't trade this spot."
Rival Jiggy Jog S was also an open length winner last week in a division of the Bluegrass, and she'll be one of those fillies that could get an early jump despite starting from the outside as Sears referenced. Peyton Hanover comes off a lifetime best mile last out in the Bluegrass but loses Tetrick as expected to Misswalner Fashion who has turned it back around since her upset win in the Continentalvictory on Hambletonian Day. Raised By Lindy cruised last out in the Elegantimage.
To date on the year, Sears has only 350 starts but has earned over $4 million, and it's not by coincidence that he has both favorites in the Futurity races. Asked how he stays as competitive as he does while driving minimally at times throughout the year compared to other drivers, Sears said, "I do come up twice a year during the winter and train some babies with the Melanders, and that helps familiarize me with the horses that will be racing the year. And I've been fortunate to hook up with a trainer like Marcus who has such a strong barn and appreciate what each of us brings to the table."
Carded as race 11, all eyes will be on Bulldog Hanover in the Allerage Farms $153,000 open pace. The race will take place exactly six years to the day when Always B Miki established a then-world record of 1:46 on Oct. 9, 2016, before it was broken earlier this year by Bulldog Hanover. The weather forecast looks to be for comfortable temperatures in the mid 60's with sunny skies, we'll see if the pace of the race sets up for another sub-1:46 type of mile. The way he sprinted into another gear through the stretch last weekend at Dayton after never seeing the rail from post 8 continues to add to his legacy.
In the $205,000 Glen Garnsey Memorial for 3-year-old fillies, a great deal of credit must be given to trainer Chris Ryder on the work in getting Niki Hill back to form in last week's Bluegrass. Making just her second start back following an injury sustained in May, she was powerful all the way in establishing a new lifetime mark of 1:49. Boudoir Hanover who had entered last week with a four-race win streak – and who had defeated Niki Hill in her first start earlier this year – had the entire length of the stretch to go by following a pocket trip but couldn't do so. Those fillies will be joined by Ohio Sire Stakes champion and Jugette runner-up, Sea Silk.
I Did It Myway goes for six in a row in the $363,500 Tattersalls Pace, and has paced miles in the 1:48 range in every one of those wins. He was fought gamely to the wire last week by Mad Max Hanover after having that one's cover. Fourever Boy was a belated third in that race and continues to be racing in new form for Dunn. In the other Bluegrass division last week it was All About The Hunt who pulled off the upset, but now goes from the inside post all the way to the outside. Pebble Beach was inching in on that rival and did all he could while closing in :25.3. Birthday was rolling up late in that race and it looked like Energetic Hanover was looking for a place to go at times in the stretch; maybe a surprise candidate.
Atlanta and When Dovescry throw down for what seems like the hundredth time in their career. After Atlanta proving too good for When Dovescry on Jug Day, the tables were reversed last week at Dayton where it was When Dovescry who came up the inside to win. Next Level Stuff is always in the mix with those two as well. For Atlanta, it's this race, the Breeders Crown and then the TVG to close out her career.
Test Of Faith faces a compact field of just four other mares in her Allerage Farms race. She'll loom a heavy favorite once again; won over this track last year as a 3-year-old in 1:48.3. In the Allerage Farms open trot, Cuatro De Julio looks to rebound from a fourth-place finish in the Caesars. Jujubee was third last out at Dayton but that was definitely an improved race in his third start back on the comeback. Scott Zeron drives Ambassador Hanover. Welcome back!