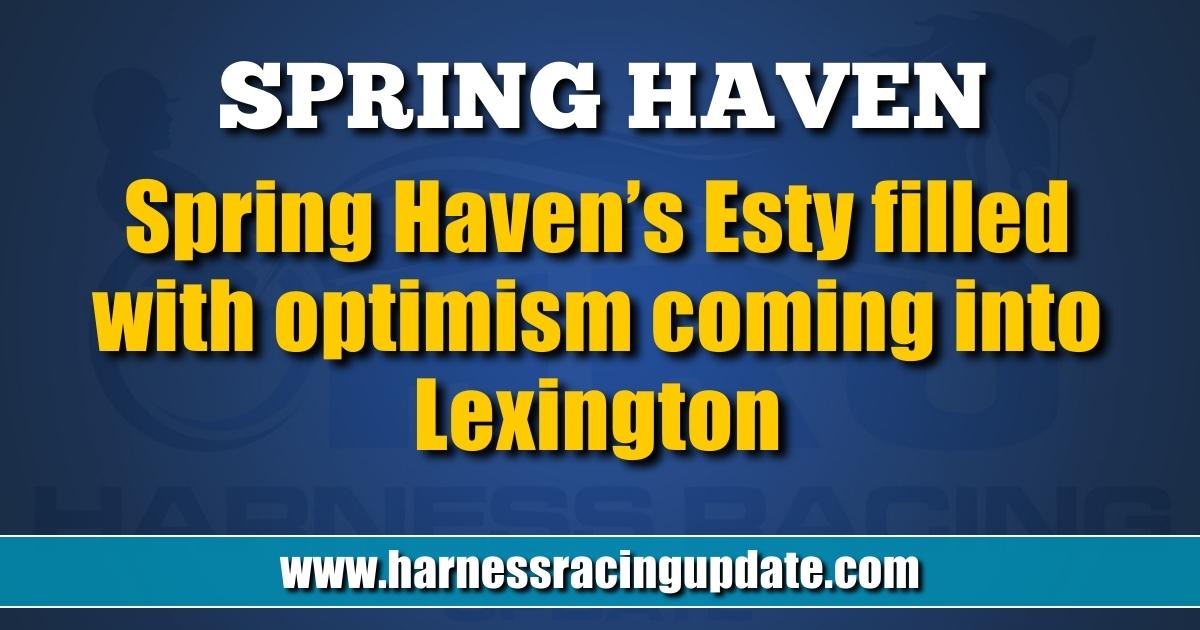 Spring Haven's Esty filled with optimism coming into Lexington
by Chris Lomon
There is an unmistakable tone of optimism in Senena Esty's voice ahead of the Lexington Selected Yearling Sale.
Esty is excited about her Spring Haven Farm consignment heading into the start of this year's sale, starting Monday (Oct. 3). The Utica, OH-based operation is selling a group of 62 yearlings, nine of their own and 53 agent horses, up notably from the year before. The consignment features babies from Muscle Hill, Captaintreacherous and several by Downbytheseaside.
"I think that regardless of world circumstances, the economy, etc., we are getting a good vibe [about the sale]," said Esty. "People that are in the horse business love it, and they want to invest in it. Some people think that's a safer bet than other areas."
Spring Haven has risen up the ranks in both scope and size in recent years, earning a reputation as one of the key players in yearling sales.
How they've evolved to this point is based on a simple formula.
"We've just worked hard," said Esty. "We're very hands-on. We own and manage the farm ourselves. We definitely have skin in the game. We've made some really good connections over the years and got started with some very good partners. We've been able to connect with people we've come to know from the sales. We're really proud to come together with a lot of wonderful people. We sell a lot for Ohio folks. It's a fun, cool situation, where a lot of these farms are with us under our banner. It's a real team effort."
Esty said she sees plenty of opportunity for all buyers, those looking for big names and big credentials, and others who have their sights set on finding solid deals on possible standouts, locally and beyond.
"There are lot of really good Ohio-breds. I'm really grateful to the people here in Ohio trusting us and letting us sell their good stock. There are always things you want to improve on and strive for, so that keeps us working hard. Going into the season, we feel we have some of our best yearlings ever. We just hope that other people see what we see now."
This year's Spring Haven starting lineup showcases a strong mix of local talent, Grand Circuit possibilities, and a few intriguing value types.
"This is always really hard because there tend to be several that you like," offered Esty.
She has no shortage of superlatives for Hip 95 Lou Vuitton.
"I don't know what it is, but Lou Vuitton, he has captured my heart," said Esty. "He's just phenomenal. The conformation on the colt, the way he carries himself, he looks like such an athlete – everything about him is wonderful. He covers the ground and is just a great, great looking specimen. He's also a smart individual. He's just got it going on. Plus, he's a Sweet Lou colt, which means the pedigree matches. He's got a really good family and I'm really excited about this colt in particular."
A filly with a catchy name also caught Esty's eye.
Spring Haven is selling the trotter for Doug Millard, one that could come up aces based on her family tree.
"We have a Muscle Hill filly, and she is actually a sister to Swinging Senorita (Spring Haven co-bred the daughter of What the Hill with Millard), who is an Ohio standout this year, a really, really impressive filly. The name of this one is Fancy Nancy Lopez. She is Hip No. 248. She was great on video, and she's a good-sized Muscle Hill filly. She has a lot of power behind. She has a good wither and a good amount of length. She's a very smart individual and I'm very proud of her. It's also nice that her sister is one of the best in Ohio too."
Esty is also high on a bay colt who bred and owned by Eli Miller and Peter Barbato.
"Captain Nashville, Hip No. 276, is a big, solid Captaintreacherous colt. He's exactly how I like the Captaintreacherous ones to look. He's got that muscle on muscle, just a great shoulder, hind end, and a very correct individual, who comes from a very good family."
VALUE PICKS
"I have a couple in that regard. I think people will be impressed with these two."
The first of Esty's offerings proved to be a head-turning sort on a particular day.
"I have a standout trotting colt I really need to mention. He's Hip No. 229. His name is Dog Waggin and he's a Chapter Seven. On video day, this colt really captured my attention. He was incredible. Just a really nice colt."
The other, bred by 3rd Floor Stables, LLC, Sea Me Rule has ties to a Buckeye State champion.
"I think people should come to the second portion, what we call the Regional Day. We have a lot of Downbytheseaside yearlings. One in particular is a standout in my opinion, Hip No. 785. He's the first foal, a big, solid colt, out of the Ohio 2-year-old of the year in that year, Bad Girls Rule. His name is Sea Me Rule. He would definitely be one I'd keep an eye on."