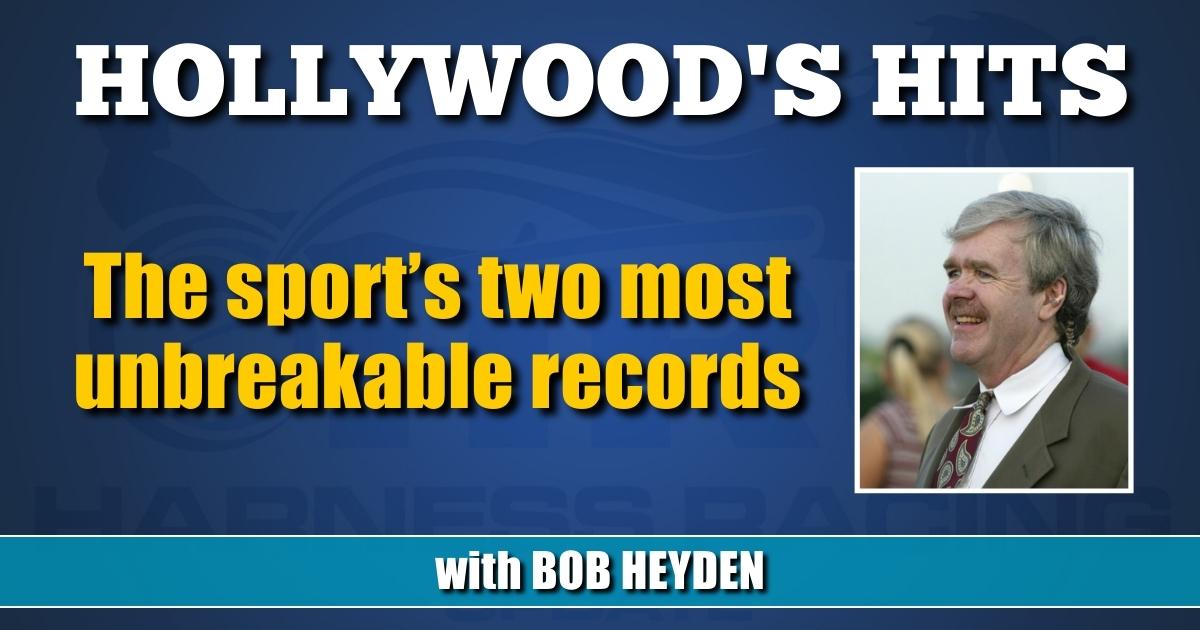 The sport's two most unbreakable records
by Bob Heyden
Here are the sport's two most unbreakable records:
1. Stars Pride sired 10 Kentucky Futurity winners in an 18-year span from 1957-1974):
1957-Emilys Pride
1958 Diller Hanover
1964 Ayres
1965 Armbro Flight
1968 Nevele Pride
1969 Lindys Pride
1971 Savoir
1972 Super Bowl
1974 Waymaker
1976 Quick Pay
2. Why doesn't ANYONE ever talk about this one? It has stood 19.5 years and has not been approached and could last another 50 years. Stephane Bouchard's 11 straight driving victories on March 8, 2003. He won the last three at Freehold and the first eight at Yonkers.
HOOSIER PACING DERBY AWASH WITH HARRISBURG GRADS
The $200,000 Hoosier Park Pacing Derby saw the Bulldog set another track record when he blitzed nine rivals in 1:46.3, with a :25.3 final quarter. Each of the top five were Harrisburg sale purchases:
1. Bulldog Hanover — $28,000 in 2019
2. Allywag Hanover — $105,000 in 2018
3. Workin Ona Mystery — $30,000 in 2017
4. Abuckabett Hanover — $160,000 in 2019
5. Rockyroad Hanover — $65,000 in 2019
Combined they cost $358,000. Collectively, they have earned $6.3 million
FAVORITE SON? NOT THIS HAMBLETONIAN WINNER
Cool Papa Bell won on the first day of Autumn as the favorite in the $90,000 Phil Langley Memorial. He defeated Ponda Adventure, who was 10-for-10 going in and the second choice behind the winner. It marked the first time Cool Papa Bell has had been favored since before the summer started. Who ever heard of a Hambletonian winner going the entire summer not favored once?
DEXTER DUNN'S HOY BREAKTHROUGH?
Dexter Dunn was the driver for the Horse of the Year runner-up the last three years: 2019 Bettors Wish, 2020 Party Girl Hill and 2021 Niki Hill. In 2022, he is driving HOY favorite, so far, Bulldog Hanover. If he wins it would mark Dunn's first HOY trophy and could possibly come the same year Dunn becomes the first to win the USWHA Driver of the Year award four straight times.
STANDARDBRED RACING REACHES 500 TRIPLE CROWN EVENTS
The 2022 Little Brown Jug was the 500th Triple Crown race held in the sport's history. There have been 289 trotting and 211 pacing Triple Crown races.
FIFTEEN YEARS AGO
In 2007, Swan For All sold as a yearling at Harrisburg as Hip #81 and became the leading trotting sire in Indiana, with a Horse of the Year credit from Hannelore Hanover. Just 118 hip numbers after Swan For All, Muscle Hill sold for $55,000.
FROM THE ARCHIVES…
1. Never heard of this one: A horse races from 2 to 14 and wins at both ages — 12 years apart and the same announced calls his first and last win. To Ri Boy at Rosecroft finished his career at $426,504 with a couple of world records .Billy Perkins called his first and last victory.
2. Prelude Lobell is the answer to the question of what broodmare was the first to have all her first five foals all take 2:00 marks.
3. Mrs. Frank C. Lewman, wife of the late chairman of the board at Richman Brothers, in 1975 presented Northfield Park with the bell that they used to start races in 1909 at the Old North Randall Fair. That's right folks, a bell over a 100 years ago got things going.
4. It just doesn't seem right that Windsongs Legacy only had 17 career starts. And ended it with a two heat Kentucky Futurity score, one from the second tier and the other a romp in his career best 1:53.
5. The 1976 Kentucky Futurity. 22 Year Old Peter Haughton with Quick Pay won it and still is the youngest to ever win a Triple Crown event. 46 years later and it still holds. He beat out seven Hall of Famers to do it, too:
2nd Del Miller Soothsayer
3rd William Haughton
4th John Simpson, Jr.
5th Glen Garnsey
6th Gene Riegle
7th Stanley Dancer
8th Joe O'Brien
6. The first-ever six-figure yearling came was Dancer Hanover in 1958. He sired the dam of Albatross — Voodoo Hanover. Care to guess where this $105,000 yearling, purchased by the Stanley Dancer Syndicate, was in the sale? First? First 50? First day for sure, right? Wrong. Hip #914, a bay colt by Adios. He was a half-brother to Thorpe Hanover, the leading money-winning 2-year-old of 1957 and a Fox Stake winner. He was a half brother to Bachelor Hanover (earnings over $161,000).