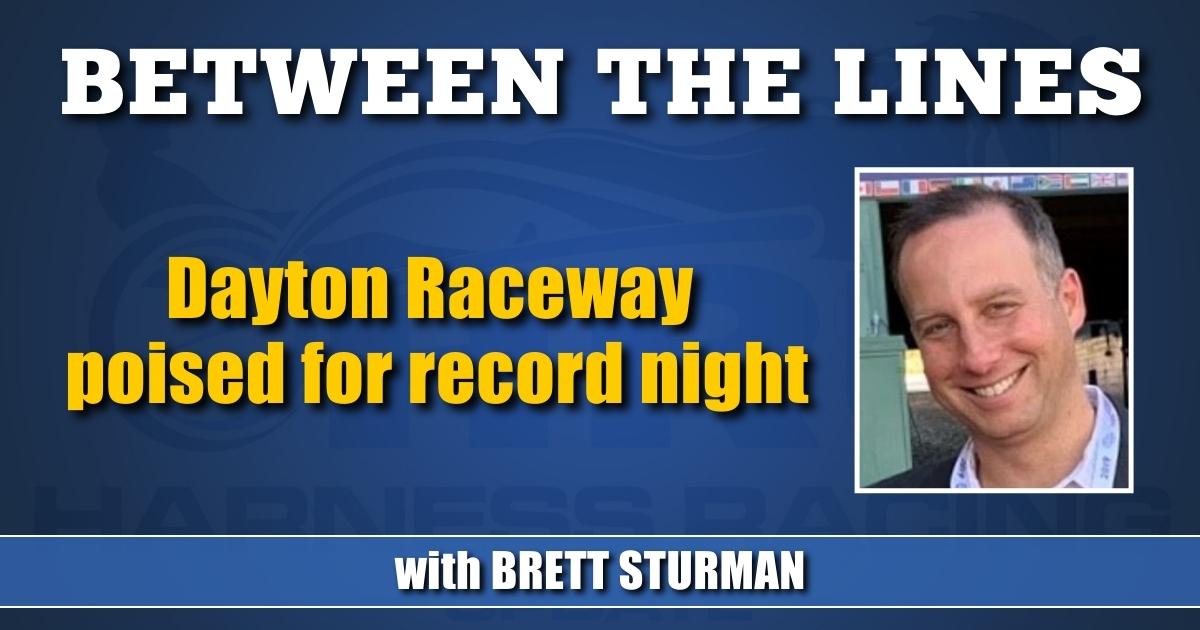 Dayton Raceway poised for record night
by Brett Sturman
Saturday night (Oct. 1), Hollywood Gaming Dayton Raceway will play host to Ohio Super Night for the first time, as well as contend four separate Dayton Derby races, one of which includes the sport's number one attraction. All told, purses for the all-stakes card total $3.4 million, and the track's all-time record handle of $850,522 set last December, seems all but certain to be shattered.
Just a week and a half removed from the Little Brown Jug, it'll be quite the two-week period for harness racing in Ohio. Following eight Ohio Sire Stake Championship races and three Dayton Derbies, the card will conclude with the Dayton Derby featuring Bulldog Hanover. A 1:45.4 winner earlier this year and a 1:46.3 winner last out at Hoosier, will he be able to break the fastest time ever on a five-eighths mile track of 1:47, currently held by Sweet Lou? Even with the anticipation rightfully brought forth by Bulldog Hanover being in the house, it shouldn't detract from the quality of the Ohio Sire Stake championships.
The OHSS championship for 3-year-old colt pacers gets the limelight as being carded in the penultimate race of the night, immediately preceding the Dayton Derby. Highlighted in that race is Little Brown Jug winner Bythemissal. A supplemented winner to the Jug, Bythemissal seeks to bolster his resume with a win in his OHSS as he becomes the second consecutive Ohio-bred 3-year-old colt pacer (Charlie May from last year) to remain squarely in contention with Beach Glass for divisional honors. He'll need to contend with familiar rival Gulf Shores who starts to his inside from the rail, along with Sling Shock who comes off a lifetime best mile of 1:49.3 from Delaware on Jug Day, as well as another sub 1:50 mile two back. He couldn't get to either Gulf Shores or Bythemissal at Scioto races in July or August but maybe he can now.
Starting now from the top of the card, the OHSS championships begin with the 2-year-old colt trotters. Rumble Strips makes his first start since that win during Jug week when he set a new world record with his 1:53.2 win over the Delaware half-mile oval. He had the benefit that day of starting from and never having to leave the rail, but that was really a dominating effort. Contenders that had gotten close to him before – and beaten him – such as Black Magic and A Real Legend were raced into submission that day by Rumble Strips. He might be able to intimidate them on the front end.
In the OHSS for 2-year-old pacing colts, it seems like a duel between Act Fast and Racing Rampage. The latter got the better of the former last out on Jug day, but it could be a different story now. In that race, Racing Rampage made the front, while Act Fast was fourth away from the second tier. He actually did get second over cover, but his first over cover stalled and went backwards. Post positions are largely reversed now. Downrightdelicious has shown the ability to compete with these though is hindered by the post.
The OHSS for 2-year-old trotting fillies is an intriguing one. Rose Run Yolanda has been huge in her young career and would be unbeaten if not for that interference break in her first lifetime start – a race she still almost won despite it. She's yet to go as fast on paper as some of the others but you get the impression she may be the classiest. A host of others may not be far behind, including a trio that raced together at Delaware last week. In that race, Rose Run Yanae prevailed in a race where she pulled pocket, looked as if she were going by easily before having to fight her way through the lane to earn the narrow win. Global Girl was equally game in that race, and Truly Relentless was right there as well though could have quickened a bit more off the good trip.
It's another competitive showdown coming in the OHSS for 2-year-old colt pacers. Fear Of Sports has been the heaviest of favorites in his last five races, all of which he's won, but the outside post could make things hard. Two back at Northfield he got first run at a longshot leader and cleared, only to be chased home gamely by Cruise Alert who now will start from the rail. The concern for Cruise Alert is not having raced now in almost a month following the sick scratch on 9/18, but any number of his prior tries may be good enough to turn the tables. McSeaside will try to replicate that Scioto mile from 8/19.
In the OHSS for 3-year-old colt trotters, Rose Run Xtra tracked the every move of Longshot two back at Northfield and just got up in that race to win by a neck. Both also went onto win their next-out races at Delaware and likely won't be too far apart from each other in this race with starting from the two inside posts. Caviar Gold went a big mile three back at Northfield after spotting an insurmountable amount of ground to Rose Run Xtra; an aggressive try will be coming from the outside and maybe he can pick up both the inside two.
Gabby's C Note has been unbeatable almost all year and the OHSS championship for 3-year-old filly trotters seems like hers to win or lose. Hasn't lost in as far as I can see, and someone will need to step up to win. Abbey D has been noticeably improved in her last pair with new trainer Powell; was only a half-length behind Gabby last out at Delaware. Criquette Hall has threatened on occasion too.
One of the other big Ohio names on the card is Sea Silk, who looms a heavy favorite in the OHSS for 3-year-old filly pacers. She was game in defeat last week in the Jugette final, fending off first-over pressure only to have Treacherous Dragon slip out from the pocket and nail her in the final stride or two. She's righted the ship after maybe a slower start to the season as expected and has been awesome in recent months.
In the Dayton Oaks Derby, Bella Bellini comes off a win in the Caesars Trot last out at Hoosier and will continue to be the one to beat for Nifty and Dunn. She may have to do it off the pace once again as the outside post could complicate things a bit. Atlanta is winding down on her storied career and that was a nice rebounding win last out at Delaware following the Maple Leaf trot when she gave way. Both When Dovescry and Refined were no match for her when they met less than ten days ago. Herculisa has surprised against these types before.
Back Of The Neck seeks to defend his title in the Dayton Trotting Derby, a race he surprised in last year. He couldn't be coming into this race at a better time, having upset again last race in the Maple Leaf Trot, and Tetrick retains the drive too. Lovedbythemasses put in a great first-over try two back against Cuatro De Julio and then had a rough trip last out in the Caesars at Hoosier. Amigo Volo continues to be amazingly consistent and Dunn will find a way to get involved from post eight if good enough. Jujubee's delayed return has been ominous thus far through two starts; this seems like a tall ask at the moment.
In the Dayton Distaff Derby the road goes through Test Of Faith as usual. No Win No Feed comes off two strong sweeping finishes at Hoosier and has a more realistic shot against Test Of Faith than she did in the Cleopatra. Kobe's Gigi has been trying to come back to that Lady Liberty race on Hambletonian Day when she pulled the 50-1 shocker. Fire Start Hanover has been a puzzler this year. Gia's Surreal may take an early shot from the outside.
In the race of the night, Bulldog Hanover seeks to keep his dream season going in the Dayton Derby. Carded as the last race of the night approaching the witching hour, he may not have it easy from post eight. Yes, he was unbelievable once again last out in another record setting performance in the Hoosier Pacing Derby, but Allywag Hanover wasn't bad either when he suffered a shuffle that took him out of the race, and now the posts are reversed. I don't know if he'll win, but I do expect Allywag to put up a fight and the race could be closer than expected. In a race where the three best horses drew the three outside posts, Charlie May has the misfortune of post 9. He was tremendous two back in winning the Ewart in 1:48.3 but seems like he would need some luck starting outside of Bulldog. Any sub 1:47 mile would break the all-time speed mark on a five-eighths mile track.