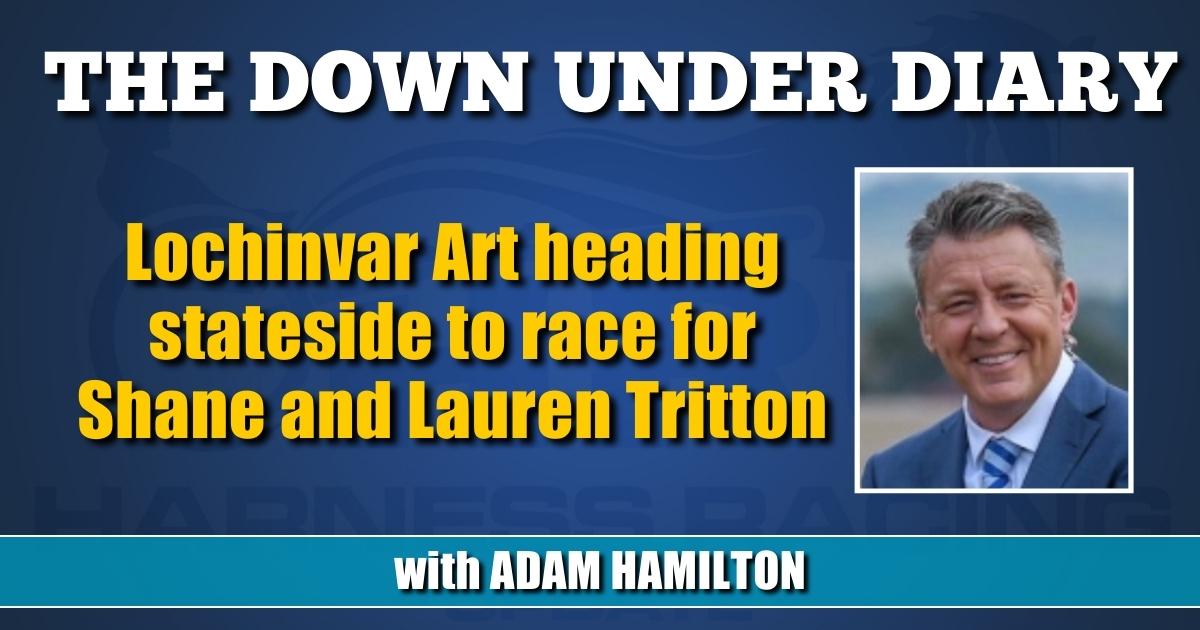 Lochinvar Art heading stateside to race for Shane and Lauren Tritton
by Adam Hamilton
This is a match made in Down Under heaven.
One of the best pacers Australia has seen in many years is moving to the U.S. to continue his career with former Aussie training pair Shane and Lauren Tritton.
In what has been a big shock for Down Under fans, Lochinvar Art will board a flight to the U.S. on Oct. 5.
"Our timing is perfect. It's a direct flight from Sydney to Chicago, the first of them in ages," owner Kevin Gordon said. "Because it's direct it means only three days in quarantine when he lands and then he's off to Shane and Lauren."
Gordon made the bold decision after Lochinvar Art suffered a minor bleed at his latest run in the Gammalite free-for-all at Melton last Saturday night. The 5-year-old was stood down from racing for 28 days, which ended his quest to win a second Group 1 Victoria Cup at Melton on Oct. 8.
"It's just not viable to keep him racing here. We'd have to space his runs and he couldn't go for our biggest races like the Inter Dominion and Miracle Mile because you've got to race back-to-back," Gordon said.
"That would relegate the horse to basically running in normal free-for-alls (open-class races) at Melton every second week and that's belittling him. I wouldn't do that to him.
"It's about doing what's best for the horse now. He's been so good to us.
"It was either retire him or send him to the U.S. and I think he deserves the chance to show how good he can be again over there."
Gordon's passion for his home (the Newcastle area of NSW) was a key factor in choosing Shane and Lauren Tritton to train Lochinvar Art in the US.
"I'm a proud Novocastrian (from the Newcastle area) and Shane and Lauren as well," he said. "Lauren grew up not far from where I live. I'd had a long association with her. Lauren's first metropolitan (Saturday) Menangle winner was on a horse I owned called Our Crown Law.
"Whether they are the best trainers in the U.S., who knows? But I think they are right up there.
"I know them, I trust them and I'm sure they'll do a terrific job with 'Arty.'"
Gordon revealed he already had a horse with Team Tritton.
"I bought a Sweet Lou yearling for about $A150,000 and he's now 2. He's called Lochinvar Dundee and he's showing plenty of promise," he said.
Gordon also dismissed suggestions he would sell Lochinvar Art in the U.S.
"No, absolutely not. I don't know where that came from," he said. "There's no way I'd sell him. In fact, no matter what he does in the U.S., I'll bring him home once he's finished racing. Whether that's to stand at stud or just retire here, that's what I'm doing."
Shane Tritton gave the credit to Lauren for landing Lochinvar Art to train.
"I've known Kevin for a while, but he and Lauren go way back. As much as we train as a team, this is Lauren's 'get' for us," Shane said.
"What a privilege to be part of it. It's all happened very quickly and we're very excited to get the chance to try and help him.
"There are so many examples of nice horses from Down Under coming here, getting a bit of help with Lasix and doing fantastic things. Bit Of A Legend won about $2 million and look what Let it Ride did, too. Hopefully it's the same with Lochinvar Art.
"We know how good Lochinvar Art is at his best. He'd be alongside Lazarus as the best horse from Down Under to come here.
"Lauren and I have been lucky to have our share of nice horses, but never one as good as him."
Tritton said he hoped to have Lochinvar Art at his Pine Bush stables, 15 minutes from Goshen, soon after he arrived on Oct. 5.
"He'll get a break. You couldn't pick better timing for him to come across. He won't need to be at his peak until late March (next year)," he said.
"We can do things our way, give him a break and bring him up slowly. There's no rush.
"He's a chance to show people (Down Under) that they don't need to sell their horses (to the U.S.), they can keep owning them, but just send them across."
It's no secret former trainer/driver David Moran didn't want Lochinvar Art to leave his stable.
Moran has endured a testing time with a seven-month suspension expiring the day after Lochinvar Art had his bleed last Saturday night.
"It's been a very emotional time for David, a really hard time," Gordon said. "I know he'd love to have kept the horse and thinks he should have. One of the best days of his life (returning from suspension) turned into one of the worst when 'Arty' bled and I made this tough decision.
"David and I have had some great times together with 'Arty.' Together they went from zero to hero.
"I've got the utmost respect for the job David has done. I've still got four horses with him and hope we can get through this and have a lot more success together."
Lochinvar Art was on a pedestal of his own as the best pacer in Australia or New Zealand in a glorious patch from September, 2020 to February, 2021 where he raced 11 times for 10 wins and a close second. 
During that stretch he scored his two biggest wins in the Hunter and Victoria Cups, both at Melton.
THE LOCHINVAR ART FILE
5YO entire. By Modern Art out of Ponder In Paris (by Ponder)
Owner: Kevin Gordon
Career record: 56 starts; 28 wins; 16 seconds; 6 thirds
Earnings: $A1,405,516
Fastest win: 1min48.6sec (for 1720 metres)
Fastest time: 1min48sec (ran 2nd over one mile)
Best runs:
WON 2021 Hunter Cup
WON 2020 Victoria Cup
WON 2020 Chariots Of Fire
2ND 2020 Miracle Mile