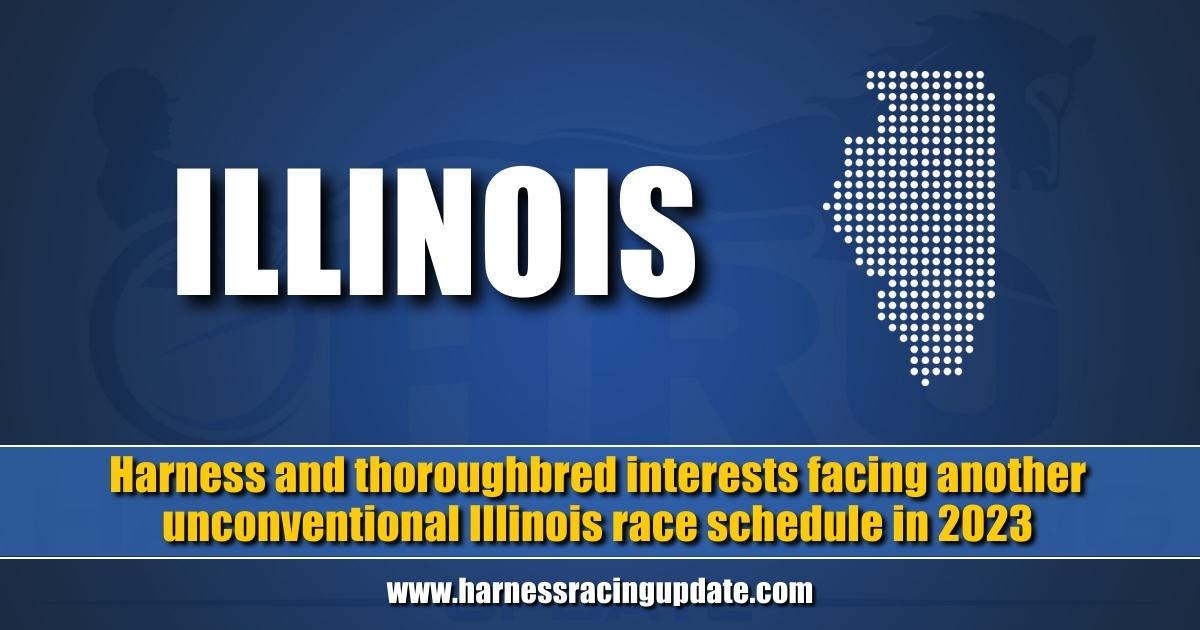 Harness and thoroughbred interests facing another unconventional Illinois race schedule in 2023
by Neil Milbert
For the second time in two years, Illinois will have a racing schedule in 2023 that is both unprecedented and unconventional.
The decision by Churchill Downs, Inc. (CDI) to permanently shut down the beautiful world-renowned thoroughbred track, Arlington International Racecourse, after its 2021 meeting and sell the property to the Chicago Bears to build a NFL stadium has left dual-purpose Hawthorne Race Course as the only track in the Chicago metropolitan area.
Working together, Hawthorne's management, the Illinois Harness Horsemen's Association (IHHA) and the Illinois Thoroughbred Horsemen Association (ITHA) agreed to abandon this year's schedule that split the dates into four segments and instead remain dark during January and February and then hold six straight months of thoroughbred racing followed by four consecutive months of standardbred racing.
By a 6-0 vote the Illinois Racing Board on Thursday (Sept. 22) approved the damage control plan that calls for the thoroughbreds to race 68 programs from March 4 through Sept. 4 and the harness horses to race 49 nights on Fridays, Saturdays and Sundays from Sept. 9 through Dec. 31.
"The schedules we see are not perfect," Racing Board chairman Daniel Beiser said. "They're the best we can do in the near term."
Dave McCaffrey, executive director of the ITHA and former president of the IHHA, sees the situation the same way.
"There's only one racetrack in Chicago and there are two breeds. Each has its own issues. Trying to squeeze that in a tight box is difficult," he said.
An essential component to the schedule is prefacing the harness meeting with two days of non-betting racing per week from June 12 through Aug. 31 at the Springfield State Fairgrounds, 175 miles south of Hawthorne.
Hawthorne is footing the bill.
"The cost to Hawthorne to operate these races will be approximately $100,000 and we also will use about $780,000 from the horsemen's purse account," said Hawthorne President Tim Carey. "These races will provide critical development opportunities for 2-year-olds who then will be ready to race at Hawthorne from September through December."
This year's time-share schedule called for Hawthorne to conduct a Jan. 7 – March 20 harness meeting followed by an April 2 – June 25 thoroughbred meeting, a July 2 – Sept. 11 harness meeting and a Sept. 23 – Dec. 31 thoroughbred meeting.
To provide additional harness racing opportunities the IHHA, Hawthorne and the Illinois Department of Agriculture this spring agreed to bookend the two pari-mutuel harness meetings with non-betting racing funded by the Hawthorne purse account at Springfield on June 17, 18, 24 and 25 and then return to the State Fairgrounds for racing on Sept. 15, 16, 22, 23, 29 and 30.
The success of this venture prompted the IHHA and Hawthorne to extend the non-wagering dates to nearly three straight months next year.
According to Hawthorne's assistant general manager John Walsh, "the Department of Agriculture would prefer that there be racing on Friday and Saturday but it's not set in stone."
IHHA president Marty Engel and executive director Tony Somone told the board that the dates at Springfield are of paramount importance.
"Without racing at Springfield the yearling sales would have been horrendous this year," Engel said. "The breeders are dangling by a thread. They would either close up or race in another state."
"We're in dire straits — we're trading water," Somone said. "The entire schedule for harness horsemen falls apart without these races at Springfield. It works because of the added races at Springfield.
"We appreciate all of the effort that is being made by Hawthorne. We've got to hold on until a casino gets up and running at Hawthorne and the second racetrack gets up and running."
Illinois gambling legislation in 2019 allows the state's tracks to conduct casino gambling and sports betting under the supervision of the Illinois Gaming Board and permits a track limited to standardbred racing with a casino component to be built and licensed in one of six Cook County suburbs, all of which are located in Chicago's suburbs.
Hawthorne began sports betting in 2020 and started tearing down large portions of the racetrack building to accommodate the casino but the project has been in a holding pattern for more than two years.
Speaking to the Racing Board members Carey addressed "the status of our casino development."
"I try to remember that this hasn't been done before in Illinois," he said. "We are restructuring a fourth generation (family-owned) business to meet the demands of a new marketplace that will literally transform the entire Illinois horse racing industry. We are essentially a 130-year-old start-up business.
"Virtually every aspect of a casino development requires regulatory approval. We are in the process of making the necessary disclosures to the Illinois Gaming Board with regards to the financing for the project. Upon approval, we expect to be in a position to begin construction later this year. And all of this development will happen while we are racing.
"We have a 14-month schedule to completion, depending on when we start. A Hawthorne casino is coming and it's going to transform Illinois horse racing for decades."
The track will share the casino revenue with the harness and thoroughbred horsemen. According to Somone's projections, that would mean an infusion of as much as $12 million in the harness purse account that currently is in the neighborhood of $7 million.
In stark contrast to Hawthorne's management team, Churchill Downs, Inc. declined to pursue a casino at palatial Arlington (after lobbying for it for years). The obvious reason is because in 2018 CDI acquired a majority interest in Rivers Casino, which is by far the biggest money-maker of the 10 Illinois casinos and is located only about five miles from the track.
By selling the property to the Bears (the deal is expected to be finalized early in 2023) with the stipulation that the track be torn down, CDI not only is eliminating the possibility of a corporate family member becoming a casino gambling competitor for Rivers it also has destroyed nearby thoroughbred racing competition and put both Illinois thoroughbred and harness racing in a life-threatening situation.
While the Hawthorne casino project appears to be proceeding — albeit slowly because of Gaming Board regulations and construction industry and manufacturing issues that are an offshoot of the COVID-19 pandemic — the construction of a new harness track/casino in Chicago's south suburbs remains in limbo.
In 2019, with the staunch support of Carey and the horsemen, video game operator Rick Heidner announced plans to build the racino in Tinley Park and he was awarded 2020 dates by the Racing Board.
But then the Chicago Tribune reported that Heidner had longstanding business ties with a banking family that allegedly was involved with organized crime figures and Gov. J.B. Pritzger squelched the project that was contingent on the sale of property owned by the state.
In 2021, Heidner was cleared of wrong-doing by the Gaming Board and restored to good standing. However, he apparently has decided not to make another attempt to acquire property and construct a racino.
"It's of utmost concern to us," Engel told the Racing Board. "We're afraid nothing will happen regarding a second track until the Hawthorne casino opens.
"Our two biggest concerns are: No. 1, completion of the casino at Hawthorne; No. 2 construction of the second track.
"Once that happens our breeding program will skyrocket. There will be stallions coming from other states and stables coming from other states."