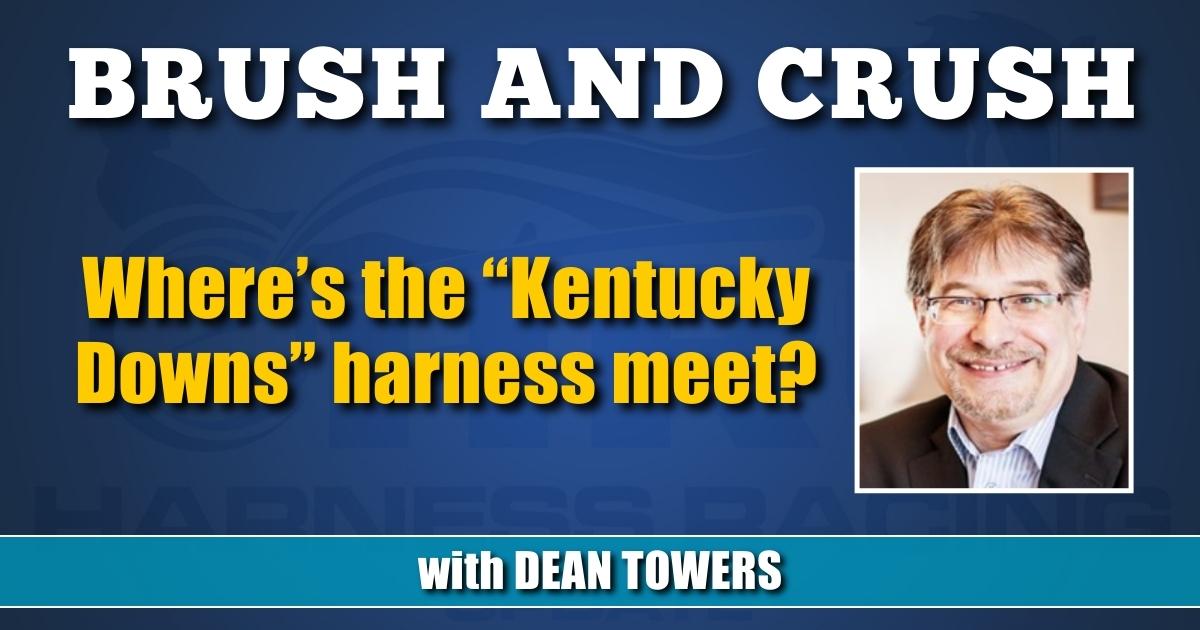 Where's the "Kentucky Downs" harness meet?
The Franklin, KY racetrack – fueled by gaming and Kentucky Thoroughbred Development Fund money — has become a jewel of the sport.
by Dean Towers
I finished wagering on the last race of the Kentucky Downs thoroughbred meet on Wednesday, and I was sad to see it go. The racetrack, situated just north of Nashville, represents something pretty special in the sport of horse racing.
Back in 2011, Kentucky Downs (formerly known as the Dueling Grounds) was really just another small racetrack in southern Kentucky. It raced a five-day all turf meet, and did attract some local talent, but it wasn't on the map; certainly, when compared to stalwarts like Churchill or Keeneland. Handle was about $900,000 a day.
In 2012, the new owners had an idea. With alternative gaming money possibly coming online, as well as sires stake money supporting purses, they decided to try and put this little track on the map. They immediately slashed takeout rates across the board to a North American low, and began promoting the meet to both customers and horsepeople.
At the time, track president Corey Johnsen said, "We want Kentucky Downs to be known as the 'horseplayers' racetrack. Providing value to the betting public drives every decision we make. Our goal is to present quality racing run over a safe, consistent race course with an attractive takeout structure and wagering menu."
By 2014, the track was beginning to roll. Not only were top trainers entering strings to take advantage of the growing purses, bettors were flocking to the signal, where a single day handle record of over $4 million was established. The outdoor atmosphere of the racetrack attracted several thousand people, enjoying the unique turf course, creating even more buzz.
Since then, things have just exploded. Just last week, over $21 million was wagered on a single card. This mind-boggling amount is what a Triple Crown prep or Saratoga card is expected to handle, yet there's Kentucky Downs, right with them. Purses grew again in 2022, up 11 per cent to $18 million, too.
Every year, the trend is clear: Growing purses, growing handle and more and more horsepeople entering (and presumably breeding to take advantage of future growth).
Over in our sport, the sires stake program in Kentucky has been a success, with purses in 2022 expected to approach $17 million. But other than large purses, there appears to be no plan regarding increasing betting demand, or creating something special for the sport to build on.
It's no secret stakes racing drives both eyeballs and handle to our harness cards. Big days at Mohawk or the Meadowlands are promoted, and this keeps the sport on the top of mind of important people that matter, like politicians that often hold the purse strings, and of course the betting public.
With the advent of the Kentucky Sires Stakes, lucrative purses have attracted owners and horses, which is great, but this has been partially at the expense of other events. These other events are broadcast far and wide, driving handle, and with a dearth of horses, some are not what they once were. This, in my view has a cost for the entire sport.
I believe it's incumbent upon Kentucky to maximize the worth of this generous sires stakes program. One way to achieve that is plan and dream a little, as Corey Johnson did at Kentucky Downs over a decade ago.
Create something unique, create something worth wagering on; worth going to; worth being a part of, beyond a purse amount. If a small track in Southern Kentucky can become one of the most popular signals in the racing world, perhaps you can, too.