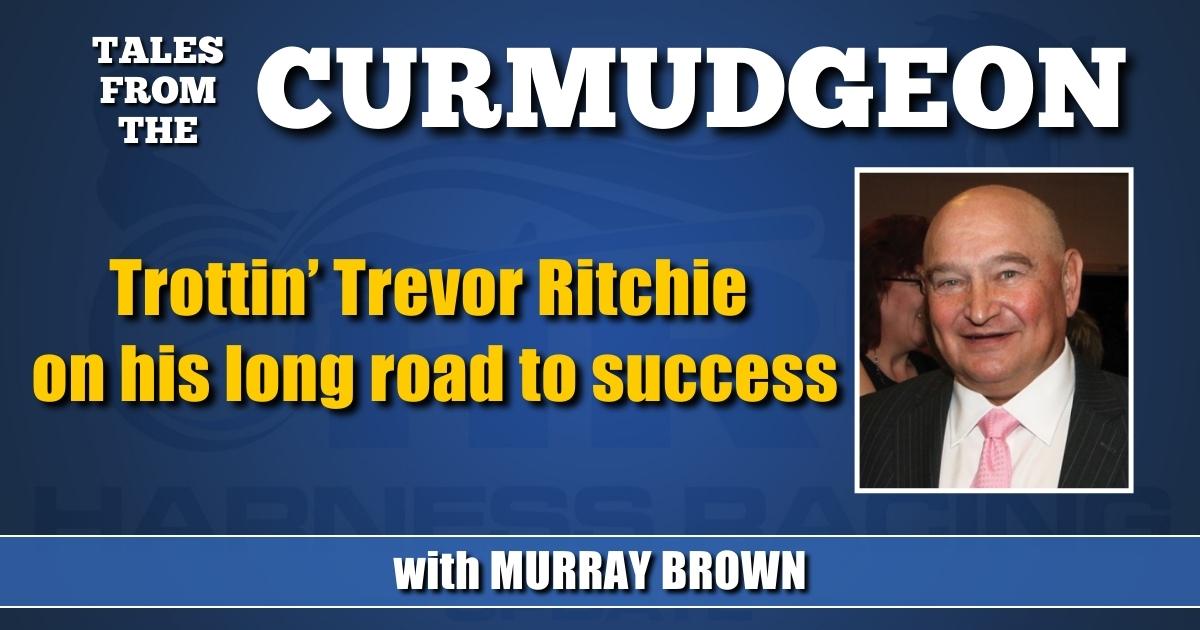 Trottin' Trevor Ritchie on his long road to success
by Murray Brown
It's a very long road between being an eighth grade school dropout and reaching most of the attainable places at the height of your chosen profession. It's a road that very few have traversed in harness racing. One might mention Herve Filion in addition to this week's subject, Trevor Ritchie. No others come to mind.
Ritchie came from an upbringing that had nothing to do with harness racing.
He is the youngest child of Albert and Lillian Ritchie. He barely knew his father who left their home when Trevor was very young. His mother was left with the responsibility of providing for herself, Trevor and his three older sisters. The situation was similar to the song in the musical Annie." It was indeed a "Hard Knock Life." Trevor was pretty much on his own. His mom was too busy with the numerous jobs she had to work in order to provide for her four offspring.
"I was heading in the wrong direction," Ritchie said. "I hated school. I saw no use for it. I rarely attended. I was most interested in hanging out in the pool hall and doing a lot of things I shouldn't have done. When I was about 10 years old my eldest sister Judith, who baby sat for horseman Pete Thibodeau, got me a job doing odd things working on weekends for him. At the time, I had no interest in horses other than as a means to get enough money to satisfy my passion for slot cars. I gathered enough money which allowed me to buy one that I entered in many competitions." His other pursuit was followed in the pool hall where he played snooker and became quite proficient at it, something that Herve Filion did as well.
One might think that young Trevor might be unhappy without the benefits of school and a stable family life. The opposite was the case. He really didn't mind the fact that he was denied many of the pleasures of other kids. He relished his freedom and the ability to do as he pleased. On the relatively few occasions when he found himself in school, he was usually in trouble.
He managed to overcome whatever restraints he was experiencing. At the age of 15, he left home and moved into a tack room at Western Fair Raceway in London. His first job on his own was for horseman Ab Gilmour. Trevor was given the job of caring for Gilmour's two best horses. That summer Trevor and his two steeds went to Greenwood Raceway in Toronto. He was now in the big time. After the stint at Greenwood, his working time with Gilmour elapsed. He then went to work for Dr George Boyce who at the time owned the sensational Super Wave.
He then went to work for horseman Don Corbett. After Corbett, came perhaps the most significant event of young Trevor's life. He encountered Norm McKnight Jr. (now a top thoroughbred trainer) who had been working for Bill Herbert. McKnight suggested that Trevor go see Herbert about getting a job. He was hired. There began the most important part of Trevor's career as a horseman.
"Bill was not only the greatest horseman I ever knew, he was the greatest person. There was nothing about a horse that Bill didn't know. If he didn't know it, it wasn't worth knowing."
Herbert and Trevor hit it off from the onset. Trevor worked hard and Herbert appreciated that. He quickly rose to become Herbert's assistant trainer. Herbert became the father that Trevor in effect never had.
"There was nothing about his operation that Bill wasn't good at. In addition to training and driving his horses, Bill also groomed them and on occasion shod then. Previous to them going into training, he bred and raised them. He was a true horse whisperer."
Bill Herbert was indeed a monumental figure in Canadian harness racing. He bred raised and owned the first Canadian bred horse in the Roosevelt International, Sing Away Herbert, one of the first Canadian breds to race in the Hambletonian and Dean Herbert a Pacer of the Year in Canada. Bill was a much-deserved inductee to the Canadian Horse Racing Hall of Fame in in 1977, something that was to be emulated by his pupil and quasi son in 2019.
Q: After working for Bill Herbert for four years you went on your own? What was that like?
"Bill and I parted as the best of friends. We remained so for the duration of his life. But as the bible says, 'There is a time for everything.' The time for Trevor to sprout his wings had arrived. I continued to visit with Bill and his wife Ruth. I was a pallbearer at his funeral."
Q: Then what?
"I worked for and with Gary Payne for a while. I drove some horses for him and saved some money. That money was used to buy a cheap claimer. Jack Darling drove him in his first start. We put him in a class four levels above where he had been racing and he won. Jack went on to be a good friend and a partner of mine."
Q: Then?
"I started driving and also worked towards establishing a stable of my own. I became partners with a man named Ed Sahely. We began claiming horses at Windsor, Flamboro, Western Fair and occasionally Greenwood. He raced mostly at Windsor often going against one of the greatest driving colonies ever assembled. I held my own. He then decided to try his luck in the big time. That was Greenwood in Toronto. He drove many a horse for Cal Campbell an excellent horseman who raced almost entirely in the overnight ranks. He became partners with London native Dan Smith. We started out buying and claiming racehorses and then Dan was focused on young horses, Grand Circuit types hopefully. We had some luck."
Q: Through the years you raced against most of the great drivers of the modern era. Which ones do you think were the best?
"There are so many of them but to me John Campbell stands out. Most of the drivers on the Grand Circuit are very good. Otherwise, they wouldn't be driving there. When I was very young I idolized Ronnie Feagan. I consider him to have been beyond great. Ronny Waples was another great driver back in the day. He had great instincts and always took great care of the horse he was driving. Of course Doug Brown and Steve Condren belong on the list. Today, I love watching Tetrick and Dunn and Gingras just to name a few but I could name 10 more that are their equals or very close to it. We have a very good group of young guns at Mohawk. Sylvan Filion is also top notch."
Q: Let's talk about some top horsemen. You've driven for and against all of them.
"If I were talking about the ones I drove for, there are three that are at the top of my list. Those three are Blair Burgess, Cal Campbell and Bob McIntosh. It's no accident that two are members of both Halls of Fame.
"Blair has it all. He is a thinking man's trainer. He takes care of all his horses. He is smart and careful. He isn't afraid to take or give advice. He has made lemonade out of horses that the general public in relative terms thought were lemons. Horses the public didn't think were much as yearlings and brought small money. Glidemaster, Real Desire, Frugal Gourmet, Amity Chef, and Amigo Hall come immediately to mind. You are not in two halls of fame, the trainer of innumerable classics race winners including two Hambletonian winners without being an extraordinary trainer.
"Bob McIntosh is another obvious standout. Bob trains, breeds and develops horses. He is still doing it these many years later. He uses some of the same methods I first saw when I was working for Bill Herbert, 'Lower their heads and loosen up their hobbles.' I've seen a good many trainers utilize it to great effect.
"Another one and a dear friend as mentioned above was Cal Campbell. He always had his horses ready. I drove a lot for him with great success. There are too many others to list but those three were very important in my career."
Q: Let's talk about numerous top horses that you've driven or been a part of.
"The horse that in effect put me on the map so to speak was Quite A Sensation. He was an over achiever. Fortunately, he was great when it really counted the night of the North America Cup. The same could probably be said of the Hambletonian winner Yankee Paco.
"One of the greatest I've ever sat behind was Peaceful Way. Her speed and rate of acceleration were breathtaking. Once you said 'go' to her, you and she were gone. She did have some issues though. Most of the races she lost were because she made breaks. But when she was good, she was scary good. She just might have been the fastest horse, trotter or pacer that I've sat behind. Like most great fillies, she could be temperamental. I was also fortunate to drive regularly or on occasion the likes of Andover Hall, Majestic Son, Eternal Camnation, Frugal Gourmet, Real Desire, Cameron Hall, Banker Hall, Rotation, Equinox Bi, Syrinx Hanover and quite a number of others."
Q: What have been your greatest thrills in the business?
"Without a doubt number one was winning the Hambletonian as far as races go. With pacers it was winning The Meadowlands Pace with Frugal Gourmet and as mentioned above Quite A Sensation winning the North American Cup. Not far behind was Peaceful Way beating the boys soundly in the Maple Leaf Trot. The night that three of my drives won Breeders Crowns was also a great thrill. Another great thrill was representing Canada in the Elitlopp with Armbro Agile. Of course, off track would be my induction into the Canadian Horse Racing Hall of Fame."
Q: You've been retired since 2014 do you miss it?
"I certainly miss taking part in the great events of the sport, but to be brutally honest, I don't miss the day-to-day grind with overnight horses. I also miss both the comradery and intense competition that racing horses provides. Unless you've done it it's hard to describe."
Q: In 1986, you suffered your most serious of several accidents.
"I never wholly recovered from that. I was out of action for nine months. Even when I went back I wasn't quite the same. To this day, every step I take reminds me of that. Later in my career, I broke several bones in my neck and back in an accident. I suffered from insufferable back and neck spasms which often prevented me from driving. While I was on the shelf I interested myself in the stock market. I got so involved that I secured my traders license and began trading on the Toronto Stock Exchange floor on my behalf for several months. It was very stressful — much more stress doing that than driving in the Hambletonian. Just think of that — a kid who never got past eighth grade with a seat on the Toronto Stock Exchange."
Q: When did you decide to stop driving?
"In 2014 I decided that I had enough. My body just couldn't handle it any more. It was probably beyond the time that I should have retired."
Q: In 2019 you were installed in The Canadian Horse Racing Hall of Fame. How did you feel about that?
"I was honored, humbled and thrilled. It was an incredible experience. I don't know that I belong ahead of some drivers who have earned much more money and won many more races. Nevertheless I am very proud to be a member."
Q: What are you now doing to keep yourself busy?
"I'm fairly active. A few years back I was asked by Dale Welk to evaluate the Ontario yearlings consigned to the Harrisburg yearling sale. Gemma, my wife and I drive the province from hither to yon. We looked at 83 yearlings this year. I should add that Gemma is an indispensable part of what I do, especially when looking at and evaluating yearlings. She has a great eye, sometimes I think better than me. Right about now we start our work looking at yearlings that George Segal has shown an interest. We have done it now for the last 18 years. In addition to looking for George, we also look for myself and a small group of friends interested in buying a yearling for ourselves. We spend the winters in South Florida, so our yearlings are trained at Sunshine Meadows. We live close by and get to see them whenever we want. I will occasionally take one for a spin. We've been pretty lucky with our buys. Among them are the Jug winner Captain Barbossa — I sold him too soon — and Komodo Beach. Of course there were some duds also. We will see what we can do this year."
Have a question or comment for The Curmudgeon? Reach him by email at: hofmurray@aol.com