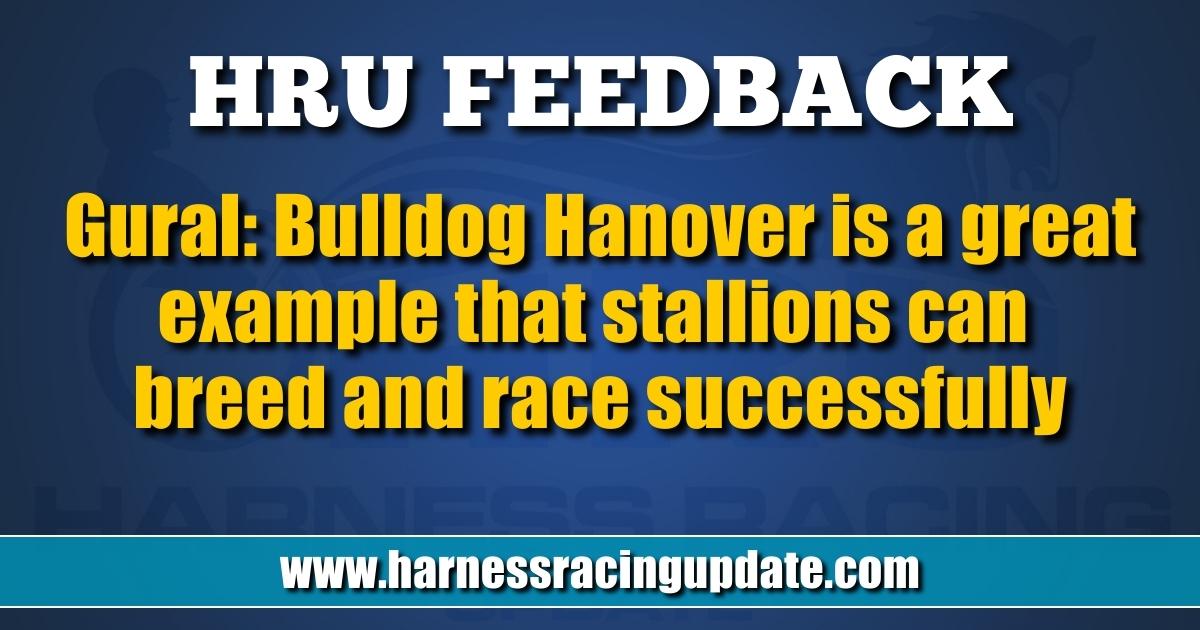 Gural: Bulldog Hanover is a great example that stallions can breed and race successfully
I have taken a lot of criticism for the Gural rule requiring our best 3-year-olds to race at 4. Now that we have seen what Bulldog Hanover has accomplished I think it shows how important it is to have a great horse to market. I know that last weekend WEG gave away Bulldog Hanover t-shirts to the first thousand customers and I bet they were scooped up in a few minutes. I bet their attendance Saturday was also higher than normal because he was racing.
The funny thing is, he also bred 80 mares so I don't know why other owners cannot follow suit and breed and race at 4. If anything, it seems to have made him faster. It is sad that the Hambletonian Society and WEG refuse to go along (with the Gural Rule) as with their help it would have been almost impossible not to race our best horses at 4.
Someone sent me of the grandstand of The Red Mile on Tuesday and they didn't have a single customer to watch the stakes races that day.
In three weeks Keenland will be packed on a weekday for their races because the thoroughbreds have done a good job of marketing the sport and the truth is no one knows harness racing even exists. In any case, I think that Bulldog Hanover proves that if you want to market the sport, having a great horse who races at 4 is a big help.
Jeff Gural / owner The Meadowlands,
Tioga Downs, Vernon Downs
Never left the grandstand
Whereas, I toiled as a pedigree writer and horse merchandiser and might be better known for managing the extensive Perretti Farms broodmare band, there's that piece of me that never left my racing origins better known as The Grandstand.
Whereas the breeder in me totally applauds and endorses the excellent purse structures our horses race for in addition to the exceptional prices they both sell for and bring, there's that piece of me that wonders how long we can maintain being a spectator and wagering sport with minimal spectators and betting handles at the racetracks.
Yes, there have been gains, but without the casino and state subsidiaries there wouldn't be a harness racetrack capable of sustaining its purse structure.
Yes, Gabe "Senditin" Prewitt did a good job at Pompano and the handle did increase a tad, but hardly commensurate with Gulfstream Park in nearby Hallandale which apparently is able to sustain itself via the handle.
I hate to say this, but I have noticed a Pompano bettor or two utilizing his "offshore" account from Faradays rather than walk to the window and place his bets on the house window where the track would keep a higher percentage of his action via live betting as opposed to the 3 per cent simulcast take.
At the recently completed Saratoga meeting in New York, handle and attendance were at an all-time high suggesting that people will indeed attend the races given a reason to do so.
As for the piece of me that never left the grandstand, many of the grievances voiced by my fellow grandstanders in the "good ole days" remain unaddressed as the hordes that used to inhabit Roosevelt, Yonkers, The Meadowlands, Liberty Bell and other tracks no longer do so and haven't for decades.
In that it's been this way for some time now, I'd imagine anyone in the business under the age of 40 believes this is how it's always been and probably does not question the future.
Unfortunately, as anyone in the multi product store business acutely knows, products that don't sell are soon relegated to the back wall adjacent to the exit.
Racinos of which harness racing are a part of are multi product gambling institutions in which the racing part is by far the least lucrative and a financial drain on the overall complex.
Understandably, they want us to disappear even though we (the tracks) were their entree into the area to begin with, as we're simply not holding up our end of " the gambling business".
Horse of the Year
Yes, I saw that race at Chester in which the 2021 Horse of the Year failed to win an "overnight" despite going off at odds on.
Yes, she closed well and finished second in what was just an obvious "prep" for an upcoming stakes event.
Yes, a non-betting qualifier would have served the same purpose.
Yes, sophisticated players sensing that a less than all-out effort was most likely in the cards probably "passed" the race choosing not to wager.
Yes, the judges were probably in a 'dammed if they did and damned if they didn't' situation as obviously the horse did make a belated though unsuccessful attempt to actually finish first.
Yes, sitting last in that specific field could be construed as lack of effort although a belated effort was made. Unfortunately, after a pedestrian pace, there was a bit too much ground to make up and she wasn't close at the wire.
Yes, race offices will often write a condition allowing a superstar to enter an overnight under the assumption that it's mere appearance on the racing card will attract interest.
While the sophisticated players could undoubtedly conclude that this might not be an ideal betting situation, it is not them we need to protect.
It is the unsophisticated players who sent her off at .05 on the dollar that while ripping up tickets in disgust probably concluding the all-knowing and infamous "they" fixed the race and were betting something else.
Even though that did not happen, in terms of perception versus reality, it might as well have happened as the losing bettors will remain unconvinced.
Yes, THE LOSING BETTORS we used to have in abundance but left to their own devices after witnessing innumerable similar situations over the decades, simply concluded it's a "fixed game" and not worthy supporting in the betting windows.
Customers
Okay "what's her name" Lisa Gianelli has been convicted and sentenced for the distribution of non-testable performance enhancing drugs via her association with the already convicted Dr. Seth Fishman.
Well, whenever there are "sellers" there must be "sellees" meaning those who purchased these substances.
It seems high time for the "client list" to be identified as well.
That said, what about any records that may have been set by horses utilizing those substances?
Seems Major League baseball has handled a similar scenario as everyone knows just who set what during the steroid era enabling fans and writers alike to formulate their own conclusions as just what the "home run" record actually is.
The closer Aaron Judge gets to the Roger Maris 61 number, the more commentary occurs.
Whereas steroid era guys like Bonds, McGuire, Sosa etc. still had to hit the ball, the fact that they were steroid enhanced allowed it to travel further upon connection.
Consequently, while whatever those "substances" actually were, their mere administration would likely not make the administered horse go "faster" than it ordinarily could.
However, it likely would allow some to maintain "top speed" for longer intervals which often is the difference between winning and losing a photo finish and/or setting a record.
In the interest of accuracy, it would appear that racing, like baseball, should identify which "customers" were using whatever, which would allow for the identification of any "records" set under what really are false pretenses.
Bob Marks