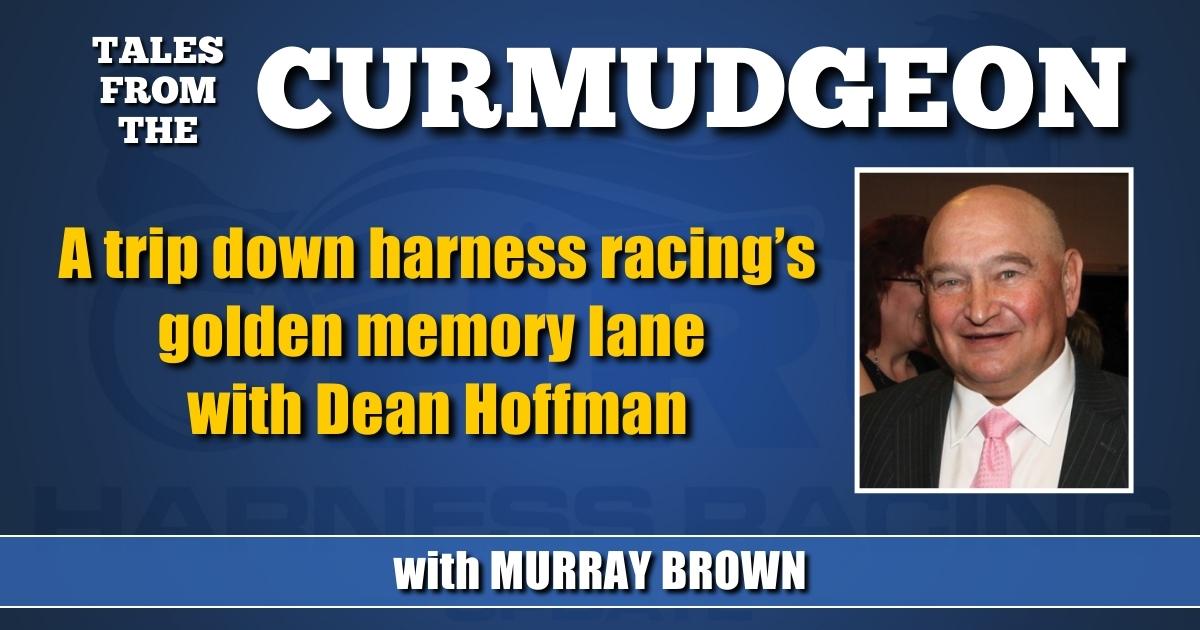 A trip down harness racing's golden memory lane with Dean Hoffman
by Murray Brown
When speaking of Dean Hoffman, one could cite numerous accomplishments, almost all of them garnered from a life in harness racing. Which was the most gratifying? Was it being the editor of Hoof Beats for almost 25 years, the most by far in the history of USTA's multiple award-winning harness racing publication? Was it being the foremost author of the sport, certainly in its modern day history — his authorship including a history of the sport and its breeding industry? Was it his installation in the Communicators Corner at the Hall of Fame at Goshen?
The books he has written include "Yankeeland, the Farm the Kellers built"; "Castleton Farm, a tradition of Standardbred excellence"; "Quest for Excellence – Hanover Shoe Farms – The First 75 years"; "Harness racing in New York State"; and "The Hambletonian, America's Trotting Classic".
One could speak of the numerous writing awards he has amassed, the latest of which is the Tom White Media Award which will be presented at the Little Brown Jug less than two weeks hence. From this scribe's perspective, it might be the life of teaching both as a teacher at the University of Arizona's Race Industry Program and at harness racing speakers programs in three continents and at numerous venues where harness racing is celebrated and appreciated.
This scribe first met Hoffman at The Meadows racetrack in August of 1969, the third year that Delvin Miller's Classic event The Adios took place.
This past week I decided that it was time for he and me to discuss his life in the sport with which both our careers have been well spent.
Q: Let's start at the beginning. Where did your illustrious career begin?
"I don't know about illustrious. My dad Robert was someone who I might describe as harness racing's greatest fan. Although I never once knew him to make a wager, he followed the game as fervently as anybody I've ever known. He was good friends with Samuel Huttenbauer who was one of the leading Grand Circuit owners from the 1950s, the '60s and into the '70s. Dad followed the sport religiously through those periods and quite possibly before. He went to just about every racetrack that was available to him. He loved them all, from the smallest Ohio Fair track to his favorite, the Grand Circuit meeting in Lexington. It was only natural that he took his only son with him. I was smitten from the very beginning. Like my father, I wasn't much of a gambler. But, did I ever love the horses — not only the horses that were racing, but every step that led up to them becoming racehorses. I don't recall exactly when and where it was, but I do know that it was it was love at first sight."
Q: Other than being a fan, where did your involvement in the sport begin?
"My first job was working for Jim Hackett who was Mr. Huttenbauer's contract trainer/driver. If there was ever an odd couple, those two personified it. Mr. Huttenbauer was an old school gentleman, who comported himself in the manner of how one might think of the term gentleman. He was always well mannered and exceedingly well dressed. Jim was, to put it quite kindly, rough-hewn. If you would see him you might think that he had slept with his clothes still on. He was a rough and tough guy who wasn't adverse to bending his elbow on occasion. But make no mistake about it, he was a masterful horseman. He was especially well known for finding diamonds in the rough. He could find greatness without spending a whole lot of money in getting it. Among the duo's greatest horses were Best Of All, a truly great horse for which he paid $22,500 and the outstanding trotter Flower Child, which they secured for $1,500. I'd be unfair to Jim's memory if I didn't mention in addition to being an astute horseman that he was a marine and a decorated World War II hero."
Q: When did you start working in the sport for real?
"I worked at Walnut Hall Farm when it was arguably the world's greatest harness nursery. When people speak of great breeding farms of the modern era, they might generally think of Hanover, Castleton and perhaps Armstrong Brothers. The greatness of Walnut Hall does not get the recognition that it perhaps deserves. Hanover will be celebrating its 100th anniversary in four years, but Walnut Hall has been in business for longer, much longer. It was founded in 1892. That's 130 years ago. When there, I rubbed a string of four yearling fillies which I was helping to get ready for the yearling sales at Tattersalls. I had developed a relationship by mail with Norman Woolworth, the co-owner of Stoner Creek Stud along with David Johnston. He offered me a position to work there under Charlie Kenny, one of the all-time great farm managers. I continued to do some freelance work while there and beyond. From Stoner Creek I worked at a few PR firms in Cincinnati and Columbus for the next seven or eight years. In 1981, I was offered a job by the United States Trotting Association where for almost 25 years I was the editor of Hoof Beats magazine. While at USTA I continued doing some freelance work including ghost writing for quite a few of the sport's personages. In 1981, I was invited to be a guest speaker at the University of Arizona's Race Track Program. They must have liked what they saw because thenceforth they kept asking me to come back each year. After I retired from USTA in 2014, they offered me an adjunct faculty position. That's when we moved to Tucson. Since then I have done a little freelance work. For enjoyment I mostly write, travel and follow our sport."
Q: You are now retired but you still maintain two residences one still in Columbus and the other in Arizona.
"I became spoiled by spending my winters in balmy Arizona. My wife Linda and I decided that two state living was a pretty nice way to spend the year. We escaped the cold Ohio winters and like many snowbirds enjoyed the warm Arizona winters."
Q: Through your years in harness racing you've known and sometimes worked for some noteworthy individuals. Let's speak of some of them.
In no particular order:
NORMAN WOOLWORTH.
"We became friends through the mail. I was a great fan of Meadow Skipper. I wrote Norman that, like Skipper, I had shin splints (in my misbegotten youth), I had little speed and lots and lots of endurance. The thought back then was that MS didn't possess the speed that his rival Overtrick had, but made up for it with endurance. Norman was quick to return the letter using his well-known great wit. I still have all his written correspondence. I met him at Tattersalls that Fall. We became life-long friends, so much so that I was honored by being asked to deliver the eulogy at his celebration of life ceremony in Goshen. Nobody enjoyed harness racing as much as Norman. He was a great sports fan in general, but he loved harness racing in particular. I like to think that Norman was the forerunner of the exceptional trade in both horses and people that exists today between Sweden and America. He was the first to do it. From that little acorn, great oaks grew."
STANLEY DANCER
"I had spoken with Billy Haughton about doing a feature interview with him in 1986. Tragically, fate got in the way. Billy was killed as the result of a racetrack accident at Yonkers that summer. I made a promise to myself that I wasn't going to allow anything from stopping myself from doing a promised interview with Stanley Dancer that coming winter. Stanley and Billy were very different personalities both on and of the racetrack but they were very good friends. Comparisons between them were often made. If I were asked to describe Stanley with one word, that word would be 'intense.' His recall and record keeping were without peer. Mention a horse or race which he was involved including the horse's shoeing and all its other equipment. He would have it. He was as serious and focused as a person might be."
HOWARD BEISSINGER
"He might be described as an 'acquired taste.' He could be hard headed and obstinate. If he liked you he could be kind. If he didn't, then beware. He was a great, great horseman. He had little or perhaps no polish. What you saw is what he was. He might, sometimes perhaps accurately, be described as a bully. One of the things I remember about him was that he was at George Sholty's funeral at which I delivered the eulogy — I've done that at too many of those. He spoke to me later saying 'When the time comes I want you to give the talk at my funeral.' He wouldn't or didn't know the word eulogy. It was always 'the talk.'"
DELVIN MILLER
"The most generous and kindest person I've known in a lifetime in the sport. All the plaudits you may have heard about him, and probably more, were well earned. Delvin possessed a great deal of talent when sitting behind a horse. Yet, the number of great drives, behind great horses in classic races are or should be legendary. What other person do you know of who has given up competitive drives with good horses in the Hambletonian, Little Brown Jug and other major stakes? The only one I know of is DGM. He never lost the common touch. Sure, he knew many of the greats in many areas, but he also cared about the 'small guys.' Here's a small example of which there were hundreds. Delvin heard that one of his old grooms was living in a nursing home. He was alone and missed the camaraderie of the racetrack. Delvin saw me and gave me a slip of paper. On it was written a name and address. 'That's an old groom who worked for me,' he said. 'Send him a subscription to Hoof Beats and send the bill to me.'"
BILLY HAUGHTON
"The busiest and hardest working person I've ever known. Yet as busy and pressed for time as he usually was, he could always find time to speak with you. It didn't matter if you were the lowliest person around a racetrack or a major owner in his stable. He would always make the time. Nobody ever worked as hard or played as hard as WRH."
BILL SHEHAN
"When I think of Bill I think of a lunch I shared with him at Pigalle, a sometimes great French restaurant in Cincinnati. I don't know how long our lunch lasted, but I do know they were prepping for the dinner crowd when we finally left. If one were looking for a person fitting the description of a Bon Vivant, that person might be Bill Shehan. He was brilliant in law, his chosen profession, and even more brilliant when it came to breeding horses. He was a true student of the bloodlines, habits and physicality of the harness breed. He was also an astute businessman. Two things I think of when Bill Shehan comes to mind. 'I've been wealthy and poor. It's much better to have money.' Also Kenny Rogers' immortal line, 'You've got to know when to hold them and know when to fold them.'"
Q: Who are both the greatest and your favorite horse through the years?
"With pacers, the best I've seen was Nihilator. He did it all, he even took on older horses as a 3-year-old and beat them all convincingly. My favorite is Best Of All. He was owned, trained and driven by people I knew who were good friends. He is my prototype of a hometown hero.
"The best trotter in my estimation was Nevele Pride. Much like Niatross, he took them all on, all types of tracks from one side of the country to the other. Furthermore from my perspective he always had the pedal to the metal. There was always a track or world record in his view. He almost never had a break. I suppose that a great case could be made for Muscle Hill. I think the very fact that he did it so seemingly easy might play either for or against him. I had an affinity to (Nevele Pride) because of our time together at Stoner Creek. More importantly, he was a truly great trotter. He was Horse of the Year and set world records each of the three years that he raced."
Q: How do you view the great sport at which we've been fortunate enough to make our living?
"I'm sure you feel the same way as I do. We were very fortunate to live it when we did. I love how much the breed has improved. On the other hand, there is so much competition for the gambling dollar today. We once owned near all of it. First there were lotteries, then OTB, then simulcasting now sports betting. At each junction we did near nothing to try to maintain a niche. I don't know what the answers are, if there were in fact any. I do know that doing next to nothing is not a recipe for success. There were times when although we didn't outhandle the thoroughbreds, we came darned close. Now there's a world amount of difference between us. That's not to say that all is wine and roses with them. They have their problems as well. I go to a few major events — the Hambletonian, the Jug and the Kentucky Futurity. Before COVID I had gone to 57 consecutive Kentucky Futurities. I now find it difficult to go to a 'normal' day or night of racing. I just find the empty stands too depressing."
Have a question or comment for
The Curmudgeon? Reach him by
email at: hofmurray@aol.com