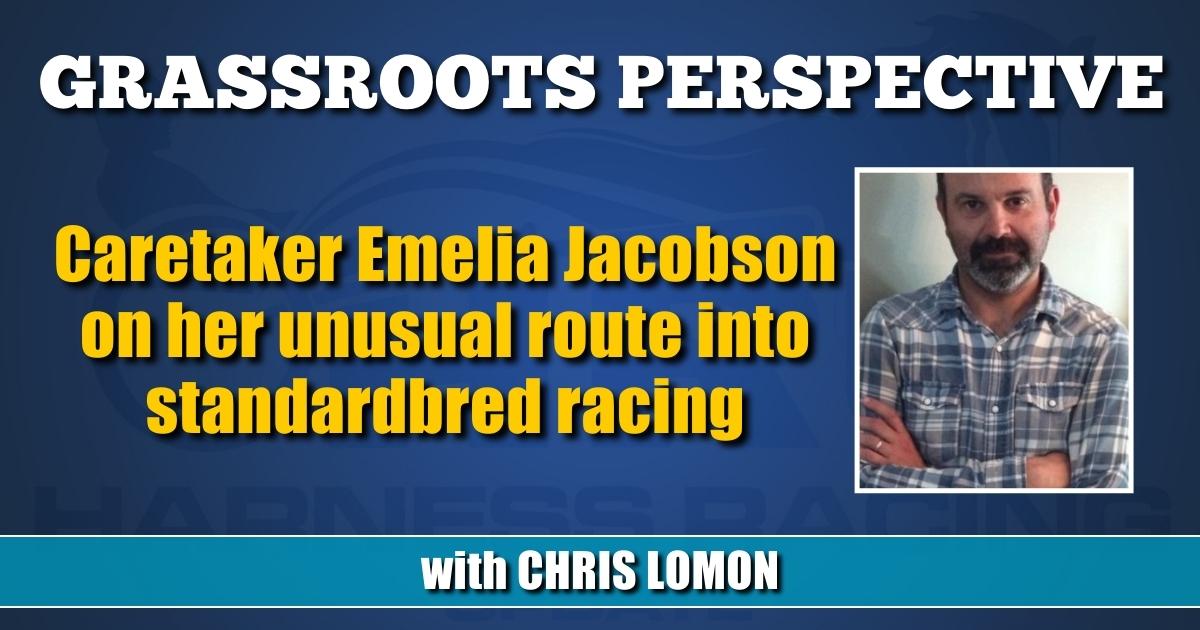 Caretaker Emelia Jacobson on her unusual route into standardbred racing
by Chris Lomon
It was, of all things, a haircut that brought Emelia Jacobson to horse racing.
The horsewoman from Wyoming, MN, lets out a big laugh before she starts the story, the tale of how she became involved in standardbred racing.
"I would say the way I got started in racing is pretty unconventional," said Jacobson, who now calls Humboldt, IA, home. "I've loved horses my entire life and my dad did a lot of farming when I was growing up. So, I would go out with him and see whatever horses I could see. A couple of years ago, my mom, who is a cosmetologist, started cutting [driver/trainer] Brady Jenson's hair. Eventually, they started talking and he mentioned that he needed help one summer, so here I am. I've been working as a groom for the Jensons for about three years now."
For Jacobson, it's a job that certainly never feels like one.
It didn't take long for her to make strong connections with the band of horses she takes care of.
"There is no horse that is like another. They all have their different personalities, quirks and tendencies. And they all have something they can teach you."
Jacobson was immediately drawn to a now 6-year-old pacer by the name of Officer Jim.
Bred by Winbak Farm (Maryland), the son of American Ideal—Freedom Crossing was a $70,000 purchase at the 2017 Harrisburg Sale.
After a third to launch his career on May 18 at Running Aces, the gelding broke his maiden next time out, one week later at the Minnesota oval.
"We don't have him anymore, but he was a goofball, a real character. He always wanted to know what you were doing. Horses that get your attention like that, they just suck you into it, and put a smile on your face every day. These horses are happy to see you every morning. You could have had a bad night or a tough start to the day, but when you see their faces, and see how excited they are to see you, that changes everything."
Long hours and little time for other pursuits hasn't diminished Jacobson's enthusiasm for the sport.
"Everyone has good days and bad days, but a bad day in the barn is better than anywhere else. I'd rather be here than a lot of places. To be able to hang out with these beautiful animals, to make a connection with them, to see them progress, it's a wonderful thing. It's definitely a lot of work and it can be tiring, but you need to be dedicated to do it."
Watching the horses she grooms compete can be stressful at times, but Jacobson somehow manages to internalize her nerves when she's at the rail.
Although she isn't outwardly vocal at those moments, she's inwardly effusive.
"I stop breathing those last couple of seconds before the wire. You don't think or feel anything else going on… you just zone in on the race. I'm pretty quiet, and I just take it all in. Everything around me seems to stop until you figure out how the race will turn out."
Jacobson strikes up a conversation with all her horses on the way back to the paddock.
Win or lose, pep talks dominate the one-way chats.
"I think they know when they've won. As a groom, especially, I'm the one that takes care of them after the race. I can get that read off their energy and see it in their eyes. Regardless of whether they win or lose, they always give their heart out there, so you just let them know how proud you are and give them a few pats."
As for the best part of her job, Jacobson points to two of racing's most notable groups.
"I would say it's the people and the horses I work with. Working for the Jensons, which is Brandon, Brady, his girlfriend Stephanie O'Connell, and Larry – we call it Team Jenson – they are just such great people and great people to be around. They're always happy for you to be there and to give you a chance, and to answer any question I've ever had. I got really lucky to get started with them. I if I hadn't started with them, I don't know if I would love it as much as I do. And then there are horses. To be able to have that bond with them is the best feeling you could have."
The biggest challenge is keeping pace with the busy life of a groom.
"I would say the toughest part is just how tired you are. It's a lot of work, but you have to remind yourself every day you wake up that this is what you want to do, and you have to put in the time and effort. But there hasn't been a day in my life that I've regretted doing this."
On the occasions she does get some free time, Jacobson can be found in front of a canvas, drawing and painting.
When she's not creating a work of art, she'll head outdoors to indulge in another favorite pastime.
"I like to go trap shooting. I did a lot of that in high school. It's been a while since I've done it, but it's a great way to unwind. But I'm happy when I'm in the barn too."
Or on the road.
One treasured part of Jacobson's job has been the chance to see more of the U.S. Seeing new sights, meeting new people, and racing at different venues has been a life-changing experience.
"I went to The Meadows with Brady. I'm originally from Minnesota, and that's all I've ever really seen, the Midwest landscape. So, being able to go to The Meadows was really awesome. I got to see a lot of cool things. And now for the summer, I'm down in Iowa, doing more of the fair circuit with Brandon. That's really different too. I think it's really cool to see different parts of the sport."
And to think she owes all of it to a pair of scissors and a razor.
Which is a great story in itself, one that is, pardon the pun, a cut above those of her contemporaries.