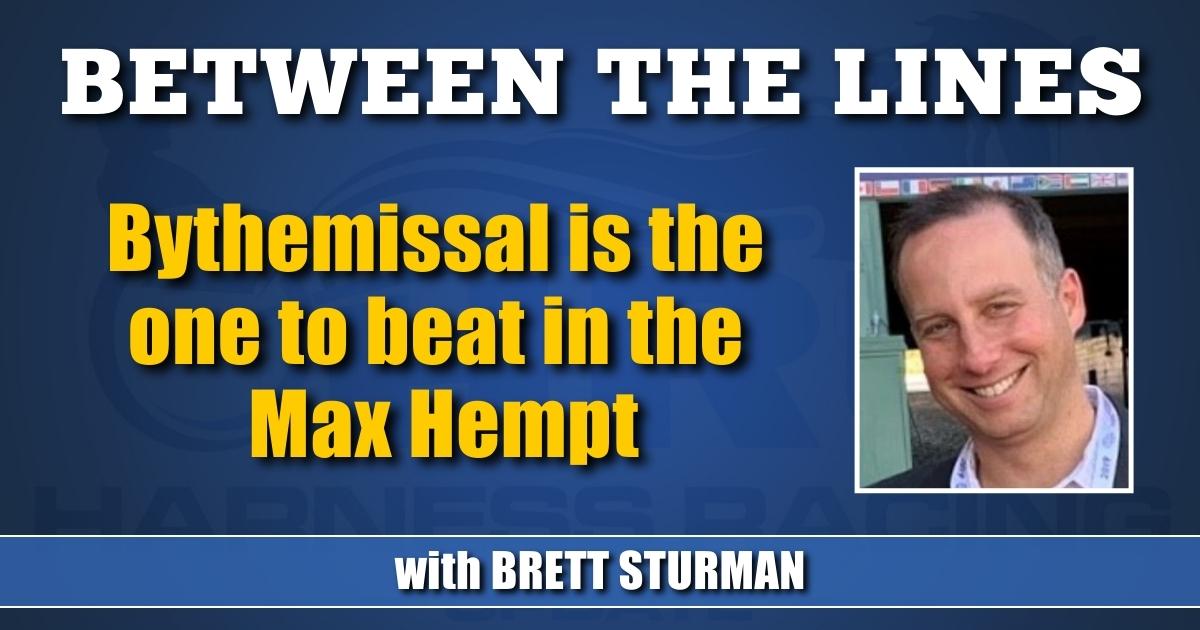 Bythemissal is the one to beat in the Max Hempt
This, and other Sun Stakes Saturday observations.
by Brett Sturman
In the period of less than one month, Bythemissal (Downbytheseaside) has gone from a near total unknown to being the likely slight favorite over the Meadowlands Pace and Cane Pace winner Beach Glass when those two hook up Saturday (Aug. 20) in the $300,00 Max Hempt Memorial as part of the Sun Stakes Saturday card at Pocono Downs. Fresh off his smashing 1:48.4 world record tying performance by a 3-year-old gelding last Saturday at Northfield Park in the Carl Milstein Memorial, the Hempt will be a rematch of the top two from Adios three weeks ago.
The rise of Bythemissal has been meteoric considering what he's done in such a short time, but it's not by luck he's this good. In contrast to last year's 3-year-old star out of Ohio, Charlie May, who had just a modest pedigree, the Ohio-sired Bythemissal was a relatively pricey yearling, going for $135,000 at the 2020 Lexington Selected Sale. The first foal out of his dam, Dismissal, his second dam Her Mattjesty has produced seven foals who earned over $100,000. Her Mattjesty herself was a talented young filly who earned almost $400,000 in her career and going back to Bythemissal's third dam is Lady Hathaway, producer of world champion Royal Mattjesty and 2-year-old O'Brien winner His Mattjesty.
Purchased from that sale by Josh Green who also trained the horse in his first lifetime start for owner Eric Good, Bythemissal debuted last November at Dover Downs in a race where he came from well off the pace and drew away impressively. Earlier this year, an opportunity arose where additional owners including Burke Racing Stable, Rich Lombardo and Weaver Bruscemi came to buy into the horse, with Good still retaining primary share.
As co-owner Mark Weaver said, "Ronnie (Burke) didn't even start training him until earlier this year around February or so, we ended up buying into a part of him, and as long as we've had him Ronnie thought he was going to be pretty good."
Bythemissal was sensational in winning the Adios, coming first over from way back to beat Beach Glass.
"We really were confident that we could go with Beach Glass and Pebble Beach," said Weaver. "He had won his first five races and did it quite impressively, but then the way his schedule worked out, he didn't have a race for about six weeks. His Adios elimination was his first real start in a month and a half, and he was a very comfortable second after being a long way back, so we felt that he had a pretty big shot in the final.
"He actually doesn't have that great of a stakes schedule, it's kind of a 'B' or 'B-minus' schedule. But we were lucky that the Milstein was an invite and he did have both the Adios and the Hempt, which are two really good ones to go with the outstanding Ohio program."
This is the first year in which any horse can supplement to the Little Brown Jug, and Weaver noted that option is on the table.
"If it were tomorrow, I think we would supplement to the Jug, but Eric Good is the main owner. If it's up to me, we're not afraid to put up money for the Jug so we're certainly game to do that, as well as the Breeders Crown later in the year if we think that makes sense."
While the Hempt would seem to come down to Bythemissal and Beach Glass from posts three and one respectively, Mad Max Hanover could be lurking. He was a game second to Beach Glass last out in the Cane, was a 1:47.4 winner two back, and was ultra-sharp the last two times he raced at Pocono back in May. The Max Hempt Memorial goes as race 11 on the card.
$300,000 EARL BEAL MEMORIAL RACE 12
The co-richest race on the day is for the 3-year-old trotters, and the Beal will mark the first race for the Hambletonian hero Cool Papa Bell since his massive upset two weeks ago. Credit the horse, of course, but enough can't be said for the job Todd McCarthy did as well in engineering that upset. Saving all the ground to sneak up the inside to third, he neatly angled out at the top of the stretch, kept his trotter together when it appeared he was close to breaking, and capitalized in a race where the top contenders weren't at their best despite cushy fractions. Can he be that good again?
Cool Papa Bell lands the role of 5-2 favorite on the morning line but it seems possible that the post-time favorite may end up being Temporal Hanover. Orjan Kihlstrom gave him a chance in the Hambletonian but he couldn't quite sustain the tough trip all the way, same as in his elimination. It's back to Sears now and the last time these two were together was a 1:50 mile in the Dancer.
Periculum wasn't far off either in the Hambletonian at odds of over 100-1. He's a consistent type for Melander. I thought Pretender was one of the more serious Hambletonian contenders earlier in the year when he swept through the New Jersey Sires Stakes, including a final win over both Temporal Hanover and Periculum. He hasn't been bad since; just needs to pick it up another step or two. Justice romped on Hambletonian Day in the Muscle Hill and that impressed me; back to the tougher group and from an outside post to boot.
$250,000 DELMONICA HANOVER RACE 9
Just as in the Hempt, posts one and three would seem to have this race cornered, between Joviality and Jiggy Jog. These two fillies would remain formidable even if they were still in against the colts, and this race could simply come down to the trip. While Joviality has rightfully gotten most of the attention this year, Jiggy Jog has been just as good as late. She surged for the win in her Hambletonian elimination two back and then had to come widest of everyone last week and was still making up ground. Joviality had room to the inside of Rebuff and got second in that race; I still think the track was playing unusual that day. Delilah Hanover is an intriguing possibility; has come close to beating the best fillies on more than one occasion this year and you could do worse than Todd McCarthy and Nifty. Pink Poco Chanel outraced in her last two; obviously the fillies in those non-winners of two races were more difficult than they look.
$250,000 JAMES LYNCH MEMORIAL RACE 10
There are a couple of interesting driver decisions to note in the Lynch, starting with Tetrick's choice of Treacherous Dragon over the Jim King-trained Captain Cowgirl. After starting the year 5 for 5, Treacherous Dragon is just 1 out of her last 4 since the barn change and has been bested by rival Max Contract in each of the last 3. Her last win, however, did come here at Pocono in a Pennsylvania Sires Stakes race at the end of June. She hasn't raced badly though in that time and Tetrick sticking is a vote of confidence. You have to hand it to Max Contract for having that winning knack; taking her last two races by a nose each and her two before those by under a length. She's shot right up the ladder and will see if she can keep it going at a change in venue. Sweet Kisses upset Captain Cowgirl last out at 34-1 in the Adioo Volo, though Gingras now opts instead for Wickedly Innocent; a filly with a similar profile to that of Treacherous Dragon. Trick Of The Light invades for Brian Brown and gave it an honest try at the Meadowlands three back; was huge in the Nadia Lobell in the race prior to that. Sea Silk had the potential to be one of the better 3-year-old fillies as this season got underway; makes her second start since the break and I wouldn't be too quick to dismiss entirely.
$0.50 PICK-5 TICKET (RACES 8 THROUGH 12)
4-7-8 / 1-3-4 / 2-6-7-8 / 3 / 6 = $18 for a $0.50 ticket