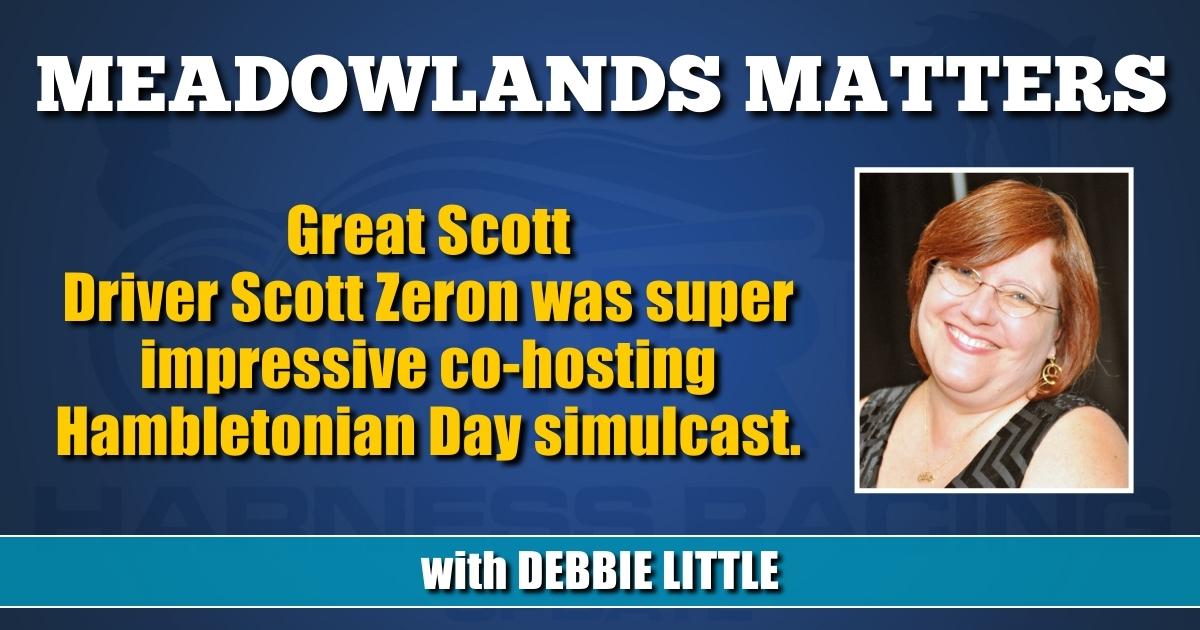 Injured driver Scott Zeron was a super impressive co-host that was part of the Hambletonian Day simulcast with Dave Little.
by Debbie Little
Driver Scott Zeron stole the show on Hambletonian Day and didn't need a horse to do it.
Unable to compete following an accident on July 26 at Pocono Downs, Zeron spent some of his day in front of the camera, co-hosting The Meadowlands' simulcast show for about two hours with Dave Little.
"He brought insights that we don't normally have," said Little. "Dave Brower and I have been at this a long time and we have a lot of chemistry, but it's always nice every once in a while, to mix it up. It's the first time since I've been there that I've co-hosted with a horseman. I think it really creates a treat for the fans because Scott is so recognizable and he's so eloquent about everything harness racing. It just worked out much better than I anticipated.
"I expected him to be good. I didn't expect him to be as good as he was. That's how good he was."
Little invited Zeron to spend time in the Hambletonian Day co-host's chair due to his regular partner, Brower, being committed to the CBS Sports Network broadcast.
Zeron has long said that he thought utilizing a horseman in such a capacity would only aid the existing product.
"Everybody loves Tony Romo and people are already trying to poach Tom Brady and he's still playing," said Zeron. "I guess it offers that different perspective than the two Daves. I had always preached that we should try and get somebody like a Mike Lachance, so I was definitely going to practice what I preached."
Little was concerned about how Zeron would cope with the oppressive heat, the wobbly steps leading up to the outdoor set and a lot of wires that Little likened to a game of Twister, since Zeron, who is recovering from a fractured pelvis, dislocated shoulder and tiny wrist fracture, could barely walk a week prior to the Hambletonian and was brought to the set by his parents in a wheelchair.
"I would have been more than happy to carry Scott Zeron up the steps if that was the difference between him coming on set or not," said Little with a laugh. "He never once complained about the heat and, in fact, his mom and dad were out there, too. I've known his dad, Rick, for over 30 years, so it was nice to hang out with him, too. And Scott's mom, Joyce, kept asking us if we needed a bottle of water. Considering I drank about a dozen bottles that day, I was sure glad she was there to help.
"At one point, being a real mom, Joyce saw that Scott had an aptitude for being an on-camera personality and she said to me 'This is safer.' But then I whispered back to her, 'Yeah, but it doesn't pay quite as much.' And we both got a good laugh over that."
Ironically, before Zeron started driving, this is what his mom wanted him to do. And for his part, Zeron was not nervous about doing the show. Since he's done a lot of interviews, he just looked at this as being simply a longer version.
"This was easy because I didn't have to carry a conversation," said Zeron. "Dave was just throwing the ball up in the air and I was just slam-dunking it. We were just Pippen and Jordan.
"I didn't know it was going to be the spectacle that it was. Obviously, Dave gave me the best four races on the whole card. It's super easy talking about races when there's 10 competitive horses in it. I'm happy it was just the four races and not 16. I don't know if I could have handled 16. But it was fun."
Little believed that Zeron would be good in the role, but admits you never quite know how someone will do until they're live on camera.
"I've interviewed Scott quite a few times and we have a good relationship," said Little. "I don't know that I can say that I knew we'd have chemistry, but I knew that there was a very good chance of it.
"He did confide in me at one point during the course of the day 'You know, Dave, it's an awful lot of fun to be here but I hope I don't have to do it again real soon.' And I didn't blame him one bit."
Zeron hopes to be back in the bike in four to six weeks, but for now, he's working every day to keep his recovery on the right track and spending a lot of time answering complimentary texts and posts.
"It was extremely well received and I didn't really see that coming," said Zeron. "I'm happy I didn't stay home. I didn't realize how great it was going to be to do that. I might be an introverted person by nature, but if you talk to me about something I'm passionate about, I become pretty extroverted. So, it was easy.
"People's second sentence after they said that was a great show, was you may have a backup after you retire. I think I got more messages from people, whether it be texts or social media, saying how great the show was and how nice it was to hear that perspective, than I got texts congratulating me on winning the Hambletonian."