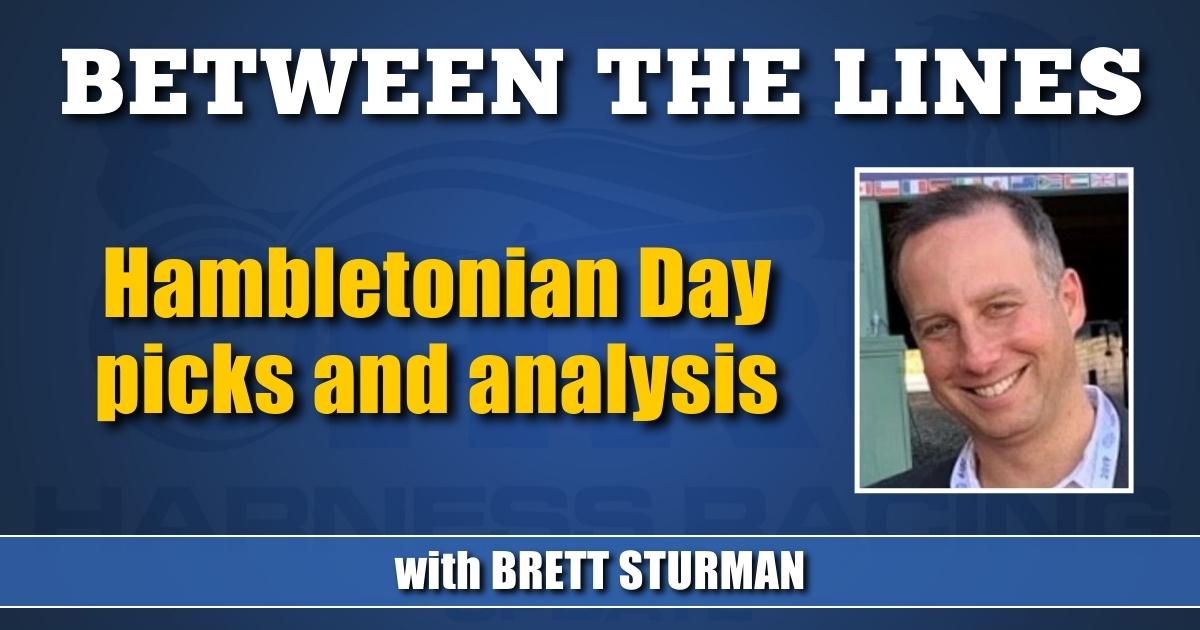 Hambletonian Day picks and analysis
Breaking down Saturday's huge stakes lineup at The Meadowlands.
by Brett Sturman
An attractive wagering menu and competitive fields all day long make for the potential of strong payouts for Saturday's Hambletonian Day card at The Meadowlands. Here are tickets for how I see some of the horizontal wagers being played out.
Races 3 through 7, $0.50 Pick 5 ($75,000 guaranteed pool)
$0.50 ticket: 1-2 / 1-3-9 / 5 / 2-3-8-10 / 6-7 $24
RACE 3, DR. JOHN STEELE MEMORIAL $145,000
In an identical rematch to last week's Ms. Versatility, ATLANTA looks to keep it rolling after her easy 1:50 score. Her odds of 3-1 that night were her highest for as long as I can remember and while this remains a small but competitive group, the role of favorite may now default back to her. BELLA BELLINI was never going to win last week but she was also unable to pass a 48-1 longshot for second. Though, overall, she has been sensational all summer long. WHEN DOVESCRY seems to be the only other mare who could reasonably win this. It just depends on how DM wants to handle the outside post.
RACE 4, MUSCLE HILL $50,000
VILLIAN wasn't beaten by much in May to Hambletonian contender Temporal Hanover and has the speed to get involved despite the outside post. TESTING TESTING was a 1:52 winner at Vernon three back in which he beat King Of The North and also finds class relief. He won a Breeders Crown elimination here last year. JUSTICE kept up well enough against faster foes last week in his Hambletonian elimination. We will see if his New York success can translate into a win here. Both TORRONE and KOSHER MAHONEY have flirted with stakes competition at times.
RACE 5, PETER HAUGHTON MEMORIAL – FINAL $337,000
CARTER MICHAEL DEO flew from out of the clouds last week and that came in his first race since moving to the Burke stable; seems dangerous. KILMISTER delivered as the favorite last week in the Haughton elimination to remain unbeaten early in his career; couldn't have had a better trip. OH WELL won his New Jersey Sires Stakes final last out though Tetrick was after him to hang on; anxious to see if that driver stays here or opts to another Melander trainee, UPSTAGED. CELEBRITY BAMBINO was never close last out at 9-5; tough call based on those last two and the outside post.
RACE 6, CONTINENTAL VICTORY $33,500
MONKEY QUEEN made a good account for herself when last seen in the middle of July when she ran second to the colt, Letsdoit S. She did outsprint Oaks finalist Pink Coco Chanel in that race and that should count for something. MISSWALNER FASHION has run into breaking issues but at her best is more than fast enough; it's a big "if" but a flat mile should win it. LILBITALEXIS is another that's seen her stock fall a notch this year but this another one taking a big drop; could easily wake back up. DELILAH HANOVER is another that is more than a threat when at her best. GRACELYN HANOVER was a game winner two back.
RACE 7, SHADY DAISY $92,300
BOUDOIR HANOVER has been caught at the wire twice in a row, but both those defeats were high-level efforts coming off that 1:48.3 win in the Nadia Lobell. She can turn the table on her newfound rival. MAX CONTRACT proved that her rally in the Mistletoe Shalee was no fluke. She came home in :26 last week after initially being resigned to sit third on the inside before getting a clear path at the top of the lane. What do we do with TREACHEROUS DRAGON? Just 1 for 3 since moving barns and was tiring late at the end of her most recent mile; has to take an early shot again from out here. GALLERIA HANOVER and LYONS SERENITY dueled early last out in the Adioo Volo, a race that was won by a big longshot off second-over cover. I thought SMUGGLE TINA would have been a bit better last out at the Meadows.
Races 8 through 11, $0.50 Early Pick 4
($100,000 guaranteed pool)
$0.50 ticket: 6-8 / 7 / 1-8-9 / 9-10-11 $9
RACE 8, CANE PACE $275,000
BEACH GLASS was super here in winning the Meadowlands Pace two weeks ago as well as winning his Pace elimination the week prior. It took a massive effort by the lesser known but highly talented Bythemissal to beat him in the Adios; seeks to remain sharp in his fifth start in as many weeks. NIGHT HAWK seems like he's deserved better of late. He was hard used without much of a breather in the Meadowlands Pace; he can still win this with a reasonable journey. MAD MAX HANOVER has always shown talent and is now streaking in the right direction, coming off back-to-back 1:47.4 miles. CAPTAIN COWBOY tried to press the tempo early in the Pace and it didn't work out; a possibility if the race sets up for a closer. FOUREVER BOY closed strongly in his Pace elimination four back.
RACE 9, LADY LIBERTY $173,000
TEST OF FAITH comes off that 1:47 mile which was taken moments before it was followed up by that 1:45.4 mile by Bulldog Hanover on Pace night. There isn't any real reason to play against, though strange upsets are bound to happen on this day. FIRE START HANOVER has turned into somewhat of a project this year for Nifty Norman; is still good enough to land a share like she did a couple races back. HOT MESS EXPRESS returned a winner after being off a month in what served as a prep for this race. LYONS SENTINEL overpowered them at Plainridge but it's back to a similar position from the Dorothy Haughton she found herself in; at the mercy of the pace? RACINE BELL gave way rather tamely in the Barton. AMAZING DREAM N looks slated to pick up Sears.
RACE 10, SAM MCKEE MEMORIAL $278,000
ABUCKABETT HANOVER has been "charging hard" in his last pair of races. Whatever the reason, the times seen at the Meadowlands this season have been unprecedented and this horse might be the first one ever to show back-to-back :24.4 final quarters (and be no better than fourth in either of them). He finally lands a decent post and will need it to stave off #9. ROCKYROAD HANOVER shined on this day here last year in the Cane Pace and was as game as can be last out when he chased home Bulldog Hanover in that all-time mile. Post draw continues to be unkind to him. WORKIN ONA MYSTERY continues to fire in nearly every start and will be in the mix. POSEIDON SEELSTER has been here before and blitzed them last out at Woodbine; his speed may play well here for Brennan. CATCH THE FIRE exits a fast win at Pocono.
RACE 11, VINCENNES $60,000
An oddity for INCOMMUNICADO two races ago when the starting gate forced him to start inside the pylons refunding all wagers on him. Then last out he was the victim of a hopeless shuffle at Plainridge. He was supported down to 5-1 in that race which included many horses starring in the Cashman Memorial on this race card. Will still have to work out a trip from the second tier now, but seems overdue for something more. VENERATE goes from Pinske to Julie Miller and that seems like something worth keeping an eye on; would have to think he'll be leaving early from the outside. AMIGO VOLO continues to go strong and has been mixing it up at Yonkers at times with both HILLEXOTIC and STORMY KROMER. TAKE ALL COMERS has been facing stiff competition and I'd consider this a drop.
Races 12 through 15, $0.50 Late Pick 4
($125,000 guaranteed pool)
$0.50 ticket: 5 / 1-2-5-6 / 3-4-5 / 1-2 $12
RACE 12, HAMBLETONIAN OAKS – FINAL $500,000
VENERABLE has returned to form that saw her storm through her 2-year-old season and in my opinion is the one to beat in the Oaks final. She was slowly getting to Joviality two back in the Del Miller and last week's elimination win was never in doubt. WARRAWEE XENIA made it 7 in a row with her win last week and for much of the race it didn't look like she had any business of being close, let alone winning. But McClure found room, navigated near a breaker and surged late; anxious to see if she can replicate the feat. FASHION SCHOONER looked clear in her elimination before maybe being somewhat blindsided to the oncoming Canadian invader. Was a 1:50.1 winner two back but this suddenly won't be an easy task from post 10. MANON couldn't sustain late in her mile last out after having to come first-over from fourth; can bounce back and should be forwardly placed.
RACE 13, JIM DOHERTY – FINAL $355,000
Maybe easy to say after the fact, but UNA MADONNA won as a massive overlay in the Doherty elimination last week. A solid winner at Oak Grove in June, she made her second start last out for Alagna (broke in the first one) and was loaded with all sorts of trot after Bongiorno waited patiently for a seam to open. Price will obviously be shorter now, but I don't think that race was a fluke. MAMBACITA is the other Tactical Landing filly in here along with #1, and there's nothing wrong with the start of her career either. Gave game chase to Walner Payton last out in her NJSS Final; though worth noting that winner came back to be just fourth earlier this week as a big favorite at the Red Mile. ROYAL FILLY was aggressively handled last week vacating the two-hole early; eventually seemed clear but was caught. INSTAGRAM MODEL was well supported last week despite an outside post; closed evenly in that race as did SECRET VOLO.
RACE 14, JOHN CASHMAN MEMORIAL $279,000
Svanstedt trains five of the eight in this field, and I'd say is led by two in particular that have made the largest impressions in minimal starts. ECURIE D was resounding upon arrival in just a couple of starts last year and debuted this year to a 1:49.1 win in the Cutler. But then a month later, he lost at 1/9 odds in the Crawford Farms to stablemate ALRAJAH ONE IT who swept home with a :25.3 final quarter in his North American debut to win going away in 1:50.4. I have no idea who will be better on Saturday; not sure if Ake does either. CUATRO DE JULIO raced too good to lose in the Hambo Maturity and now gets some post relief; a possible threat to beat the Svanstedt quintet. RATTLE MY CAGE faced pressure in the Maturity and gave way; has been sharp in all other starts this year. AMBASSADOR HANOVER continues to close well. LOVEDBYTHEMASSES did some of the harder work last out in the Spirt Of Mass in what was a solid effort; has come a long way since the start of last winter.
RACE 15, HAMBLETONIAN – FINAL $1,000,000
It's somehow been already 10 years since Tetrick won his lone Hambletonian with Market Share, and he's in a prime position to make another one with REBUFF. Last year's Breeders Crown champion has been a model of professionalism in his three starts this year, highlighted by that 1:49.3 mile two back in the Dancer. He's the one to beat and will warrant his favoritism. Perhaps a chink in the armor from JOVIALITY, though she had things taken to her last week in her elimination from post 10 and never got off easy. If anything, maybe that race will serve her well as she looks to become the third filly in the last five years to win this race; driver Sears is seeking his fourth Hambo and first since 2015 when he was in the role of beating a filly (Mission Brief) with Pinkman. TEMPORAL HANOVER gave a stern challenge last week to Joviality and eventually did wear down that foe. He's fired in every start this year as one of three Melander finalists here and Orjan Kihlstrom will get the return drive. Dexter Dunn had a tough decision to make and he went with the other filly in this race, elimination winner JIGGY JOG S who split rivals late to pull off that upset. With Dunn going there, Gingras picks up the drive on FAST AS THE WIND who was second to Rebuff in his elimination; was strong earlier in the summer in Canada though did win the Valley Victory here to close out last year.