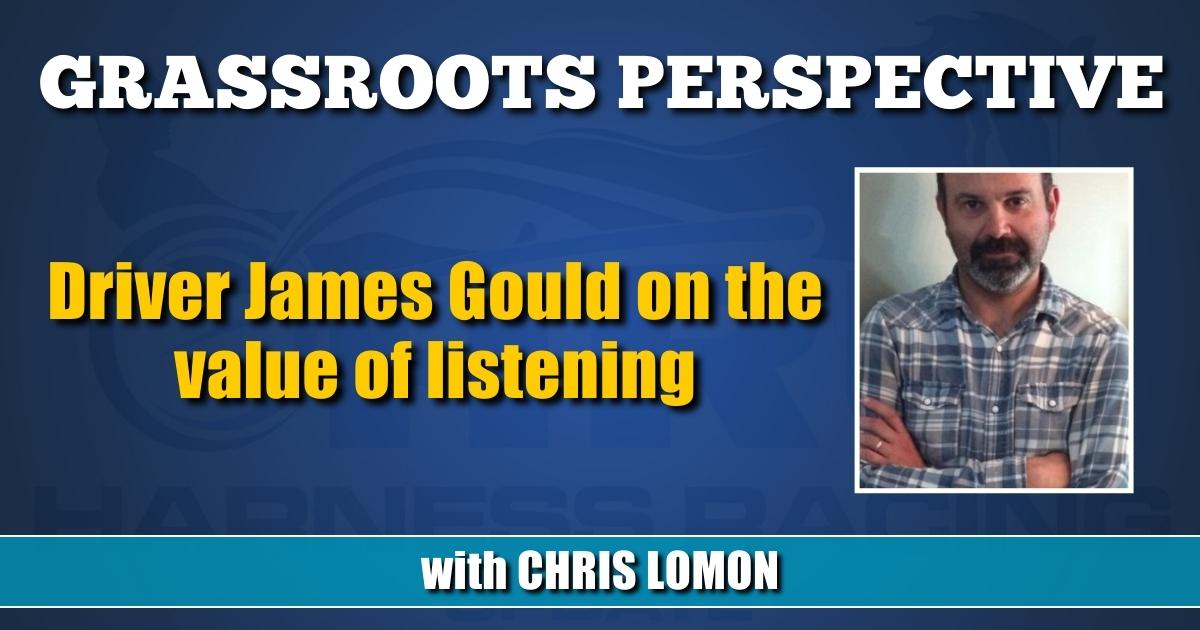 Driver James Gould on the value of listening
by Chris Lomon
Listening is a big part of James Gould's life.
The first order of business when the 19-year-old horseman gets behind the wheel for the 3 ½ hour drive from Humboldt, IA, to Columbus, MN, is to cue up the Sirius XM radio.
"Really, the only thing I do on these trips is listen to music," said Gould. "I listen to just about everything, from country all the way to rap. I'm kind of all over the place when it comes to what I enjoy listening to."
In his fourth year driving standardbreds, Gould, who had one second from four starts in his abbreviated rookie campaign in 2019, is navigating his racing role armed with a blue-collar work ethic and deep passion for the horses and the sport itself.
"It's a blast. I love it. I started going to college and I didn't really like balancing the eight horses I had, so I dropped out. But I'm following my dream. This is what I've wanted to do ever since I was a little kid. My grandfather got into horses when he was 40, and then my mom fell in love with it. She started training since she was a teenager. I grew up around the barn and fell in love with the horses right away. I think I was about 10 or 11 when I really started jogging the horses, and I knew that's what I wanted to do."
His colors are an homage to his family racing bloodlines, with his own twist.
"My colors are mostly black, with blue stripes and I have a little white in there too. The blue is something my uncle and grandfather have, so that color has been with me forever. I wanted to switch things up a bit, so that's what I came up with."
So far, the look has served him well.
After six wins in 2020, and nine last year, Gould is getting more opportunities to drive in 2022.
And he's taking full advantage of it.
In between the Iowa fair scene and competing at Running Aces, Gould is on track to eclipse personal-best marks across the board.
Travel is not an issue. Neither is getting too anxious before the races.
"I try to stay focused and relaxed, and not get myself too worked up when I'm on my way to the racetrack. I try to keep myself as calm as possible before we head out to the racetrack. Once I'm out there, I just stay in the moment. I've been driving a lot more the past couple years, competing at the fairs in Iowa, so I've become very dialed-in when I drive. Of course, you are nervous when you first start out, but the more you drive and the more experience you get, you're better able to just live in the moment."
There have been obstacles to overcome along the way, mostly, in the early times of his driving life.
"When I was younger, the biggest challenge was just getting started and having the confidence to compete with the more veteran guys."
But there have also been highlights to speak of.
One of them comes in the form of Lil Char, a 3-year-old pacing daughter of In Over My Head—Major Philly. The bay was bred by Lesa Peters of Grinnell, IA.
The first time the two were paired together, on June 27, 2021, they made a trip to the winner's circle at What Cheer, the Iowa half-mile oval in the city of the same name.
"We won a memorial race at one of the fairs here. I co-own her with my mom and my brother Justin. She's one of the best horses I've ever driven. Last year, she was pretty strong, and this year, she has a win and four seconds from five starts."
Lil Char also has a big presence around the barn.
"She's a really nice horse and I've been able to get along really well with her. She's a loving horse. She has quite the personality. In the stall, if you don't give her attention, she'll throw her head and rattle around until you come over to see her."
And, in typical fashion, Gould always listens.
He regards that as one of his best qualities.
"I listen to the horse, the trainers and the owners. I will do whatever is best to get the top result."
Which also means putting in some serious miles around his home state and back and forth to Minnesota.
Those sometimes seven-hour round trips are well worth the mileage, offered Gould.
"Short term, I want to keep coming up to Running Aces and pick up as many drives as I can. I'm willing to drive any horse, just to get the experience. Down in Iowa, I love racing there. I'll probably keep driving in the fairs on the weekends, and hopefully drive in every race. This year, I've been asked to drive a lot more, but I'm still looking to get more drives. Last week, I made it out twice, Tuesday and Thursday. I do my best to get out there. It's a nice, big track."
When he's not on the road or in the race bike, Gould relishes any chance to hang out with his friends, especially during the summers.
He's also an avid gamer, opting for hoops as his video game of choice.
"I'm still young, so I like to play X-box as much as I can. I like to play a lot of NBA 2023. I'm pretty good at that."
When he's not throwing down one-handed jams or dishing out highlight-worthy assists, Gould is constantly studying his real-life sport, eager to add more drives and more wins to his record.
The ultimate formula for his winning game plan will continue to be built upon his ability to listen to those who are key to his success.
It's an approach that should give him plenty to talk about.
"I just want to keep my ears open and have an open mind. I think it's really important to listen to people and to the horses. There is a lot you can learn from that. It's been a very important part of my development and I'm sure it always will be."