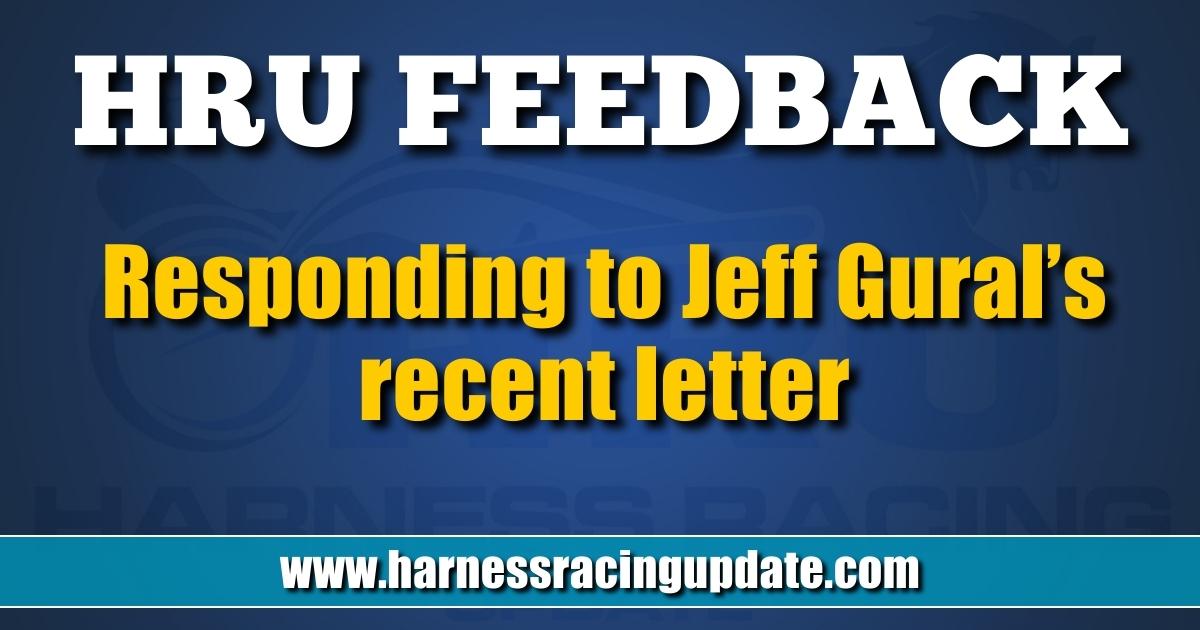 HRU Feedback (2022-07-31)
Responding to Jeff Gural's recent letter
I am responding to (Jeff Gural's) HRU message because I believe I am one of the owners harness racing needs to attract to continue in business. I have been a New Jersey licensed farm owner, thoroughbred owner/trainer for 40 years, and more recently a harness owner and breeder. Although I do not consider myself wealthy, I can certainly afford a number of broodmares, babies, and racing age harness horses at my farm in Millstone Township, NJ.
But I won't invest anything further beyond the single harness broodmare and her four-month-old filly who make this farm their home. I have lots of empty paddocks, complete with run in sheds, fresh water, and pastures, and a large barn. But until I see some evidence that the sport is attempting to bring to task the outrageous behavior of the harness drivers who think the sport revolves solely around them, and consistently display "driver intentions" that demonstrate they are in control of the races and that the owners (certainly the owners of smaller stables) count for nothing, I am out. I have brought this to the attention of the judges, New Jersey Commission, and racing office management on more than one occasion. Everyone involved, except for the Gural team at the Meadowlands, stick their heads in the sand and hope that somehow the dishonesty goes away on its own. New Flash: It won't and the sport is doomed over the long term.
PS: My foal is by American History out of my good mare, Persuasive Hanover ($283,000.00 earnings, by Cam's Card Shark). When the time comes, I hope to be able to match her against anything out there. I don't believe a couple of consolation races for mares bred to cheap stallions will impress me or any other honest owner to participate in harness racing. 
Gary A. Kay / Clarksburg, NJ