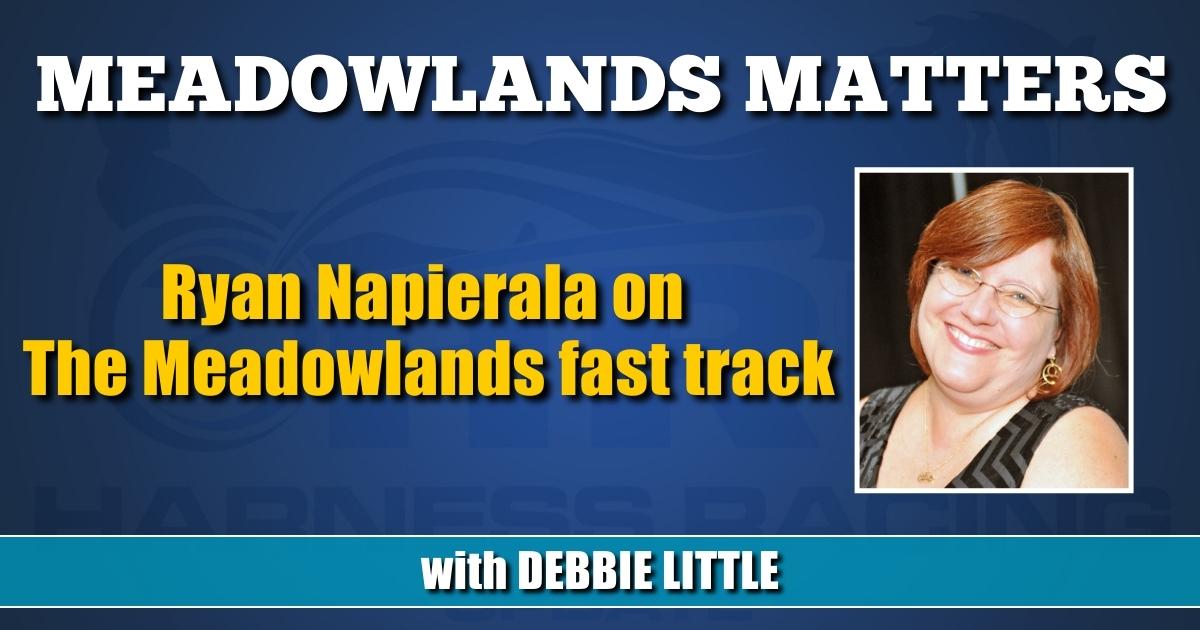 Ryan Napierala on maintaining The Meadowlands' lightning fast oval.
by Debbie Little
Without the track, there's no racing. And without The Meadowlands' Ryan Napierala, there's no track.
Napierala, director of racing properties and track, has been in charge of grooming the speedy mile oval for almost a decade and it's a job he loves and, perhaps, was born to do.
Napierala, who turns 42 next week, was raised by his grandparents, Chuck and Sharon Sylvester, so he spent a lot of time learning the business from the Hall of Famer that he refers to as "dad" or "pops".
"I've been going to The Meadowlands since he won his first Hambletonian [with Mack Lobell in 1987]," said Napierala. "Pops and Carl Allen helped me along the way a lot. And Clint Warrington. He was just a track wizard. He was absolutely one of the best."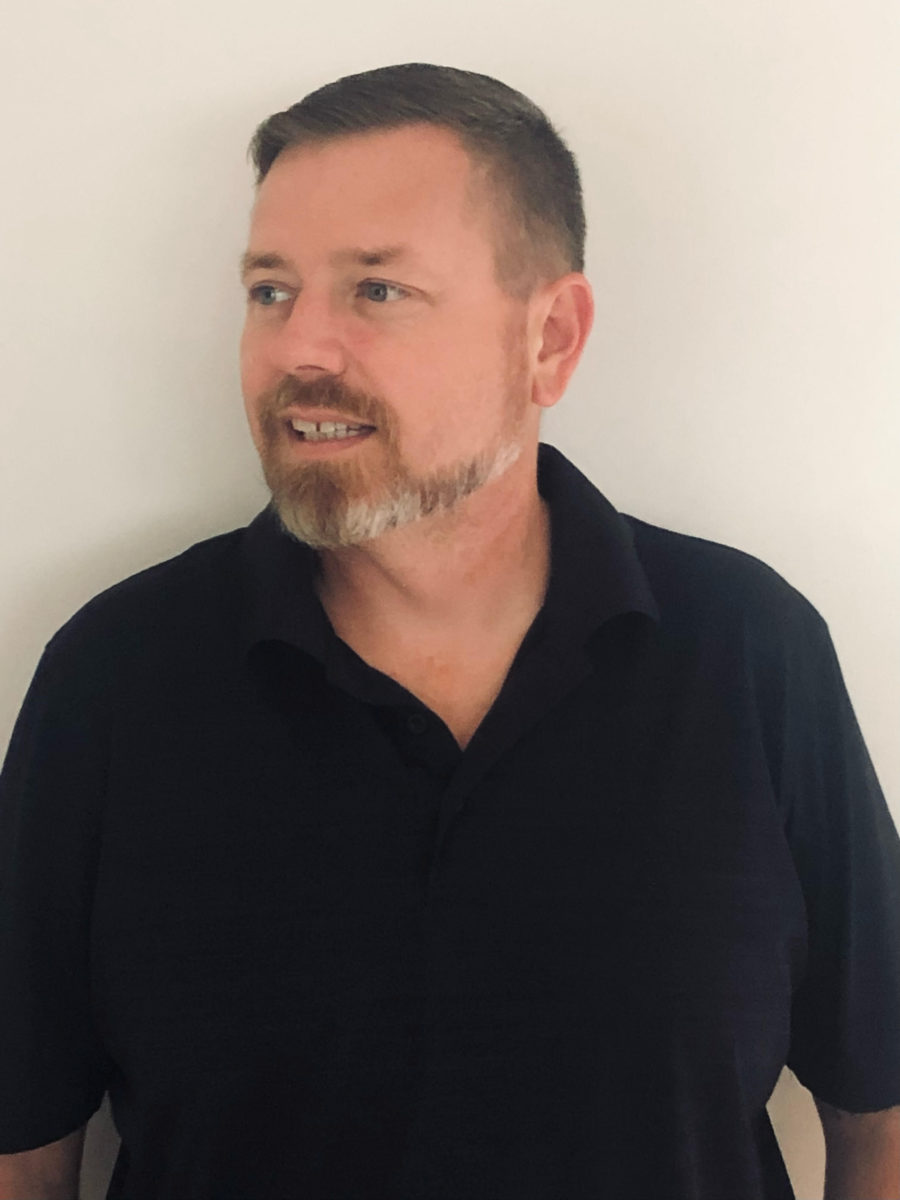 In the late 1990s, Sylvester owned and operated Magical Acres, a training facility in Chesterfield, NJ, where Napierala honed his skills.
Napierala remembers being 15 and in New Jersey for the summer to get his driver's license.
"And pops said, 'If you can't drive a water truck, you can't drive anything,'" said Napierala. "Then, I think he put me on a bulldozer out in the infield. I think we were digging out a pond. The equipment and all that is just natural to me and I kind of fell in love with it. It's my niche."
Rod Allen, Carl's son, remembers being stabled at Magical Acres and Napierala being good natured.
"I don't doubt that [my dad] put Ryan in the grater alongside him," said Allen. "He just loved to run that machinery. He probably got more tutoring from my father because he did run a lot of heavy equipment and he put our own track in and he wasn't shy about giving [Ryan] his opinion of how it should be, I do remember."
By 19 or 20, Napierala was responsible for the track at Magical Acres.
"I got good at it because I got tired of being yelled at, because bad tracks are out there," said Napierala. "They're a dime a dozen."
Sylvester was a visual teacher and would take Napierala to watch when the vet would draw fluid out of a horse's knee, which meant the track was too hard, or, he would have him look at a horse's beat up feet to show there were rocks on the track.
"So, I learned to get the rocks off the track and learned to make it springy, so the knees didn't have fluid on them," said Napierala. "I got insight from one of the best on what they want and then I just kind of ran with it. It's tough when your dad's Chuck Sylvester and he's trying to show you something in harness racing. You better pay attention."
Trainer Noel Daley has been stabled at Magical Acres for quite a while and is currently in Sylvester's original barn.
"[Ryan's] actually got the right temperament for the job," said Daley. "He might get the abuse but he doesn't appear to worry about it. Horsemen aren't afraid to express their opinion, so if you want to be a trackman, you need to have a thick skin. It's good to see that he's gone on with it and made something of it."
This is definitely the busiest time of year for Napierala with the Meadowlands Pace just about two weeks ago and the Hambletonian a week from Saturday.
Unless you live close to The Meadowlands, you may not be aware of the deluge that happened between 2 and 3 p.m. on Pace Night, but Napierala remembers it well.
"We anticipated the rain, what we didn't anticipate is that it was going to be four inches of rain in like an hour," said Napierala. "When the rain's that bad and it's moving the material, the screens are catching it and pulling it over to the next little indent and if you do it enough then you take away the washouts. A lot of tracks have to stop to fix their washouts, which normally we don't have to do, because the track's that good. That afternoon, there were washouts over the entire track, which never happens."
As the sun came out and the track started to dry, Napierala and his crew began to cut the track, reopening it, to give it a little cushion. And even though local weathermen were saying the rain was done, Napierala was wary.
"I check a million different things out there for weather, which I think is going to give me PTSD one day," said Napierala. "There was more rain coming so I started retightening it but it was a good surface. It wasn't too hard at all and kind of worked out to be really good and really fast."
When it comes to Bulldog Hanover's world record mile that night, Napierala gives credit where it's deserved.
"People are like, oh it's the dirt," said Napierala. "The dirt is the dirt, it ain't got nothing to do with it. There's no motor in the dirt, the motor's in the horse. The track was tight because we had rain in the area and it's a fast track when it's tight like that, but I don't like to take anything away from that horse. He just did something that was next level."
Hambletonian Day is too far away to know for certain what the weather will be, but no matter what happens, Napierala will be ready to roll.
"It is the hardest day by far because my guys start at 8 in the morning, because it is Hambo Day," said Napierala. "There's no other day in harness racing that matters that much. That's the epitome of the sport. If we have to be there from 6 in the morning until 10 at night that day, it doesn't matter, we're there."
Allen had a thought about Napierala's chosen profession.
"The two worst jobs on the track or in harness racing is the trackman and the race secretary, because you can't please everybody," said Allen. "Whenever a horse goes lame, it's always the track. It's not that they've been trained too hard or they have the wrong shoes on, it was the track."
When you consider how fast miles have been this year at The Meadowlands, at least in part, it was the track.