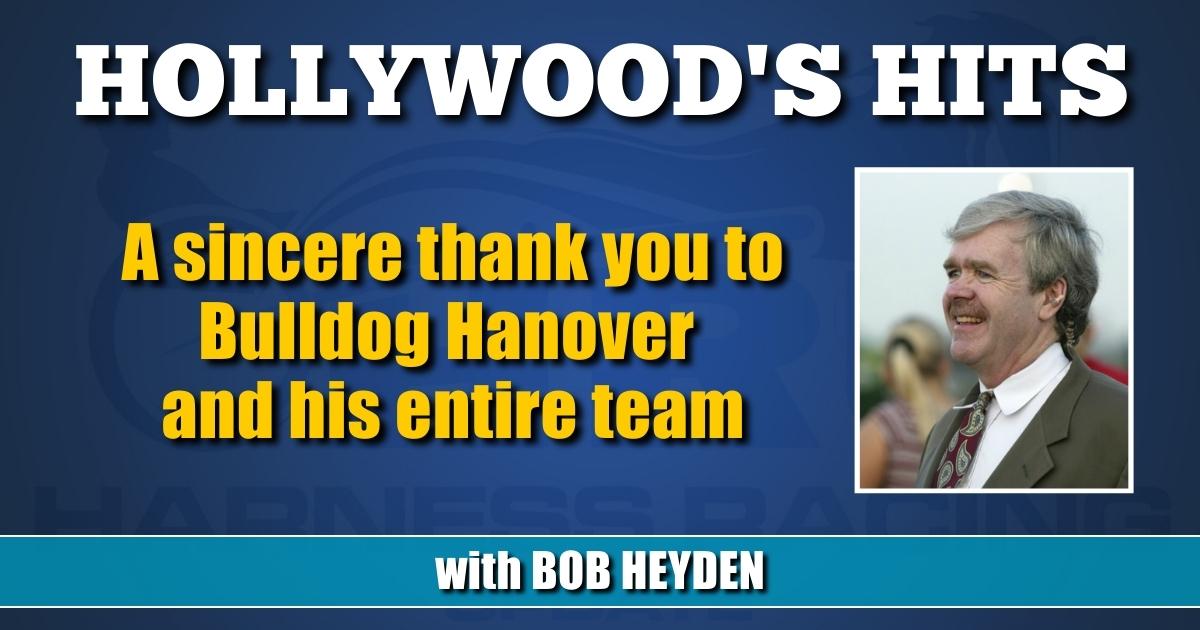 A sincere thank you to Bulldog Hanover and his entire team
by Bob Heyden
This is my thank you note to Bulldog Hanover and his entire team (trainer/co-owner Jack Darling, co-owner Brad Grant, New Jersey trainer Noel Daley, drivers Dexter Dunn and Jody Jamieson).
In a business saturated with negativity and in-fighting, you came along and gave us a month for the ages. You came into the arena, raised the bar to its highest level and then cleared it again and again.
1:47, followed by 1:46, 1:46.1 and now the world record of 1:45.4.
You have become the cousin visiting for June who we now want to stay all summer; the soccer camp we do not want to end; the dream we absolutely do not want to awake from.
There's one sure way of telling if you are really outstanding and at the top of the heap. Hitting the wire in a new world record and at least 75 per cent of those watching were not surprised. Elated? Yes. But not shocked. Your previews were every bit as good as Opening Night.
Keep in mind the free-for-all group in 2022 is excellent, top notch. Rockyroad Hanover is lights out. Never before have we seen 10 horses going to the gate —many finishing in :52 and change the last half — and none can make a dent in your margin.
How fitting that you set the record in the William Haughton Memorial. Billy had the fastest ever racehorse too at the time of his passing on July 15, 1986. Nihilator recorded a 1:49.3 mile on Aug. 3, 1985. That mark would not be lowered until 1992 when Artsplace clipped one-fifth off that. And then the Driscoll was renamed the Haughton in 1999 after seeing three horses previously reset the all-time race record in that event. In 1992, Artsplace won in 1:49.2. In 1993, Staying Together won in 1:48.2 and in 1996, Jennas Beach Boy won in 1:47.3.
When you hit the wire in 1:45.4, you allowed us to dream, imagine, reminisce maybe. What might Western Hanover or No Nukes or Sonsam or Somebeachsomewhere or Niatross have done if they competed as 4-year-olds?
Particularly noteworthy was the way you handled all of this. Bret Hanover won three straight HOY titles and was known to bow to the audience afterwards. Zenyatta had a pre-game dance routine. But you apparently never heard of either. There's a workmanlike feel to all of this — kind of like the high school phenom who score 40 points and grabs 30 rebounds and doesn't understand any of the post-game fuss. My goodness it takes at least a half mile to pull you up after the race. If they had a weight/workout room for horses I get the feeling you would be in it after the races.
Hats off to Hanover Shoe Farm. They had 20 in on Pace night no other breeder had more than five. Lots and lots of good work was done by Hanover bringing you up. And your name might be the most appropriate since Moni Maker was foaled in 1993. On top of that you are low maintenance. Jack Darling reports no vet bills and Noel Daley says he is more or less just looking after you in New Jersey. You bred 80 mares earlier this year. Hercules with a love life.
Think of some of the other world records you have witnessed — and almost always they were cameos, or hot summer afternoons, or a fast pace set by somebody else. Not here. You did the work, and for the first time in the sport's history that I can remember you made eight furlongs a sprint. You did all the work. You haven't just dipped your hoof into the pool of immortality, you dove right in.
We've seen you before, just in different horses. Power like Matts Scooter. Complete authority like Always B Miki. Niatross' presence. Electrifying turn of speed like Sonsam.
As of July 19, 2022, you Bulldog Hanover, are now officially a rock star. Fan clubs are forming. Your schedule searched. Collectibles wanted. Posters readied. A sure-fire following wherever you go from here.
Maybe we have already seen the Black Type on your forever bio. Maybe not. We can only guess and dream of what may still await. You have gifted us with the greatest month ever. If you keep this up we'll have to start checking out parade routes. No doubt that you will be out in front there, too.