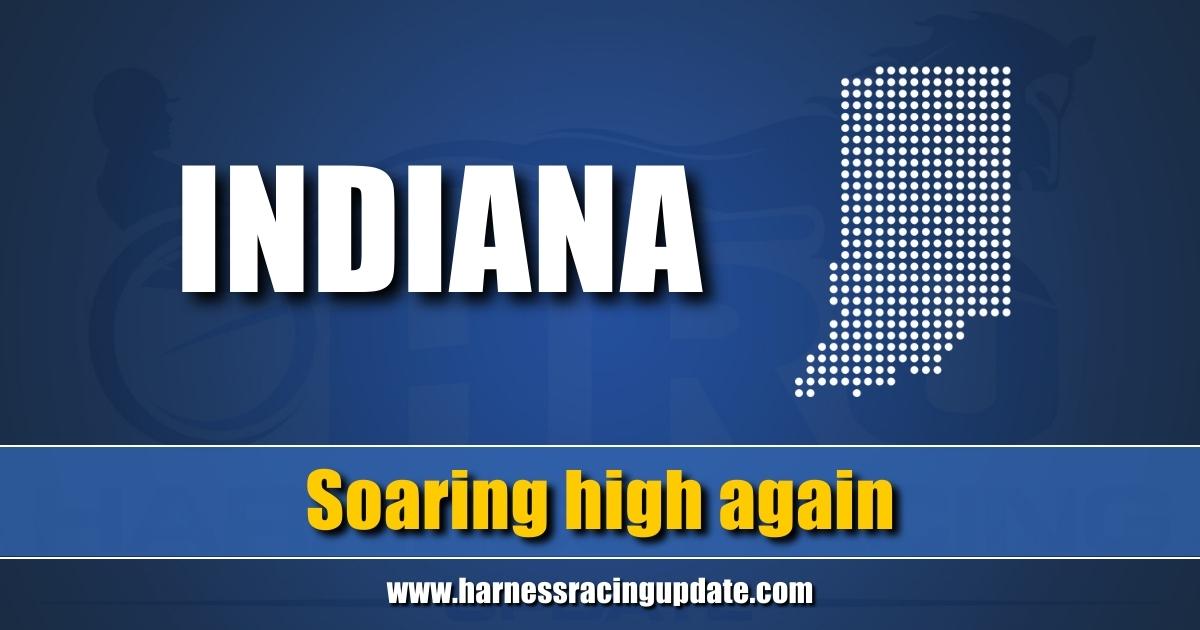 After being grounded at 2 following a promising start, Soaring Now is back flying high.
by James Platz
Last July, JK Endofanera colt Soaring Now set a national season's mark in his third career start. He wouldn't reach the winner's circle again in 2021, however, grounded after a promising start. Now a sophomore, the Aaron Stutzman-trained pacer is back on top, recently winning an Indiana Sires Stakes division with a 1:48.3 performance at Harrah's Hoosier Park Racing & Casino, producing a new lifetime mark.
"I'm not surprised at all," said his breeder, Levi Stutzman, of Soaring Now's recent accomplishments. "If he would have stayed sound and healthy at 2, I think he would have gone in (1):49 already last year. He was good from day one."
Stutzman, who owns Luckiana Farm, located in Goshen, IN, has watched the colt grow and mature since his foaling in May 2019. He readily admits Soaring Now is not a perfect specimen. He is straight in the front, with short pasterns and knees that are set back. These traits led many buyers to pass on the yearling when sold at the 2020 Hoosier Classic Sale. He brought only $6,000, purchased by James Miller of Dixon, KY. Stutzman and his son have broken and trained down horses for Miller in the past, so Soaring Now returned to Luckiana Farm to begin his development as a racehorse after the gavel fell.
"For a stud, you wouldn't even know he's a stud," said Stutzman. "He's very energetic. When you turn him out, you've got to go get him in the next 15 minutes or he'll wear himself out."
As is a customary practice, Stutzman prepares young racehorses at the farm track and then turns them over to other trainers once ready to race. Such was the case with Soaring Now in 2021. The colt qualified twice for Stutzman last season, winning each time in 1:56.2, before shipping to the barn of LeWayne Miller. Under Miller's guidance, Soaring Now won each of his first three attempts. In his June 24 debut, the then-freshman powered home in :26.2 to claim victory by three parts of a length in 1:56.2 as the favorite. Next time out he triumphed by five in a time of 1:52.2.
Making his Indiana Sires Stakes debut July 11, 2021, Soaring Now recorded the fastest mile of the season in North America for a freshman pacing colt, finishing half a length in front in a time of 1:51. Although he would make three more starts for Miller, Soaring Now wouldn't earn another check that season, finishing eighth, sixth and eighth, respectively. He was shut down after a Sept. 17 outing, diagnosed with a paralyzed palate that limited airflow. It marked a tough ending to a promising season plagued by multiple afflictions. Throat surgery was performed and the colt returned to Luckiana Farm.
"From there on it went downhill," Stutzman said of the national season's mark. "First it was the curb and the next start he was bleeding and the next start he had the palate that was paralyzed."
James Miller asked that Stutzman keep the colt and campaign him this season when the pacer was ready to return to racing. The trainer steered Soaring Now to a pair of qualifying wins at Harrah's Hoosier Park in April before turning the lines over to Andy Shetler. The veteran driver guided the sophomore to a runner-up finish in his debut before launching into Indiana Sires Stakes competition. Sent off as second choice in a division of the first leg, Soaring Now sat behind leader and favorite Ponda Warrior and finished second, a length and a quarter off the leader, in a time of 1:49.2. In the second leg, Shetler and his charge claimed a one-length victory in 1:50.1.
"He's just got a real slick way of going, a real easy way of going. You don't know that you're going that fast with the horse," Stutzman said.
Soaring Now registered back-to-back fourth-place efforts in subsequent starts, the first in a Hoosier Cup elimination. In the $70,000 Hoosier Cup final, the colt raced third over into the last turn but could not reel in JK Victory, who established a Hoosier Park track record in the victory, tripping the timer in 1:48.2.
Returning to action July 8, Soaring Now, nearly a year removed from his flashy freshman win, produced his best performance thus far in 2022. Battling in the second of two third-round Indiana Sires Stakes divisions, the son of JK Endofanera—Sunflower turned in a gate-to-wire victory. Lining up on the outside in post six, Shetler sent the 3-year-old to the lead, clicking off fractions of :26.1, :54.3 and 1:22.1 before coming under fire from Rip Wheeler in the stretch. The colt managed to stay in front, gamely holding off the slight favorite by a quarter length at the wire in the $49,000 contest.
The victory pushed Soaring Now's career record to 5-2-0 in 12 attempts. He surpassed $100,000 in earnings with the win, $68,800 added to his card this year alone. 
"It's a tough game out there right now. If he stays sound and healthy, he is all guts," said Stutzman. "I've never seen a horse that tries as hard as he does, every time out."
Soaring Now's freshman campaign was marked by unfulfilled promise. Perhaps this season he can continue to show his full potential.