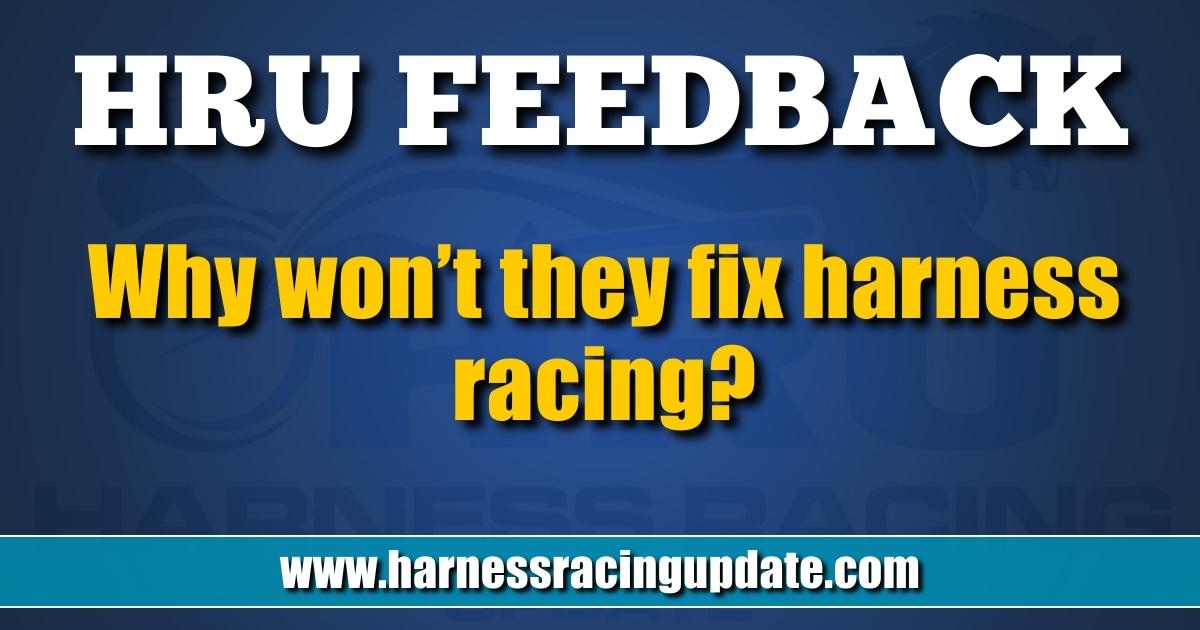 HRU Feedback (2022-07-17)
Why won't they fix harness racing?
Referencing Mike Kozuchowski's attention to fixed odds betting: I've commented at least three times in HRU's feedback column on just this issue. The tracks have gotten into bed with the huge betting cartels and therein lies the issue. This part of the track's business model contributes so much to their bottom line, they fear to upset the apple cart. They have now put themselves by CHOICE into an untenable position.
Our cries for reasonable changes have been ignored and they have refused to change or even listen to our feedback. There are a multitude of things the tracks can do but they refuse and what is the result? The bottom line is down 15 per cent and falling and the reasons are many. I would have thought with the advent of sports wagering, the track brain trust would have implemented changes to avoid market loss at a time when it was not critical, but smarter minds did NOT prevail.
• The tracks have put into place testing protocols which have had a significant impact on the illegal drugs used so the crooks have taken the time-proven method of stiffing. Growing up in Detroit and spending time at the now defunct tracks DRC and Hazel Park Raceway, I know this game well. You race your horse at 60 per cent for a handful of starts, then bang your 15- or 30-1 longshot runs second for a killer profit in the exacta/trifecta/superfecta. The other side of the coin is that the cartels bet the gimmicks so hard there is no chance to make a buck. The ironic thing about the super exotics and carryovers is that the cartels make a killing at these bets where long money is necessary to cover the longshots, the tracks hype the payoff while knowing all well the little guy has a snowballs chance in hell to win them.
• When you bet on or off-track your trying to beat the cartels, the horses, the trainers, the jockeys, owners and non-existent oversight and they know something you don't-regardless whether it's a long shot that finishes 3 seconds quicker than ever before or a favorite that mysteriously backs up through the field or just plain never runs at all. Those in charge at the track never question anything and there is NO ACCOUNTABILITY. Now compare this with the variables to sports betting.
• There is no doubt in my mind that the cartels are privy to different post time/off-time constraints and requirements than the general public, one need only to look at the betting action from 5 seconds before the race and 10 after the start — i.e. giving us a 2-5 favorite vs the 7-5 bet you made before the off time.
The moral of this story is this: You cannot save someone that does not want to be saved.