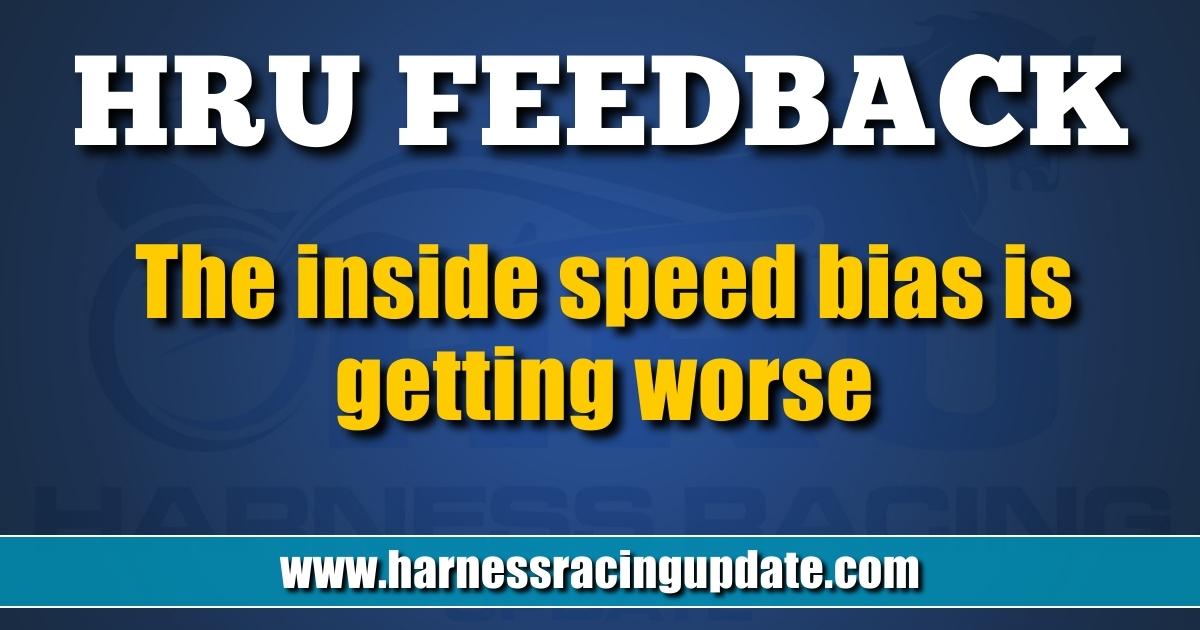 HRU Feedback (2022-07-10)
The inside speed bias is getting worse
I noticed that some horse owners have complained that their horse drew an outside post in five straight starts. Yes, the inside speed bias hurts the sport in many ways. This year at the Meadowlands, a one mile track, the outside posts are winning at what appears to be historically low percentages. As of July 6, post 9 has a 5.7 per cent win percentage and post 10 is at 5.9 per cent. I can remember many meets where post 1 and post 10 at the Meadowlands had roughly the same win percentage, right around 10 per cent. And here's something I don't think I've ever seen, the outside posts at Yonkers, a half-mile track, are winning at a higher percentage than the Meadowlands. Post 7 and 8 at Yonkers are both winning at 6.1 per cent.
The faster final times, longer bikes and driver lean back make it almost impossible to win from far off the pace. It's also harder to leave from the outside because the drivers from the inside are leaving harder to take control of the pace.
Obviously, the smart fix for this would be to use sulkies that are more conducive to competitive racing. But, since the sport seems hell bent on destroying itself, let's look at the alternatives. First of all, for many years, post 8 at Yonkers was winning at less than 4 per cent. Why is it doing a little better now? Well, unless my eyes are deceiving me, Yonkers is using a "run up." In other words, they are starting the race early, actually racing more than 1 mile, but only timing the mile.
Tracks have done this in the past. In fact, Yonkers had several meets where they raced a mile and a sixteenth, but they timed the entire distance.
I think you could make a case that almost all harness tracks should have a run up, and there's no need to time it. The different times confused handicappers when tracks like Freehold and Yonkers tried it.
With a run up, the outside horses can get into the actin and it makes for a much better race with a faster early pace, which also helps closers. Yonkers could actually get the outside posts win percentage up a few more points if they simply started the race even earlier.
If you look at some of the other tracks, the bias is severe. Buffalo, another half mile track, has post 1 winning at 26.5 per cent and post 8, a measly 1.2 per cent. This is a terrible contrast that should be unacceptable. Why not do something about it? Post 8 at Monticello is only winning at 4.1 per cent. At Northfield Park, post 8 is winning at 4.3 per cent. Post 9 was doing so bad at Mohegan Sun Pocono that they did away with it.
I know some people would say that the outside posts were always biased, but actually back in the sport's heyday, outside posts at most tracks won about twice as high a percentage than they do now.
The inside speed bias contributes to the low payoffs and percentage of winning favorites because there are less wagering opportunities. Everyone is betting on the inside horses. Pocono, Northfield, Philadelphia, Monticello, Buffalo, all have favorites winning at over 47 per cent and Yonkers is just under that. That's not what gamblers like to see. That's why so many former hardcore harness bettors now bet the thoroughbreds.
Bob Pandolfo / Northampton, PA
I am done with harness racing; fixed odds needed
I have been a fan since I went to Maywood Park when my boss took me in 1976. I can't bet on harness races anymore. The reason is the fast changing odds make it impossible to make a bet.
In the last week I have played a horse I thought went off at 7-1 just before start of the race, then boom 3-1 as the race is going. Another horse I played at 8-5 seconds before the start, goes off at 3-5.
Exacta I played paying $8 goes down to $4.40.
When I make a bet I am looking for value. What happens is the value I saw disappears before my eyes. If I want to see magic, I will go to a magic show.
Something is going on with syndicates to change the odds this dramatically. No one has addressed this, and it seems no one wants to talk about it.
I can't bet anymore until fixed odds become an option. I used to enjoy betting, buy now it is just aggravating. Good luck to all as I am done!
Mike Kozuchowski / Elmhurst, IL