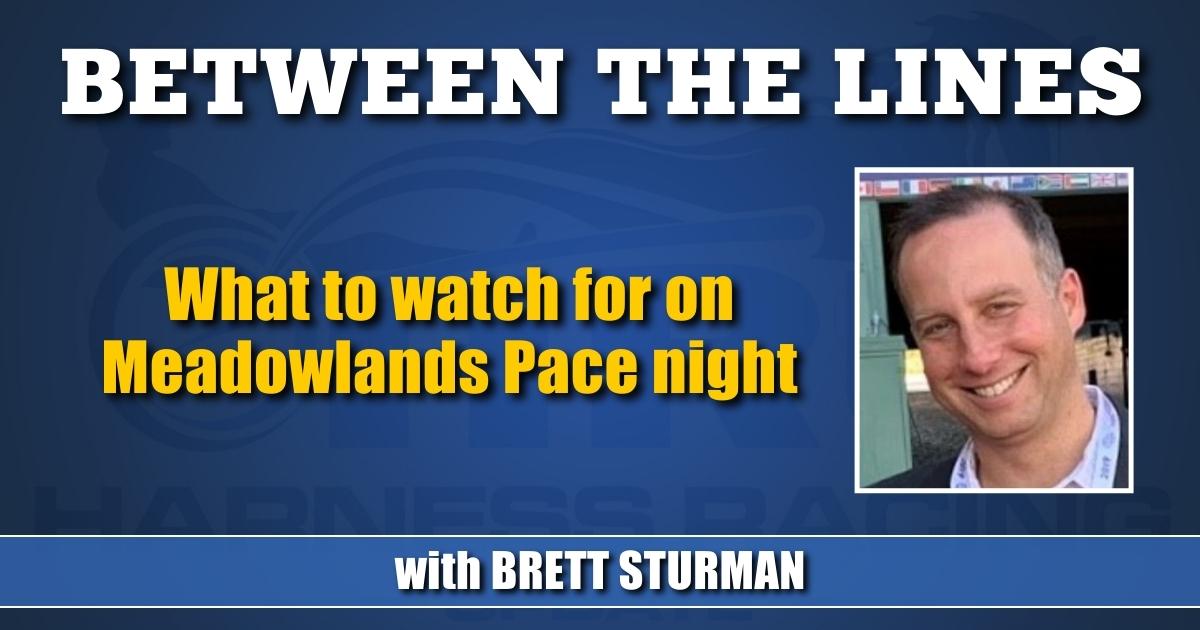 What to watch for on Meadowlands Pace night
The BIGGEST STORYLINES for one of the biggest nights of the year.
by Brett Sturman
As is the case every year, the most anticipated evening card of the year at The Meadowlands is stacked from top to bottom, including the sport's current top three rated horses in action. Highlighted by the $600,000 Meadowlands Pace, nine of the 14 races on the card boast six-figure purses. Here are a few things to look out for across the night. In, mostly, race order:
WHAT SHAPE WILL THE HAMBLETONIAN TAKE?
I know the focus of the night is on the pacers, but eliminations for the Hambletonian are just two weeks away and Saturday will give us a good read on how that race will take form. Most of the buzz this year to date has come from the filly, Joviality. That's been rightly so, but Saturday brings out some of the bigger guns that she hasn't seen, yet.
Starting with Joviality, she makes her return to the Meadowlands for the first time since closing out last year with wins in the Breeders Crown and Goldsmith Maid. With respect due to the Yonkers Trot, it's debatable that the caliber of fillies racing Saturday in the Del Miller Memorial are just as talented, if it more, than the male rivals Joviality beat at Yonkers. In her division of the Delvin Miller (race 3), Joviality faces a field that includes top 2-year-olds from last year Lilbitalexis, Misswalner Fashion, Venerable and Selfie Queen who may have turned into a bit of a project as Jimmy Takter makes his return appearance this year at The Meadowlands in the bike. The other Del Miller division in race 2 has talent, too. That race features Raised By Lindy who just missed to Joviality in last year's Breeders Crown, New Jersey Sires Stakes champion Fashion Schooner, and Manon, who is unbeaten in 2022. The point being, Joviality has passed all the early season tests so far but here's where the competition gets deeper and that's just on the filly's side alone. 
As of right now, the road to the Hambletonian might actually go through Rebuff. The Breeders Crown champion makes his second start of the year in race 4, a division of the Stanley Dancer and he was incredible last out in his first start back. He tracked cover of the heavily-backed Fast As The Wind and exploded late with a :26.2 final quarter and a final time of 1:51.3 right out of the gate. In addition to those two horses who rematch on Saturday, there's loads of other Hambletonian hopefuls in this Dancer division as well as the one in race 6. There could be some surprises in store.
WILL TREACHEROUS DRAGON REMAIN UNBEATEN ON THE YEAR?
Treacherous Dragon makes her second start since moving barns from Pelling to Takter and we'll see if she can extend her winning streak this year to a perfect seven in the Mistletoe Shalee going as race 7. Unraced since June 26, she qualified nicely enough last week, and I think will get tested from the two fillies coming out of the Nadia Lobell. Boudoir Hanover wasn't good enough for Treacherous Dragon up at Woodbine, but her and Trick Of The Light went toe to toe in a fast 1:48.3 mile two weeks ago at Hoosier; she might be good enough now. Going for the sharp barns of Tony Alagna and Brian Brown, respectively, you have to figure they'll both come ready. Todd McCarthy was listed on both those horses as well on the overnights; assuming he'll go to Boudoir Hanover with a real chance to win.
IS TEST OF FAITH UNBEATABLE?
I was going to bypass this race entirely on the basis of Test Of Faith drawing the rail and not having anything new to add, but received a note from a friend with a deeper critical thinking ability than myself and thought it couldn't hurt to pass along. He says, "Racine Bell being in that mare's race (Dorothy Haughton Memorial, race 9) changes that dynamic. I see her close up and pouncing."
CAN BULLDOG HANOVER GO SUB 1:46?
With his win last week in the Graduate, Bulldog Hanover became the sport's latest millionaire and remains in rarified form. Fresh off his record-tying 1:46 mile two weeks ago, he came right back last Saturday to almost repeat the trick, this time just a tick of a second slower in 1:46.1. It's almost incomprehensible to even type but a 1:45 and change mile with this supporting caliber of competition seems possible. At this time, the weather forecast calls for similar warm conditions, looking forward to seeing what display the Bulldog can put once again in the $500,000 William Haughton as race 10. Not to be overlooked, Rockyroad Hanover shouldn't be disregarded entirely as an upset threat. His post stinks once again, but he definitely had solid late momentum last week and if not for being slightly overshadowed by Bulldog Hanover, those back-to-back 1:46.2 miles would be getting more attention.
WILL RATTLE MY CAGE FACE A CHALLENGE?
You won't often see an easier win for $250,000 than what Rattle My Cage did last week in the Graduate. Unchallenged and untested throughout, he strolled through leisurely fractions en route to his fourth straight win. Maybe that $250,000 race was just a prep for the "real" race, this $400,000 Hambletonian Maturity; who knows? That race was over once Cuatro De Julio seeming inexplicably changed tactics and got away 10th, and I'd be floored if he doesn't revert back to his speed favoring tactics. He once again has a bad post and starts directly to the outside of Rattle My Cage, but this race will be contested at an extra eighth of a mile so those two will have plenty of straightaway to sort things out prior to the first turn. Bella Bellini gives the males a shot after continuing to overwhelm female rivals in her division, and she'll start from the post 11 second tier. Ambassador Hanover split foes with late trot last week and that's a couple straight races he's closed as a longshot.
WHO WILL WIN THE MEADOWLANDS PACE?
There's a great script already written if Beach Glass were to go on and capture the Meadowlands Pace. From the final crop of Somebeachsomewhere for the same small ownership group from Nova Scotia along with the same trainer that campaigned that super horse, it would obviously be quite something if Beach Glass were to win the race that denied his sire in one of the all-time great races 14 years ago. I wrote last week in this column that I was waiting for a "wow" type of mile from Beach Glass and he certainly delivered with a massive mile; 1:48.1 after being used as part of an early pace battle to clear to the lead past a :53.2 half. He should have earned a lot of respect with that mile and because of that Gingras may be more easily able to dictate terms now in the final; not invincible but he is a deserving favorite. 
Night Hawk lands his best post in a while and I'd have to think that Miller will be more aggressive with him in this race than he was in the North America Cup final. Once he caught a gear through the stretch last week it surely looked that he was going to get up, though maybe he leveled off just a touch as Market Based was able to show some determination and fend him off late after getting the pocket trip. He kind of reminded me of longshot Hellabalou who left from the same post 7 and got a 2-hole ride, just as Market Based did. Captain Cowboy was one I spoke highly of last week and he did well for himself at 10-1 in his elimination to rally up late for second. If the race sets up for a closer he could be in a prime position to take advantage of it; dangerous connections right now. I still think both Caviart Camden and Early Action – top horses from last year – need a little more. I Did It Myway went a 1:48.1 mile two back and then was used early in his elimination; he does have speed if McCarthy wants to take a shot. Fourever Boy would need a pace meltdown but might take some play off his elimination rally. Mad Max Hanover was actually Tetrick's pick a few races ago over I Did It Myway and he's still here, maybe there's something there. I wouldn't have seen it with Captainryanmichael, even with a decent post.
MY PICKS: Captain Cowboy – Beach Glass – Night Hawk